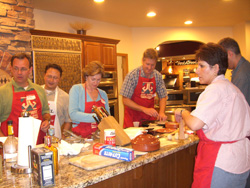 Class Topics include:
Traditional New Mexican

Southwestern Lite

A Tale of Two Tortillas

Quick & Easy, Lite & Healthy

Southwestern Sampler

New Mexican Favorites

Lite & Healthy New Mexican

Fajita Party

Southwestern Grilling and Smoking

Finger Lickin' Barbecue

Extreme Chocolate
Plus many more choices!
These classes can be scheduled in the morning, afternoon or evening.
Team Building Cooking classes have become an extremely popular way for employees and executives or members of organizations to work together on even ground. The classes are conducted in various facilities. Group demonstrations and full-participation teambuilding classes are offered for most any type of group.

In April 2000, a story by Eileen Daspin in the Wall Street Journal discussed the value of cooking classes with corporate teambuilding efforts. Some of the highlights included:
"Just as survival simulation games and outdoor adventure courses were once popular team-building techniques, the kitchen exercises are supposed to foster trust and communications."

"It's the trendy thing to do...The kitchen is a good place to improve team work because there are a lot of things that can go wrong." - Bill Reynolds, Culinary Institute of America

"Maybe the person who can't break the egg will start seeing others in a new way." - Rick Phillips, leader of the Culinary Institute of America's teambuilding courses

"People's work styles came to life"
"...the detail-person marshaled the ingredients, the time manager kept the meal on schedule and the manager was the social glue."
At Jane Butel's Cooking School, we accommodate a variety of group types, sizes, menu interests and teambuilding goals in group demonstrations and full-participation teambuilding classes.
FULL-PARTICIPATION TEAMBUILDING CLASSES

These hands-on classes illustrate management and working styles in action. As a student in one of these participatory classes, you will work as part of a team to prepare a meal and then enjoy the fruits of your labor with a glass of wine, beer or orange-vanilla water. Classes last from 3-4 hours and are taught in various venues.
Menu Options:
SOUTHWESTERN SAMPLER
Guacamole, Composed Nachos with Refried Beans, Bowl O' Red with Fixin's 'n Mixin's, Blue Corn Parfait Bread and Bizcochitos
NEW MEXICAN FAVORITES
Quesadillas, Salsa Roja, Sonoran Style Salsa Verde, Tamales, Red Chile Sauce, Chile Rellenos and Flan Caramelizado
LITE & HEALTHY NEW MEXICAN
Pears with Spiced Pecans on Baby Green Salad with Honey Mustard Dressing, Grilled Blackened Tomato Cream Soup, Chile Seared Salmon with Mango Salsa and Berry Blast Dessert
FAJITA PARTY
Taquitos with Trio of Dippers, Salsa Roja, Guacamole, Chicken, Beef and Shrimp Fajitas, Pico de Gallo, and Margarita Pie
OTHER MENUS are available
Full-participation teambuilding class fees are $2,500.00 for less than 9 people, $250 each for 9 or more people.
SCHEDULING A CLASS
To make a class reservation, call 800-473-8226 or 505-243-2622. A 50 percent deposit is required with your reservation to secure the date. The deposit is calculated using a conservative estimate of attendance. The balance is due 60 days prior to the event.
TRANSPORTATION
Groups must supply their own transportation.
CANCELLATION POLICY
If a cancellation must be made, 20 percent of the 50 percent deposit is nonrefundable. If the cancellation is made within 60 days of the event, no refund will be given. However, the deposit may be used to reschedule the class. Refunds will be processed within 30 days of the cancellation notice.
Contact us to request more information about group programs or inquire about reserving a date.
DEMONSTRATION CLASSES

Sit back and relax while you observe the preparation of traditional and innovative New Mexican dishes. You will enjoy samples of each item. Classes last an average of 3 hours and will be conducted in locations such as the convention center, hotel banquet rooms or auditoriums for large groups.
Menu Options:
TRADITIONAL NEW MEXICAN (our most popular)
Guacamole, Salsa Fresca, Quesadillas, Green Chile Chicken Enchiladas, New Mexico Style Beef Tacos and Sopaipillas
SOUTHWESTERN LITE
Garlic Sopa, Fish of the Day with Hot Orange Salsa, Grilled Jicama with Lime Chile Rub and Mai Tai Grilled Pineapple
A TALE OF TWO TORTILLAS
Corn Tortillas, Flour Tortillas, Fish Tacos with Salsa and Carne Adobada Burritos with Red Chile Sauce
SOUTHWESTERN BRUNCH
Bloody Marias, Huevos a la Sonora, Sonoran Sauce, Fruit Tostados Compuestos, Mexican Cinnamon Coffee
OTHER MENUS are available
Group demonstration class fees are $80 each for fewer than 15 people, $75 each for 15-45 people.