-If my hands burn from handling chiles, what can I do?
-The best is to rub them with lime juice or a similar acid such as vinegar. Next time, use rubber gloves, butter your hands or spray them with liquid shortening and use greater care when touching the chiles, not touching the placenta, seeds or veins.

-Are ornamental varieties of chiles poisonous?
-There are absolutely no varieties of peppers that are poisonous; all capsicum species are edible. Some of the ornamental varieties just don't taste very good, while others are extremely hot or pungent, which may lead to this misconception; however, there is an ornamental plant called a False Jerusalem Cherry, botanical name, Solanum Capsicastrum, which is poisonous and not intended for consumption. It is not a chile plant, only a relative.
Copyright 2008. All Rights Reserved.
TEX MEX Inc. Privacy Policy.

Jane Butel Cooking School
Office: 505-243-2622
info@janebutelcooking.com
Gordon's Barbecue Rub
Gordon's Barbecue rub is a special blend of herbs and spices- a great mix for summer grilling!
Pinto Beans
The freckled bean of the Southwest. You have probably never had them this fresh! They are the most popular bean for Southwestern cooking and are the bean that is most often mashed and fried--called refried beans or refritos.
Black Beans
Caribbean and South American dishes feature black beans. There is no substitute for these beans in Black Bean Soup or Feijoada, the Brazilian bean and sausage stew. They are firm and flavorful and are also great refried.
Bolita Beans
When grown in New Mexico's volcanic valley soil, these beans take on a very special personality--sweet, yet textured, they are wonderful in stews, as a substitute for pintos or in salads and salsas.
Pinon Nuts
Best available! Shelled nuts collected by the Indians and even called Indian nuts. Terrific for desserts, snacks and as a garnish for main dishes.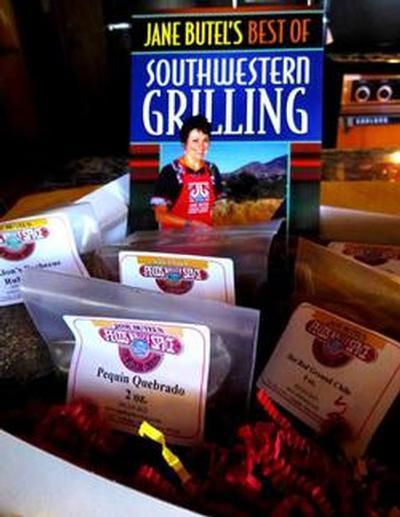 Grilling Gift Box
Now you can grill an entire meal anytime, anywhere—perfectly seasoned to your own perfection. In the more than 250 recipes, Jane gives you the information to grill, smoke, braise and bake on your grill. Even quick smoking recipes are included. The pure chiles in this collection will spice any dish to perfection—from appetizers to desserts. Such delicious side dishes as Baked Sweet Potatoes with Bourbon Butter to Spicy Shrimp and Papaya Bites to Grilled Chicken with Lemon Pecan Butter. And desserts include Grilled Pineapple Kabobs with Mai Tai Baste and Italian Grilled Peaches. A must have gift for the grilling afficianado.