Menu
(Click on title for full recipe)
Barbecued Spareribs with Finger Lickin Sauce
Grilled Mixed Veggie Marinated Salad
By popular demand, I am repeating these hints from last July's Bytes.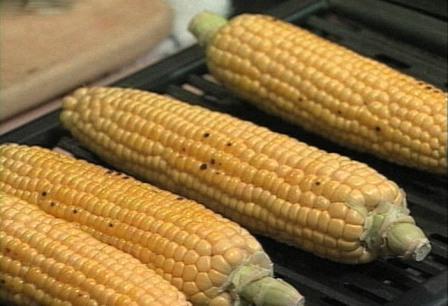 Purchase meaty ribs, I like them with the bone in and St. Louis cut, or baby back, as they are the cut that is closest to the spine and meatier and more juicy and tender. Either prepare your own sauce or use a favorite purchased one. My favorite sauce recipe follows.
Using a rub, lightly rub the mixture on all sides of the ribs. This sets the flavor for the ribs. We have our rub on special 2 for 1 right now! Check it out at www.janebutel.com.
Preheat your grill to about 425 F. When hot, place the ribs meaty side down for about 5 minutes for each side. Then reduce the heat to about 200 F and grill for 20 minutes on each side. (If your grill is difficult to reduce the heat on—remove the ribs while heat is lowering.)
Using a pastry brush, brush the sauce on the ribs and slow grill, 200 F temperature for another 10 minutes or more on each side. Ribs are at their best at 160 F internal temperature. Do not overcook as they will be tough and dry.
Cut into portions and serve immediately with more sauce.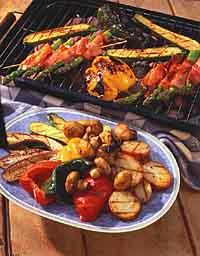 Note: If you have leftovers, you may refrigerate for a few days and heat in a 300 F oven, covered, for 15 minutes. Or, you may freeze them in moisture-vapor-proof packaging for up to 6 months. Reheat from frozen for about 30 minutes covered in a 300F oven.
Hot off the Press! New EBook of our famous Scottsdale Fairmont Princess Recipes
You will definitely want to order your copy NOW
by September 10, 2009

while we have the special

Bytes price of $10.00, regular price is $19.95.
The book contains every recipe from the classes
which cost $1600 to attend.
Each recipe is—
a favorite,
authentic, regional Mexican recipe
that I have collected from the many years
of visiting Mexico since childhood.
is simplified
so the authentic, rich, flavors persist
can be made in home kitchens
with widely available ingredients
You will love the flavors you will be able to create and the simple, straight forward, easy to follow instructions. You see the recipes have not only been tested by me-- they have been cooked by each class, so any unclear instructions have been clarified.
Perfect timing, just ready for fall entertaining—so get your copy while they are at half price!
"Cooking with Jane"
Have you taken advantage of our first month free for the Cooking Club? *Link* Just check it out. This month we are featuring a fabulous, flavorful, Southwestern Brunch favorite, Breakfast Burritos with all the trimmings including Bloody Marias and Fresh Fruit Tostados. Other features a re a great review of Spanish wines that won't break the bank and perfectly complement Southwestern and Mexican food, favorite canning recipes just in time for fall harvest such as my sugarless Apple Cider Apple Butter, Mom's Bread and Butter Pickles and Gingered Tomato Conserve. Other features are fall main dish favorites and our Off the Plate feature of fall table coverings. We are featuring 4 How To videos, hints, tips, deep discounts and freebies.
In sum, each month the Cooking Club offers
you get 6 articles or features focusing on seasonal menus
budget and health ideas and recipes
quick and easy recipes
how-to videos
availability of all the past issues all for you any time of day
discounts on all of our products, cookbooks and classes
monthly freebies
Special Fall Weekend Cooking Classes on Special Half Price Sale
Our weekend cooking schools are great fun and create lasting relationships. Just last night I went to the April, 2009 class reunion potluck.
What a great time was had by all, including a famous margarita throw-down. The one made with Don Eduardo and Gran Marnier won over the El Presidente recipe supposedly from Chiles restaurants.
You will want to come. There are limited spaces left in the October 9-11 class, more spaces in the November 13-15 class.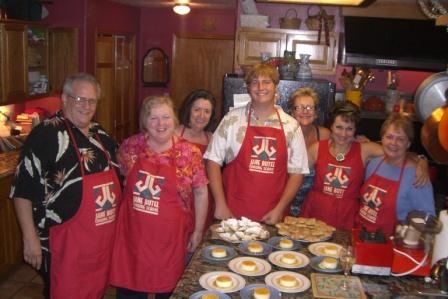 Due to the downturn in the economy, we are featuring our special half-price recession discount of just $525.00 for the entire 3 cooking sessions.…that's one half off our regular price of $1050.
The weekend class is divided into three full participation cooking sessions, covering salsas, appetizers, the Perfect Margarita, tamales, sopaipillas, chile rellenos, flan and much, much more.
For complete menus and to register click here or call for further details at 505-243-2622 or 1-800-473-8226.
If you only want one of the single sessions, they are available for $350.00 each.