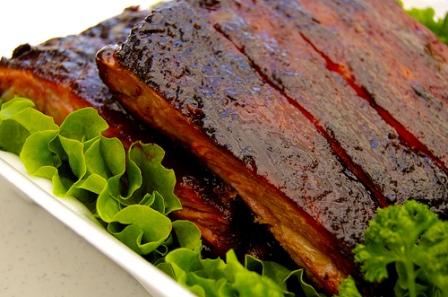 One of the most fun books I ever wrote was "Finger Lickin', Rib Stickin', Great Tastin', Hot 'n Spicy Barbecue". The book was mostly about homemade barbecue sauces and side dishes for great barbecue.
I think barbecue is so much fun—no matter how you spell it. Whether it is barbeque or barbecue.
Although a bit late for this year, our tradition for years on the Fourth of July has been to make Barbecued Spareribs. Barbecued chicken is yummy, too. I personally think Barbecued Ribs and other foods are great year round, so I thought you might like my favorite recipes and hints. Also, from the book are one of my favorite potato salads and baked beans—friends often say they are the best they have ever eaten—the secret—slow baking with lots of goodies—bacon, onion, brown sugar and catsup.
The Mexican Style Grilled Corn with assorted toppings is totally delicious as is the Garlic Bread recipe I have included. Enjoy!!
Upcoming Events:
July Weekend Class--We still have a few openings for the Friday evening, July 18 and the Sunday, July 20, sessions of my weekend cooking school. They are available at 25% off or $262.50 each if purchased on line.
August Week Long Class—Our August 17-22 full participation week long class still has openings. From now until Friday, July 11 at midnight, I am offering a half price or two for one special. This is an incredible buy!! The regular price is $1950—making half price only $975.00. I would love to cook with you!
September Friendship Class—for our September class, everyone that signs up may bring a friend or a family member to cook with them. REgister online or call soon as the space is limited. Call 1-505-243-2622 or sign up online at www.janebutelcooking.com.