Recipes for the Month
Chorizo and Pinon Nut-Stuffed Loin of Pork

Legumbres en Pipian, Oaxaca Style
Spinach and Corn Rolled Enchiladas

---
CHILE ORDERS
Order your fresh, pure chiles and spices NOW!
SPECIAL GIFT BOX
Give the "Gift that Keeps on Giving" and promises healthy, fun cooking at the same time.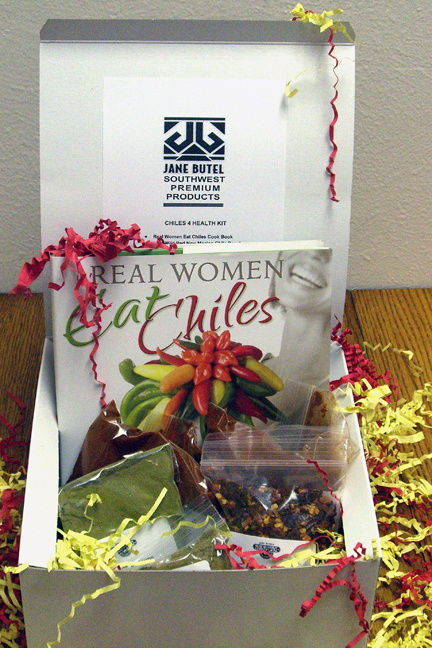 Our special Healthy Gift Box Assortment is on sale for $3.00 off until Wednesday, March 12, 2014.
This assortment combines an autoraphed copy of my "Real Women Eat Chiles" cookbook personalized as you wish and our fresh pure spices.
Order now while there is still time for scheduling optimum delivery!
Schedule Now:
There is still room to cook in our full participation weekend cooking school, March 28-20, 2014. Call 505-243-2622 for your Bytes discount of 50%. Or register online. If you have any questions, you can email us at info@janebutelcooking.com.
ALWAYS EAT CHILES AT LEAST 24 OUT OF 30 DAYS!
Here's to healthy chile eating! JANE BUTEL
Jane's Message March 2014



March is a great month for enjoying the last long cool evenings of the season and the thrill and excitement of looking forward to—gardening, cooking long simmering main dishes before the heat of summer, cleaning out the debris of winter and anticipating special summer getaways and plans.
St. Patrick's Day is a great time to enjoy all the wondrous green food and drink. However, this year the greenest I am going to get is with perhaps some green chiles.
I am sharing some of my all-time favorite long simmering or roasting dinner ideas for delicious March dining that "won't break the bank" but aren't necessarily green.
You can always serve a green side dish and one of my favorites is a special, spicy hot sauce from Mexico called Pipian (recipe follows) which is pretty easy to make and can be made days, even weeks in advance and is very tasty on steamed, just barely cooked zucchini, swiss chard and small potatoes—so it is mostly green and perfectly fine for St. Patrick's Day.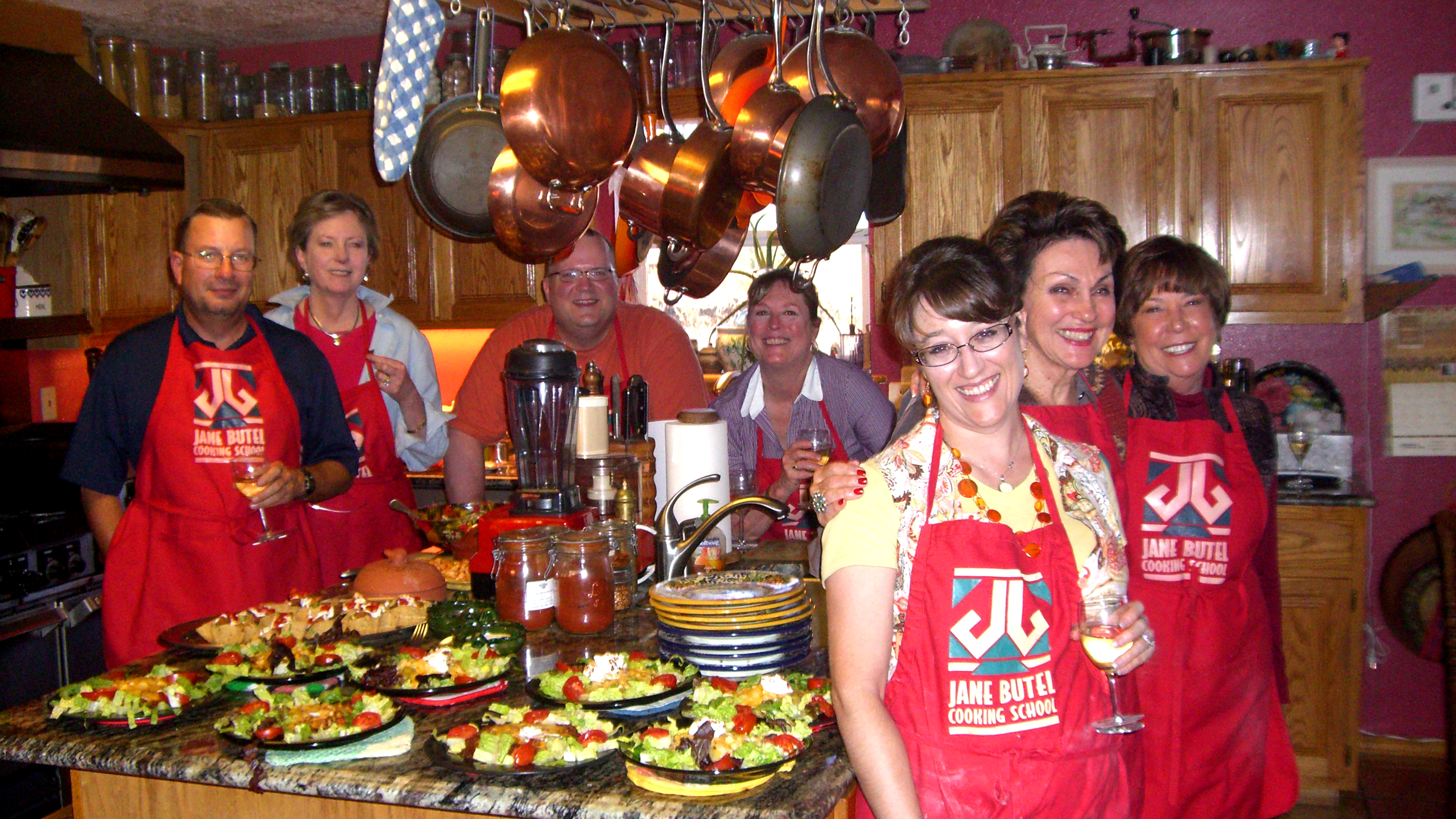 There are a few places left in our March 28-30 Weekend class. Would love for you to join us for our all-time favorite weekend cooking session featuring New Mexican Traditional Favorites. Check out our menus on our website. You can attend the entire weekend or a single day or two. Because you are a Bytes subscriber, call for a special 50% discount at 505-243-2622!
Place your deposit for our exciting Culinary Cruise before it is too late! To register, go to www.cruisingwithjanebutel.com/ We will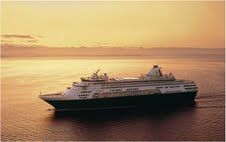 be cruising and cooking on a Holland American ship departing from San Diego on November 8-15, 2014 and following the Mexican Riveria down to Puerto Vallarta. We will have several special events, classes and personally conducted tours.
Register online or call 1-855-699-1799.
Gift Boxes and Certificates Are Available
Since Mother's Day and graduation gift giving is just around the corner, keep us in mind for those cooks on your list. Also, don't forget shower gifts, birthday or anniversary presents. We make custom made gift boxes for $25.00 and above, plus shipping.
Also, gift certificates are popular for our classes,our products and autographed cookbooks. We can create them for most any price range above $25.00. This will save you the shopping and driving time!
Any of our classes or tours make outstanding gifts. Also, you can buy a gift certificate for any amount. Purchase them through www.janebutelcooking.com or by calling 1-505-243-2622.
Cookbook of the month—

As an early Mother's Day gift, purchase my "Real Women Eat Chiles" cookbook for just $19.99 ($2.00 off). This book is my most beautiful book, containing lots of beautiful photographs and quick and easy to make recipes This is a beautifully illustrated cookbook with chile health information and recipes that feature nutritional breakdowns for health's sake. The average recipe only requires 5 ingredients that are all easily available and can be prepared in an average of only 20 minutes. I will autograph each copy. Order NOW! or call us at 1-505-243-2622. Offer good until midnight, March 12, 2014.

.
Hint
Fresh Garlic always tastes best. To make mincing garlic easier, place a small amount of salt on the cutting board and stroke both sides of the knife blade in the salt to keep the garlic from "climbing" the sides of the knife.
Full freezer is cheaper to operate. Keeping a freezer full, means the energy costs are less. Did you know that keeping all your chiles, herbs and spices such as cumin keep much longer frozen?