Recipes of the Month
POLLO EN CACHUATE: This richly flavored sauce is somewhat reminiscent of Indian curry. The dish is wonderful served with any kind of rice dish. I particularly like the Arroz con Platanos or rice with plantains or rice with any kind of beans added. Any leftovers make wonderful soft tacos. Just roll the filling in warm, fresh corn tortillas. Full Recipe
CHORIZO AND PINON NUT-STUFFED LOIN OF PORK: Glorious to behold! The red-hued, chile-laden chorizo (Mexican sausage) rolled inside the silken pink -white of the pork roast-crusty with a jalapeno jelly glaze-makes for an inimitably elegant entrée. Full Recipe
GORDON'S IRISH POT ROAST: Rubs have long been popular in Texas. They impart flavor and are easily applied. Brisket is very easy to cook this way and becomes quite juicy. Gordon McMeen, my husband, a third-generation Texas partially raised in New Mexico, has been roasting these for family and friends for the last thirty years. He estimates that he has cooked "at least a million pounds for church and school groups." (That of course is true, Texas brag.) Full Recipe
LEGUMEBRES EN PIPIAN, OAXACA STYLE (Vegetables in Oaxacan Pumpkin See Sauce): Steamed vegetables, usually green ones are frequently served with Green Pipian Sauce, a delightfully spiced sauce thickened with ground, green pumpkin seeds. Sometimes the vegetables are cooked with epazote or avocado leaf to lend a slightly anise flavor or a small amount of ground anise can be used if desired when steaming the vegetables.. Full Recipe

Join the Cooking Club for the First Month Free

And get many more delicious recipe ideas for St. Patrick's Day, a fun "Dinner and a Movie" Party Plan with yummy Southwestern/Tex-Mex dishes all created to take the last minute hassle out of entertaining. Also in this issue is a whole passel of favorite potato recipes, wines for bold foods, freebies, discounts and more. You just have to join now!

If you just gotta go green, why not try this vegetarian Roasted Corn and Spinach Enchilada Casserole? Click here for Recipe

Sign Up Now for Our On-Line Class
If you can't travel to Corrales, New Mexico, why not take our

online "All About Chiles" classes. Our goal is to launch one each month. They are very educational and informative. Just think-you get 40 different lessons, plus an assortment of my Pecos Valley Spice Co. products and an autographed copy of Real Women Eat Chiles. In the lessons, you will receive over 140 of my favorite kitchen tested failure proof recipes for cooking with all kinds of chiles.

When you think about it, each of the 40 modules on our super special only costs a little over $5.00. For a complete rundown of the modules within the class go to Click here. Sign up before March 6 and pay only $250.00
Gift Boxes and Certificates Are Available
Since Mother's Day and graduation gift giving is just around the corner, keep us in mind for those cooks on your list. Also, don't forget shower gifts, birthday or anniversary presents. We make custom made gift boxes for $25.00 and above, plus shipping.

Click here for all our products


Also, gift certificates are popular for our classes, for either our live or on-line, our products and autographed cookbooks and even our cooking club. We can create them for most any price range above $25.00. This will save you the shopping and driving time!

Any of our classes or tours make outstanding gifts. Also, you can buy a gift certificate for any amount. Purchase them through www.janebutelcooking.com or by calling 1-800-473-8226.
February Highlights
On Friday, February 13, I landed at the Mobile, Alabama airport in
drenching rain-getting soaked to the bone, trying to figure out the locking system on my rental car. Once ensconced in the car, I made my way to Daphne to spend the night awaiting the Fabulous Chili for Charity Contest.
Fairhope, AL Chili For Charity

It is a huge event and the skies cleared just in time to make it really a hoot. Note the rocketing bull behind our book display. The bookstore, Page and Pallete, a genuine treasure of a store hosted the stall where my Chili Madness signing was-perfectly stationed right as everyone entered.

If you haven't heard about Fair Hope, you must check it out sometime. It is a treasure of a little city perfectly perched next to the Gulf with beautiful, colored flowers everywhere-from magnolias to azaleas and all the spring pretties-tulips, daffodils and the like. And the homes seem to reflect the happy owners who kept them well manicured.


On to Atlanta, where I had a really great two days. I had dinner at Nava in Buckhead Sunday night, which was delicious as always-it is a contemporary Southwestern or New Mexican style restaurant, so I felt right at home. Monday, the highlights were filming a 15 minute special TV feature on bowl o red with fixin's and mixin's and blue corn parfait bread and then on to do a fun cooking class featuring the same foods plus margarita pie, deep chocolate Farmer's cakes and more. It was truly great that Barbara Booth a week long alumni and fellow K-State came as well as Laura Chesney, a weekend alumi, who also travelled to Mexico with me twice for the Oaxaca and the Colonial Cities tours. It was great fun catching up on each other's lives.

Only A Few Spaces Remain for Oaxaca
Oaxaca has always been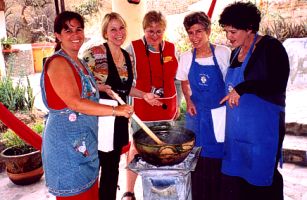 one of my favorite places for a delicious foodie time amidst beautiful and historic surroundings. You really should join us this year June 2 through 8 for three full participation cooking classes, market tours, a visit to super historic Monte Alban, plus visits to special pottery and colorful wood carving villages.
Hints

Fresh Garlic always tastes best. To make mincing garlic easier, place a small amount of salt on the cutting board and stroke both sides of the knife blade in the salt to keep the garlic from "climbing" the sides of the knife.

Full freezer is cheaper to operate. Keeping a freezer full, means the energy costs are less. Did you know that keeping all your chiles, herbs and spices such as cumin keep much longer frozen?

Upcoming events


This month, I will be sticking closer to home. While I loved seeing so many old and new friends, it is honestly great to have a less hectic schedule. I will be doing book signings and tastings on March 24 at the Albuquerque Public Library close to Lomas NE and Tramway NE at 908 Eastridge NE. This event is free, but seating is limited to 35. For reservations, call 505-291-6295.