Come Cook with Us! We have a Two for One
Special for our September Weekend, September 8-10
Extended for Bytes Subscribers until August 5, 2010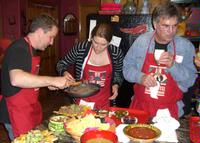 We are extending our weekend special two for one until Friday, August 13 for Bytes subscribers. We would just love for you to join us!!
This two for one offer extension is only promoted here on our Bytes e-newsletter. We are offering this special on a first come, first served basis a two for one very special special.
We cook mostly New Mexican traditionalfoods in i the class. The complete menus are on our website at www.janebutelcooking.com under weekend classes.
This is a very special class at a can't miss price. To get the two for one price, call me at 505-243-2622 before 10 PM MDT, August 13, 2010 or register on line. Your registration will automatically be for two..
Or, if you can't join this weekend class check our website, www.janebutelcooking.com to see which class fits best with your schedule. They are a ton of fun—so much so that we have several who have come back three and four times. Get in on the fun and schedule your class today!
Northern New Mexico Tour—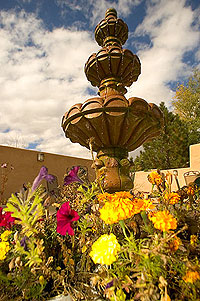 Schedule now to save $500 on our very select, first ever, Northern New Mexico Culinary Tour October 16-22. You will have tons of fun with foodie friends in this gorgeous culinary epi-center of Taos and Santa Fe, New Mexico.
So full of gorgeous natural beauty, plus delicious foods prepared by award winning chef's who will each be demonstrating and telling about their specialties. You will visit and sample some of our best wineriess, view museums and in sum, have a fabulous time.
We are staying in beautiful rooms in centrally located hotels, making it great fun to go sight seeing or shopping whenever you wish.
We are only taking a few people on this very special tour, so sign up now, while I am giving you a special $500 off while there are still spaces available.
You can register on line or by calling me at 505-243-2622.
The complete itinerary is on my website at www.janebutelcooking.com on the home page.