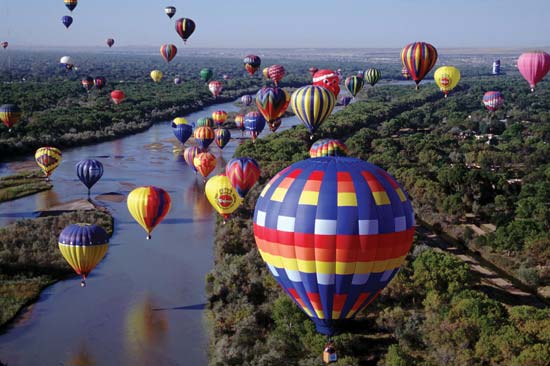 October is a very favorite month in New Mexico. The weather is usually just about as perfect and predictable as weather can ever be. With the purply blue skies. red chile ristras (or strings) dotting the adobe homes, colorful balloons abundantly in the air and golden cottonwoods languishing along the riverside and among the homes—it is a beautiful sight!
In honor of red chile, I want to share one of the favorite recipes from Nothern New Mexico. Dating from the early 15th century when the Spanish first came—it is a red chile marinated pork dish that is amazingly delicious, about any way you can get it. From a nesting base for eggs to most any kind of wheat or flour tortilla creation such as burritos, tacos, and enchiladas—it is just amazing. It will freeze forever. I like to freeze it in 1 quart quantities in heavy weight freezer bags. I am giving you the recipe that won me the best "Burrito in NYC" when I had the Pecos River Café in New York.
And…..zucchini is so abundant, that is if you have plants and don't check them every single day—you will end up with 12 inch gargantuan green things. If they are huge, deseed them and go ahead and grate or slice them for various dishes. I really like using them in cakes, muffins and fritters. You can also steam the grated zucchini for 3 minutes, chill in ice water for 3 minutes and then press the excess water out using a colander and freeze the zucchini in recipe size amounts of 1 or 2 cups. This will work for the Zucchini Fritters recipe I gave you last month as well as for any of the baked goods.
Our October Weekend class still has openings and I have put it on 25% OFF for the rest of the month until the class. To register just go to www.janebutelcooking.com and select October weekend in the left column and click to registration page. This class will still be conducted in my Corrales kitchen.
COME SEE MY FREE DEMONSTRATION OF THE BLUESTAR RANGE at Builder's Source Appliance Gallery on October 10 from 2 to 5 PM. It is located at 308 Menaul NE in Albuquerque. You can make a reservation at Delbert@bluestarcooking.com. There will be goodies to sample as well freebies. I look forward to seeing you then!
NEWS! NEWS! NEWS!I have just added a fall week long class. Fall is so gorgeous here with the golden cottonwoods, and red chile ristras dotting the adobe homes—I want to share that experience with all who can come. You may register here.
We are just finishing a new professional kitchen where I will soon be teaching in a beautiful custom designed adobe home built around a gorgeous patio. I am sure you will really like our new setting and would love for each of you to come cook with us. We are very pleased that Blue Star Ranges and Elkay Sinks and Faucets have become our partners in our newly remodeled kitchen, which is much bigger than our Corrales kitchen, where I have been teaching.