Off The Plate
By Rebecca Roybal Jones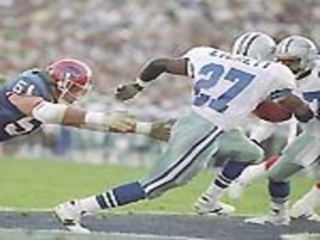 Get out the football sombrero. It's time for a Super Chile Bowl party with chili and lots of hearty appetizers to carry fans from the kickoff to the last play. And, yes, we do mean sombrero.
When planning to serve a hungry load of fans - aside from making sure you have television sets tuned to the game in most every room in the house so that no one misses a tackle - think indoor tailgate party. Think easy-access to the food zone.
Here are a few ideas on making it a casual, yet fun and festive party:
Let's start with the sombrero. While we all know a sombrero is for wearing; on this possibly rowdy occasion, it could also serve as a festive chips y queso dish. Fill a pottery-style or Fiestaware bowl with the chile con queso. Layer the sombrero with tortilla chips, pass around and enjoy. And keep that queso within reach. (By the way, ceramic sombrero chip and dip serving bowls are for sale online.)
In the spirit of keeping it simple, serve the chili from the pot, and have guests serve themselves from the stovetop. If you're using cast-iron, wrapping a bandana (rather than a plain pot holder) around a hot handle or a fiery lid is a nice touch, and will keep guests from getting burned.
Speaking of bandanas, use bandanas as napkins.  Just  wrap them around a spoon and fork for each guest (you won't need knives for this menu).
Consider placing television sets in every room guests will likely mingle into. For some fans like me, the best parts of the game are the commercials.
Whether the delectable appetizers are laid out on a spacious kitchen counter, or set up on a table adjacent to the biggest television screen in the house, keep them in a central location so that all fans can graze at their leisure. You may even choose to keep a few snacks on the coffee table.
This menu is so versatile, it allows the party organizer to serve the fare either on colorful Fiestaware - an undoubted trademark of the Southwest - or to opt for colorful plastic, dishwasher-safe, disposable plates and bowls. Fiestaware is sold at many department stores, while the plastic dishes are sold at party supplies stores. For those who don't want to bother with washing dishes once the game is over, disposable plates and bowls will work, as well.
With all the wine glasses sure to be clinking, make keeping track of whose is whose by assigning each guest a wine glass charm. Several Web sites sell the dainty charms but www.sterlingwineonline.com sells football wine glass charms, which are sure to please those sipping from a glass, rather than a beer bottle.
The Super Chili Bowl party table can range from a Southwestern-folksy theme to an outright team-spirited one. Jane Butel says using rebozos can make for festive table dressings. She recommends crisscrossing a couple of different colors (team colors, if you can find them), and scattering colorful raffia around the table. Rebozos are rectangular in shape, and are worn as shawls in Mexico.
For a folksy feel, arrange a colorful quilt on the serving table. Or, make your own quick tablecloth out of fabric depicting your team's logo. Fabric and craft stores often carry fabrics with pro-football team insignias. If you can't find fabric with your team's logo, choose team colors. For example, orange and blue for the Denver Broncos, or silver and blue for the Dallas Cowboys. Here in New Mexico, it's an unspoken rule that you can't be like 'em both. If you decide to make your own table covering, make it simple by fringing the sides so that no sewing is involved in the project. Also, rather than using the bandanas for napkins, cut some napkins from the football-themed fabric to match and just fringe the edges
And don't forget the football. Whether you borrow your son's or pick one up at a garage sale, the pigskin can work as the base piece for a table centerpiece. Dress it up by adding team color ribbons or raffia, and setting the mood with a couple of candles. A football shaped vase with the flowers of your choice will brighten the buffet table. Also, for a little extra sparkle, consider sprinkling confetti on the buffet table.
Now get ready to enjoy the company of your friends - and a Bowl o' Red. Here's to a winning Super Chili Bowl party.