Here in New Mexico, August spells green chiles. I know that sounds weird, but everyone here really goes chile crazy once the beautiful, long, shiny, crisp green ones hit the Farmer's Markets and seasonal fruit stands.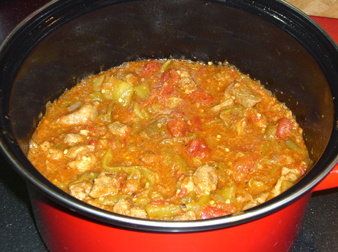 Of course, August is THE month for tomatoes too. I just love the saying that "Only God and August can create a great tasting tomato. It is pretty true though, that the home grown, vine ripened juicy globes are at their peak, come August. We have had such a hot, dry summer, all the plants have been affected. Green Chile Stew

Our crops are not as good and the bunnies compete for our harvesting. About the time the tomatoes look like in just another day they will be perfect—I go out to pick them and the bunnies have beaten me to them. Sometimes I feel my gardening efforts are just creating a salad bar for the bunnies!
I am very excited about starting a new "Cooking with Jane" radio program on Sunday, August 7 at 1 PM on KKOB, a very strong AM station here in the Albuquerque area at 770 on the AM dial. If you are anywhere around, give me a call at 505-243-3333 with any questions or homemaking information you would like to share from 1 PM to 2 PM next Sunday.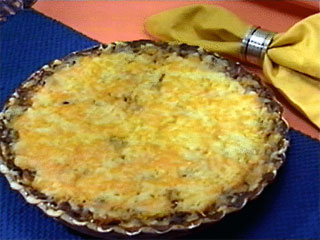 I thought maybe you would like to have some of my all-time favorite green chile and tomato harvest recipes. My Green Chili Stew is the one our New Mexican Senator, Joe Montoya used to win the Capitol Chili Cookoff several times. The Blue Corn Crusted Chile Rellenos are truly my favorite.
Green Chile Crusted Quiche

I thought you might like this fun, easy idea for using green chiles instead of pastry for a quiche crust.
When freezing green chiles, try chilling them in ice water as soon as you have roasted them. Then place on cookie sheets to flash freeze before bagging. Then, when it comes time to cook with them, it will be easy to select them—one or more at a time. And they peel very easily too!
The oven roasted, almost caramelized tomatoes are outrageous to store in the freezer for making soups, sauces and casseroles in the winter.
NEWS ALERT!! We have added a new week long October class, October 9 to 14 by popular demand. I am offering 20% off for both the week long and the September 23-25 weekend. I look forward to cooking with you!