I want to get to know more of you and get linked and Tweeted together (if that's how you say it) We now have our own Facbook page, http://www.facebook.com/pages/Albuqueruqe-NM/Jane-Butels-Southwest-Cooking/18214705318
You can access our Twitter on our Home Page now and by tomorrow, we'll be linked to the above page.
The weekend got off to a bang with a fun dinner of Guacamole with Blue Corn Tostadas paired with Perfect Margaritas made with Don Eduardo Reposado tequila and freshly squeezed lime juice with my favorite addition of a bit of fresh egg white and Triple Sec. Very refreshing! Green Chile Chicken Enchiladas with home stewed pinto beans and strawberry shortcake for dessert made the meal. We were planning potential TV shows which we could develop--of course they would be about foods of the Southwest and Mexico.
Then Saturday, Farrah, my assistant and I took my cookbooks for an autographing to a local charity for the Albuquerque Christian Children's home, where I was also asked to judge the chili competition. It was great fun, the chili's were all very good--some better than others, of course; and we got to meet so many friendly people who just loved my books. Always fun.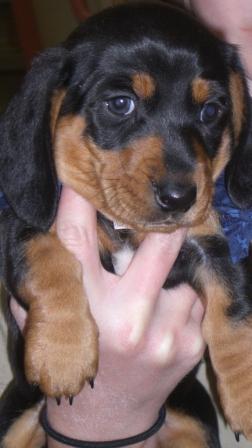 And then, there was a great surprise ending!!! Early in the event, I saw a woman with two darling baby miniature Dachshunds and she said they were part of a silent auction to benefit the Childrens' Home. Little did I know that I would fall for the little guy and ended up successfully bidding for him. He is so cute and will make the fourth Dachshund I have had. Needless to say, I am a dog lover. I already have a German German Shepherd who is 2 1/2 and very spirited. It will be great fun to see them interact.
After going home, I really needed to make homemade strawberry jam as I had bought some gorgeous strawberries and needed to get them preserved. I made 8, 8 ounce jars of jam, which is so beautiful and so flavorful. It has a fresher, clearer flavor than the bought. I never use pectin, just quick cook it down, unyil two drops come together and sheet off. I always use a heavy pot.
My favorite recipe is so simple, just use 1 cup of fresh fruit cut to the same size to 3/4 cup sugar. (Use more sugar if a tart fruit and less for a sweeter fruit such as the strawberries. I used about 5/8 cup sugar for each cup of berries.) For this batch of jam, I used 10 cups of berries to 6 1/4 cups sugar. Here in the Albuquerque area, we are at 5000 feet, so everyting boils quicker but at a lower point, meaning it takes longer to cook foods. This jam took about 30 minutes of constant stirring at a medium boil.
There's more--I had a favorite friend over who watched me finish the jam, then we hopped into a relaxing hot tub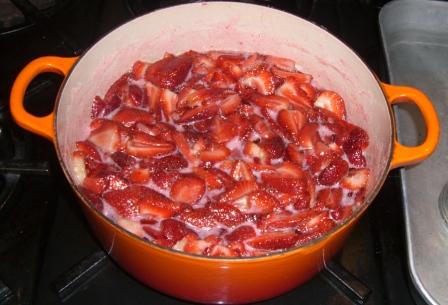 looking at the beautiful rose colored then plum and purple Sandia mountains that are right in front of our yard. Following we had a luscious dinner of fresh salmon pan grilled with chipotle powder (our brand) and a mango-fresh pineapple and dried cranberry salsa and brussels sprounts and a wonder Australian Cabernet Sauvignon.
And on Sunday, I had a great time in the backyard, turning on the three tier fountain, planting oodles of brightly colored geraniums and petunias and fed the grass a good dose of fertilizer. Then more hot tub, more great friends and fabulous wine from Jim Hammond, our wine writer/columnist for our cooking club and his wife, Barbara Kline.
What a full weekend! Next weekend, I teach a full participation weekend class on tradional New Mexican dishes with parallel vegetarian variations. Come join me if you can. I have it posted for just half price, due to the economy.