Week-Long Class-
For more information and to sign up, click on the specific dates you are interested in.
NEWS, NEWS, NEWS
New Special Grilling Class at 6 PM July 14, 2016. To register or view menu, click here.
Check out this news story about our school in the current edition of New Mexico Homes. Just click on this link http://www.newmexicohomes.com.
Recent video recipe:
POSOLE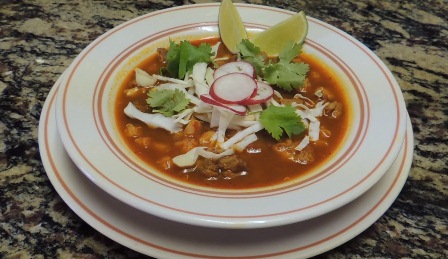 What do you want to see featured on our new blog?
Email us to make suggestions about post features!
Blog link: Southwest Cooking with Jane Butel
♦ ♦ ♦ ♦ ♦ ♦ ♦ ♦ ♦ ♦ ♦ ♦ ♦ ♦ ♦ ♦ ♦
ALL NATURAL SOUTHWESTERN AND MEXICAN INGREDIENTS AVAILABLE
Our wonderful pure, fresh chiles, spices, ingredients and kitchen essentials are in bountiful supply. Order, by selecting the Products key at the top of this page, or click here.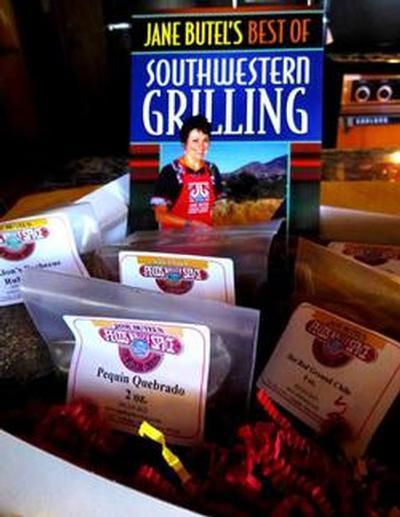 This Grilling Gift Box is perfect for Father's Day and summer gift giving. On special for $35.00 until June 12, midnight, 2016.

♦ ♦ ♦ ♦ ♦ ♦ ♦ ♦ ♦ ♦ ♦ ♦ ♦ ♦ ♦ ♦ ♦
The complete book of all the Mexican regional recipes taught in the award winning Fairmont-Princess Cooking School in Scottsdale. Has such favorites as Rellenos en Nogado, Pollo Cauchate, Mayan Chilaquiles and the luscious Tres Leches. cake. Ebook $2.99.
Softbound Printed Edition
$12.95

NOW ON KINDLE FIRE
for $2.99
Eating Chiles and Chili Makes One Happier
Eating Chiles and Chili Makes One Happier

You know, I read the other day that the happier you are-not only the healthier you are-but also the more money you will make (and even if that is not important)-the more fun you will have!

And you know, eating chiles and chili makes that happen. Chiles are about the most healthy food there is-no kidding. And one of the very best delivery systems is chili-big bowls of the red and green stuff, that have simmered for hours.
Nothing like eating it, year 'round. And you ask-how does that work? It is because chiles stimulate the endorphin system or simply put-they stimulate all of you-your entire body, making it have a sense of euphoria or happiness-a high in other words.

The healthiest cultures around the world all seem to eat lots of chiles-at least 24 days out of 30.

I keep having so much with my Chili Madness promotion. The presentation at the Smithsonian was a total blast and it was filmed. I will work to get it on twitter-which you just have to check out.

I seriously love to share chile knowhow and cooking hints and tips with chiles-are you getting my free e-newlsetters-Butel's Bytes and are you a member yet of my cooking club-"Cooking with Jane"? Go to www.janebutelcooking.com to sign up. All of these, plus my cooking classes, whether live face-to face full participation or on-line classes, really feature chile and chili know-how.

Here's to chile health and happiness and until next time,

Jane Butel
---
---