Weekend Classes-
Week-Long Class-
For more information and to sign up, click on the specific dates you are interested in.
NEW ONE DAY CLASS!
February 13, 2016 one day full participation class only $100.00--first few registrations taken!
Features New Mexican favorites such as Green Chile Chicken Enchiladas, Red Chile Beef Enchiladas, Crispy Chicken Tostados, Baja Shrimp Tacos with All the trimmings, Sopaipillas, corn and flour tortillas and Perfect Margaritas.
For classes further ahead than listed, go to the cooking school link.
NEWS, NEWS, NEWS
World's first electric wine aerator, now available. Quick, easy to operate, leaving all sediment in bottom of bottle. A must have for the home and professional wine enthusiast.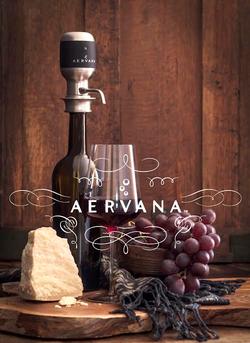 Recent video recipe:
POSOLE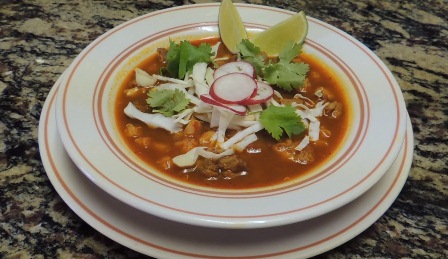 What do you want to see featured on our new blog?
Email us to make suggestions about post features!
Blog link: Southwest Cooking with Jane Butel
♦ ♦ ♦ ♦ ♦ ♦ ♦ ♦ ♦ ♦ ♦ ♦ ♦ ♦ ♦ ♦ ♦

♦
ALL NATURAL SOUTHWESTERN AND MEXICAN INGREDIENTS AVAILABLE
Our wonderful pure, fresh chiles, spices, ingredients and wine and kitchen essentials are in bountiful supply. Order, by selecting the Products key at the top of this page, or click here.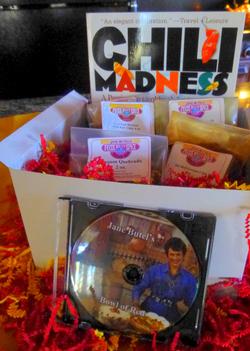 Our Gift Boxes are a great present for most anyone anytime.
♦ ♦ ♦ ♦ ♦ ♦ ♦ ♦ ♦ ♦ ♦ ♦ ♦ ♦ ♦ ♦ ♦ ♦
The complete book of all the Mexican regional recipes taught in the award winning Fairmont-Princess Cooking School in Scottsdale. Has such favorites as Rellenos en Nogado, Pollo Cauchate, Mayan Chilaquiles and the luscious Tres Leches. cake. Ebook $2.99.
Softbound Printed Edition
$12.95

NOW ON KINDLE FIRE
for $2.99
Texas Potato Salad

This recipe came to me by the way of my sister-in-law, Addie. Once you try it, you'll never go back to your old recipe...'cause this one's fantastic!
Yield: 4 to 6 servings
4 medium-size baking potatoes (Idaho or Russet), unpeeled
2 teaspoons salt
2 large eggs
2 Tablespoons vinegar
3 Tablespoons unsalted butter
¼ cup finely diced Spanish onion
1/3 cup finely diced sweet gherkins (pickles)
3 tablespoons juice from the sweet gherkins
½ cup mayonnaise
1 whole canned pimiento, sliced into 1/4 –inch strips
1 whole sweet gherkin
1. Over medium heat in a covered saucepan, cook the potatoes in a water to cover mixed with 1 teaspoon of the salt until they are fork tender, about 20 minutes. Remove the pan from the heat, drain the potatoes, and replace the lid, allowing the potatoes to steam for 15 minutes.
2. Meanwhile, cook the eggs with the vinegar and the remaining 1 teaspoon salt in water to cover, until just done, about 10 minutes. Drain and run cold water over them to cool. Peel, slice and dice eggs.
3. Peel the potatoes and return them to the cooking pot. Add the butter to the pot, cutting through the potatoes with sharp knife to allow the butter to be absorbed. The potatoes should be in rough, medium-size chunks. Cover the pot and allow them to stand, off the heat, for 10 minutes. If the potatoes are not hot enough to melt the butter, place the pot, covered, over low heat for a few minutes.
4. Off the heat, add the diced eggs, onion, diced gherkins, gherkin juice, mayonnaise and all but 5 slices of the pimiento; chopping the pimiento you are adding to the salad into ¼ inch squares, mix thoroughly.
5. Transfer the mixture to your favorite bowl, garnish with the whole pickle sliced halfway up into thin slices centered on top of the salad. Add the pimiento strips evenly spaced around the pickle, creating a sun ray effect.
Home
About Jane
Featured Recipes
E-Newsletter
Blog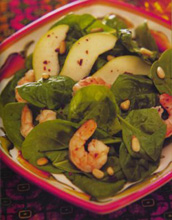 ♦ ♦ ♦ ♦ ♦ ♦ ♦ ♦ ♦ ♦ ♦ ♦ ♦ ♦ ♦ ♦ ♦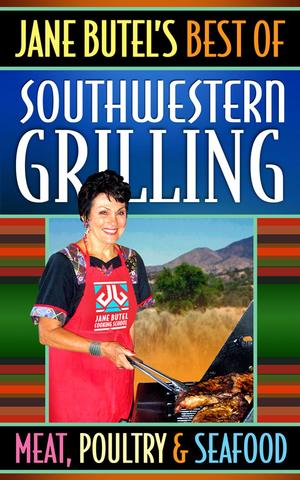 Jane Butel's favorite grilled recipes including such favorites as Grilled Chicken with Lemon-Pecan Butter, Spit Roasted Dallas Style Grilled Flank Steak. E-book $2.99.
Softbound Paperback $10.95
Now On Kindle! $2.99