Week-Long Class-
For more information and to sign up, click on the specific dates you are interested in.
NEWS, NEWS, NEWS
New Special Grilling Class at 6 PM July 14, 2016. To register or view menu, click here.
Check out this news story about our school in the current edition of New Mexico Homes. Just click on this link http://www.newmexicohomes.com.
Recent video recipe:
POSOLE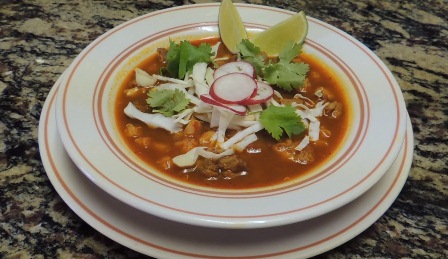 What do you want to see featured on our new blog?
Email us to make suggestions about post features!
Blog link: Southwest Cooking with Jane Butel
♦ ♦ ♦ ♦ ♦ ♦ ♦ ♦ ♦ ♦ ♦ ♦ ♦ ♦ ♦ ♦ ♦
ALL NATURAL SOUTHWESTERN AND MEXICAN INGREDIENTS AVAILABLE
Our wonderful pure, fresh chiles, spices, ingredients and kitchen essentials are in bountiful supply. Order, by selecting the Products key at the top of this page, or click here.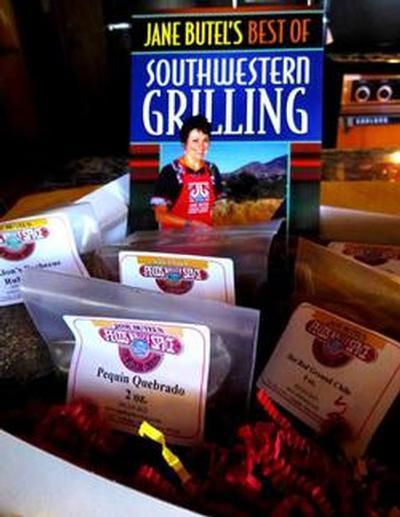 This Grilling Gift Box is perfect for Father's Day and summer gift giving. On special for $35.00 until June 12, midnight, 2016.

♦ ♦ ♦ ♦ ♦ ♦ ♦ ♦ ♦ ♦ ♦ ♦ ♦ ♦ ♦ ♦ ♦
The complete book of all the Mexican regional recipes taught in the award winning Fairmont-Princess Cooking School in Scottsdale. Has such favorites as Rellenos en Nogado, Pollo Cauchate, Mayan Chilaquiles and the luscious Tres Leches. cake. Ebook $2.99.
Softbound Printed Edition
$12.95

NOW ON KINDLE FIRE
for $2.99
Pesto Topped Salmon

I have adapted this recipe from the one in my grilling book.  I use previously prepared or purchased pesto instead of the simple pesto prepared in the Salmon recipe.  (Also, here we grill the salmon instead of smoking it as the recipe was originally written in the book.)   The rich, buttery flavor of the pesto adds a luscious edge to the salmon—in fact people that are not so fond of salmon really like it prepared this way.
Yield:  4 servings
4, 6 ounce salmon filets, skin removed
½ cup or 4 ounces of basil pesto
Crushed caribe chile
1 lime, quarted
1.  Preheat the grill to 400 F.  While heating, rinse the filets, removing any bones.  Pat dry and evenly divide the pesto among them, spreading to a uniform thickness on the top of each.
2.  Grill the filets, covered 4 to 6 minutes or until of desired doneness.  The salmon will usually be medium rare, which yields a marvelous, moist flavor.  If wanted more well done, an option is to grill the first side of each salmon for 4 minutes, turn, spread with the pesto and grill the second side 4 minutes.
3.  Serve garnished with a sprinkle of caribe and a wedge of lime.

Home
About Jane
Featured Recipes
E-Newsletter
Blog
10 Favorite Recipes Sign up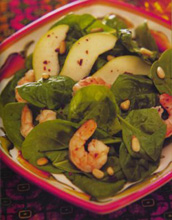 ♦ ♦ ♦ ♦ ♦ ♦ ♦ ♦ ♦ ♦ ♦ ♦ ♦ ♦ ♦ ♦ ♦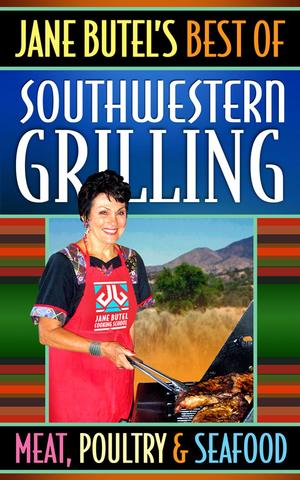 Jane Butel's favorite grilled recipes including such favorites as Grilled Chicken with Lemon-Pecan Butter, Spit Roasted Dallas Style Grilled Flank Steak. E-book $2.99.
Softbound Paperback $10.95
Now On Kindle! $2.99