Weeklong Class Daily Menus
Session I | Session II | Session III | Session IV | Session V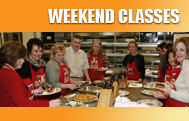 Class Begins on July 10th!

CLICK HERE NOW to register for all five days - $1950 pay in full
Or CLICK HERE NOW to register with minimum $500 deposit required
A complete review of the history and lore of the cuisine, learn about the Scoville heat index and how to use both red and green chiles. Using the traditions and knowledge, shared with you during the morning lecture, prepare a sumptuous meal served family style.
Salsas
Explore the intricacies of the Southwest's classic salsas. Learn the meanings of their names and taste the subtle but distinct differences.
Salsa Verde

Salsa Roja
Fresh Garden Salsa
Pico de Gallo
Almuerzo (lunch)
Huevos Rancheros con Salsa Sonoran
A hearty chile laden sauce takes this standard from ordinary to sublime.
Chile Parching
Blue Corn Crusted Chile Rellenos
Roast and stuff fresh New Mexican green chiles for a delicious crispy, creamy, mix. Optional, may additionally make the California style fluffy meringue coated chiles.
Chiles En Nogada
The famous traditional Mexican chile relleno made to celebrate the May 5 Cinco de Mayo victory with the traditional Walnut Sauce. (New in 2008)
Fajitas - Chicken
Retrace the humble beginnings of this popular dish, and how the blending of cultures resulted in this taste treat.
Postre (dessert)
Flan Caramelisado
Creamy, delicious classic flan, everyone's favorite.
Advance Preparation:
Carne Adobado
Jalapeno Jelly
Poach Chicken
---
Day II: Corn - The Mother Grain
Hear the story of the Corn Maiden, and how the ancients stored, used and deified corn.
Tortillas
Corn Tortillas
Taste the sweetness of homemade masa, and prepare your own traditional Mexican breakfast.
Wheat Tortillas
Explore the origins of wheat in the Southwest and savor this delectable staple.
Almuerzo (lunch)
Crispy Chicken with Creamy Salsa Verde
Southwestern spiced strips of chicken nestled in chalupa cups and topped with a dollop of homemade salsa.
Baja Tacos
Marinated shrimp topped with our Nine Day Cole Slaw tucked into a soft, homemade tortilla.
Red Chile Beef Enchiladas &
Green Chile Chicken Enchiladas
Traditional New Mexico style enchiladas, a delicious festive meal shared family style.
Carne Adobado Burritos with Frijoles Slaw
Spicy and hearty marinated pork coupled with the light tang of slaw is irresistible.
Garlic Sopa with Tortilla Strips
Uncle Harry's favorite
Postre
Margarita Pie
Tangy and creamy with a hint of salt, this no-bake no- fuss pie featuring the national drink of Mexico is the perfect end to your second day of cooking. (New in 2008)
---
DAY III: Breads, Burrito's and More
Learn the history of our famous breads, from the land where Sopapillas were created in 1620.
Pan (bread)
Sopapillas
Light as an air filled pillow, these little gems are perfect to soften the "bite" of hot chile.
Navajo Fry Bread
Learn why this bread, a cousin to the sopaipilla, traditionally has a whole through the center.
Almuerzo (lunch)
Traditional Green Chile Beef Chimichangas
Sometimes called Tucson Chimichangas this flavorful recipe is what the craze is.
El Ultimos Chimichangas
A potpourri of fillings in a giant sized tortilla, this "bite for your loved one" is an original.
Flautas con Guacamole
These crisp, filled flute like tortilla's are marvelous with our Perfect Guacamole
Traditional Mole with Chicken
The chocolate version everyone wants to know.
Mole Verde with Comino Rice
Subtle yet complex in flavor, this chicken dish is often referred to as "Phenomenal"
Postre (dessert)
Fried Ice Cream
Cajeta Caramel Sauce
---
DAY IV: Soups, Stews and Tamales
Pueblo Green Chile Stew
Senator Joe Montoya's favorite, he won the Capitol Chile Cook off with this recipe.
Pecos River Bowl of Red Chile with Fixins' and Mixins'
Richly satisfying, this historic stew has been a favorite for hundreds of years.
Posole
According to Native American lore, eating Posole brings good luck; let us share ours with you.
Pan
Blue Corn Parfait Bread
Blue corn, one of the most cherished delicacies of Northern New Mexico is paired perfectly in this creation of Jane's.
Indian Bear Paw Bread with Jalapeno Jelly
Originating in the Rio Grande Valley, this crusty bread is easy to make and delicious with homemade jelly.
Ensalada (salad)
Acapulco Salad
Avocados festively accented with orange, grapes and jicama make this salad irresistible.
Postre (optional)
Tostados Compuestos con Fruta Fresca
---
Aperitivos (appetizers)
Quesadillas
An innovative version of the Mexican Classic, ours are made with a variety of fillings and toppings.
Queso Flameado
Literally translated, "flamed cheese", this is a sensory delight when coupled with jalapenos and chorizo.
Composed Innovative Nachos
The sweethearts of the Southwest, our nachos designed by Jane are a meal unto themselves.
Perfect Guacamole
What the Aztecs called ahuacamolli, we now know as guacamole, but by any name ours is the best!
Sopa (soup)
Sopa de Frijoles Negros con Rum
When served with a splash of lime and jigger of rum this classic is unbeatable.
Tamales
Tamales with Red Chile Sauce
Dating back to the Aztecs, these bundles of masa and savory filling are a tradition worth sharing.
Green Corn Tamales
Uncommon, but delicious, these tamales have Arizonan roots.
Bebidas (drinks)
Perfect Margaritas
Need we say more?
Postre (dessert)
Bizcochitos
New Mexico's State cookie with a huge history, anise flavored, scented with brandy and coated in cinnamon sugar.
Empanadas
An all time favorite, these bite sized pastries are packed with flavorful fruit.
Optional, Class Size Permitting
Legumbres en Pipian, Oaxacan Style
Sometimes considered a style of Mole, a delicious, spicy sesame sauce for meat or vegetables. (New in 2008)
Pollo Borrachio
Oh what a party? Drunken Chicken that is bone licking good.
(New in 2008)
Bunuelos
These rosette iron shaped cookies, coated in powdered sugar, are light as air.
In each session, you will learn the classic dishes as well as innovative versions and low-fat methods that never sacrifice flavor.
Join us for a fantastic week of learning and fun.
Call 505-243-2622 for details.
CLICK HERE NOW! This tasty week is coming up on July 10th-15th! - $1995
Or CLICK HERE NOW to register with minimum $500 deposit required