CLICK HERE to register sessions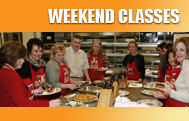 SESSION I:
Southwestern Sampler Reception
Bebidas (drinks)
Perfect Margaritas
Need we say more?
Aperitivos (appetizers)
Perfect Guacamole
What the Aztecs called ahuacamolli, we now know as guacamole, but by any name ours is the best!

Composed Nachos
The sweethearts of the Southwest, our nachos designed by Jane are a meal unto themselves.
Salsas
Salsa Fresca / Salsa Verde
Salsa Roja / Pico de Gallo
Explore the intricacies of the Southwest's classic salsas. Learn the meanings of their names and taste the subtle but distinct differences.
Cena (dinner)
Pecos River Bowl of Red with Fixins' & Mixins'
Richly satisfying this historic stew has been a favorite for 100's of years.

Blue Corn Parfait Bread
Blue corn, one of the most cherished delicacies of Northern New Mexico is paired perfectly in this original creation of Jane's.

Chicken Fajitas with Tri-Color Pepper Saute with Pico de Gallo
Retrace the humble beginnings of this popular dish, and how the blending of cultures resulted in this taste treat.
Click Here to register for Session I only - $350 due in full at time of registration.
---

SESSION II: Corn
The Mother Grain
Hear the story of the Corn Maiden, and how the ancients stored, used and deified corn.
Tortillas
Corn Tortillas
Taste the sweetness of homemade masa, and prepare your own traditional Mexican breakfast.

Wheat Tortillas
Explore the origins of wheat in the Southwest and savor this delectable staple.
Almuerzo (lunch)
Red Chile Beef Enchiladas &
Green Chile Chicken Enchiladas
Traditional New Mexico style enchiladas, a delicious festive meal shared family style.

Baja Tacos
Marinated shrimp topped with our Nine Day Cole Slaw tucked into a soft, homemade tortilla.

Crisp Chicken with Creamy Salsa Verde
Southwestern spiced strips of chicken nestled in chalupa cups and topped with a dollop of homemade salsa.

Sopaipillas with Hot, Hot, Honey
Click Here to register for Session II only - $350 due in full at time of registration.
---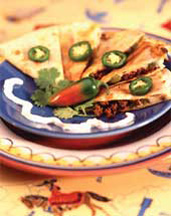 SESSION III: Tying it all together.
Aperitivos (appetizers)
Quesadillas
An innovative version of the Mexican Classic, ours are made with a variety of fillings and toppings.
Almuerzo (lunch)
Tamales with Red Chile Sauce
Dating back to the Aztecs, these bundles of masa and savory filling are a tradition worth sharing.

Chile Parching
Blue Corn Crusted Chile Rellenos
Roast and stuff fresh New Mexico green chiles for a delicious crispy, creamy, mix.

Posole
According to Native American lore, eating Posole brings good luck; let us share ours with you.

Carne Adobado
Spicy and hearty marinated pork is the piece de resistance of Northern New Mexico.

El Ultimos Chimichangas
A potpourri of fillings in a giant sized tortilla, this "bite for your loved one" is an original.
Postre (dessert)
Classic Flan
The Mexican version of creme caramel is silky soft, scented with pure Mexican vanilla and a hint of canella.

Bizcochitos
New Mexico's State cookie, anise flavored, scented with brandy and coated in cinnamon sugar.

Fruit Empanadas
An all time favorite, these bite sized pastries are packed with flavorful fruit.
In each session, you will learn the classic dishes as well as innovative versions and low-fat methods that never sacrifice flavor.
Click Here to register for Session III only - $350 due in full at time of registration.
Join us for a fantastic weekend of learning and fun. Call 1-800-473-8226 for details.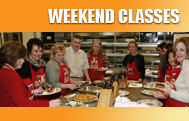 CLICK HERE to register for all three sessions - $1050 ($250 minimum deposit required)