Each is 50% off until 2 days before the class. For more information and to sign up, click on the specific dates you are interested in.
NEWS, NEWS, NEWS
Pre-order my next 2 cookbooks from any of the 3 sources and you will get an autographed nameplate and really help our rating!
Revisesd, 2nd edition of 'Jane Butel's Southwestern Kitchen" to be published October 4, 2016.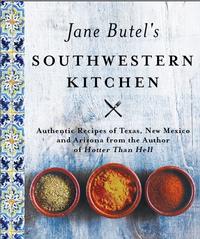 ♦ ♦ ♦ ♦ ♦ ♦ ♦ ♦ ♦ ♦ ♦ ♦ ♦ ♦ ♦ ♦
Jane Butel's newest cookbook, "Simply Southwestern" will be published November 22, 2016.
ORDER NOW: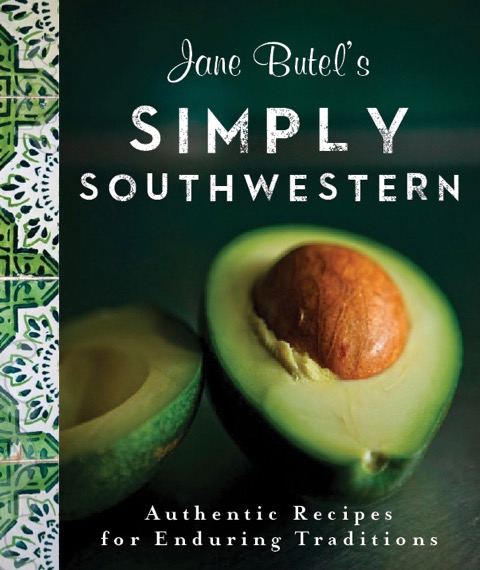 ♦ ♦ ♦ ♦ ♦ ♦ ♦ ♦ ♦ ♦ ♦ ♦ ♦ ♦ ♦ ♦
Recent video recipe:
POSOLE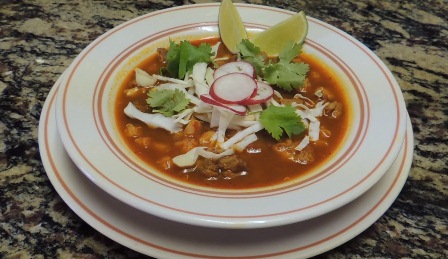 What do you want to see featured on our new blog?
Email us to make suggestions about post features!
Blog link: Southwest Cooking with Jane Butel
♦ ♦ ♦ ♦ ♦ ♦ ♦ ♦ ♦ ♦ ♦ ♦ ♦ ♦ ♦ ♦ ♦
ALL NATURAL SOUTHWESTERN AND MEXICAN INGREDIENTS AVAILABLE
Our wonderful pure, fresh chiles, spices, ingredients and kitchen essentials are in bountiful supply. Order, by selecting the Products key at the top of this page, or click here.
♦ ♦ ♦ ♦ ♦ ♦ ♦ ♦ ♦ ♦ ♦ ♦ ♦ ♦ ♦ ♦ ♦
The complete book of all the Mexican regional recipes taught in the award winning Fairmont-Princess Cooking School in Scottsdale. Has such favorites as Rellenos en Nogado, Pollo Cauchate, Mayan Chilaquiles and the luscious Tres Leches. cake. Ebook $2.99.
Softbound Printed Edition
$12.95

NOW ON KINDLE FIRE
for $2.99
Grilled Chicken and Chard Salad
Grilled chicken breast is the darling of fast, low-fat meals. It is quick and easy to prepare and really stunning with the chard, which you can prepared easily on a stovetop grill.
Yield: 2 large or 4 small servings
2 boneless, skinless chicken breast halves (6 ounces each)
1 teaspoons Basic Rub
1 bunch or Swiss chard (12 to 16 ounces)
1 large Spanish –style white onions
¼ cup Cilantro Salsa or Tomatillo Salsa
1. Trim the chicken, removing all fat and membrane. Rinse, pat dr, and evely sprinkle with rub and rub into surfaces of chicken. Rinse the chard and cut into 2-inch-wide strips. Slice the onion in half lengthwise, then cut it crosswise into ½ inch wide strips.
2. Preheat a large, heavy, well-seasoned skillet until hot. If necessary, spray the skillet with nonstick oil. Grill the onion for about 3 minutes; stir until the edges blacken somewhat. Stir and push the onions to the side and add the chicken breast. Cook for 4 minutes, then turn the chicken and cook for another 4 minutes.
3. When the onion is somewhat soft and the edges are browned, remove from the skillet. Place the chard in the skillet off to one side. Check for chicken doneness by pressing with your finger. The chicken should be firm to the touch and, when sliced, white inside. Remove the chicken to a cutting board.
4. Cover the skillet and sear the chard until some of the leaves are blackened and wilted on the edges. To serve, arrange the chard in a strip down the center of each plate. Arrange the on ion in a row on each side of the chard. Cut the chicken into ½ inch wide slices and center it in a row on the chard. Top with the salsa.
Per Serving: (1/4 recipe) Calories 138, Protein 20 g., Carbohydrates 10 g., Fiber 3 g., Saturated Fat 1 hg., Cholersterol 47 mg., Sodium 308 mg. (Analyzed with Cilantro Salsa.
Home
About Jane
Featured Recipes
E-Newsletter
Blog
10 Favorite Recipes Sign up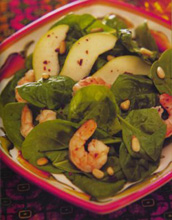 ♦ ♦ ♦ ♦ ♦ ♦ ♦ ♦ ♦ ♦ ♦ ♦ ♦ ♦ ♦ ♦ ♦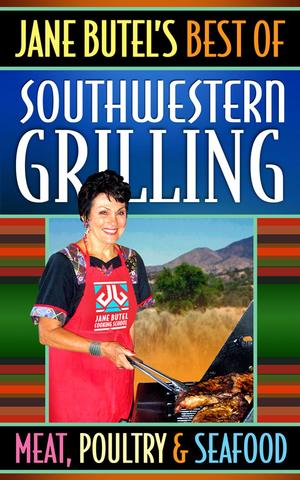 Jane Butel's favorite grilled recipes including such favorites as Grilled Chicken with Lemon-Pecan Butter, Spit Roasted Dallas Style Grilled Flank Steak. E-book $2.99.
Softbound Paperback $10.95
Now On Kindle! $2.99