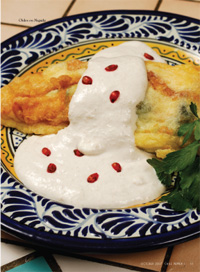 Improve your health, your outlook, your waistline and more—when you learn how to cook with chiles.
You will be healthier, happier and have a better complexion.
It is totally amazing all the ways eating chiles helps your body! In fact, the Chinese from ancient times up until the mid 20th century reserved chiles as a pharmaceutical only.
You will learn how to identify hotter chiles, create all kinds of mouth watering dishes, and learn little known tips and hints for everyday cooking in your own kitchen.
CLICK HERE NOW to register for Jane's online cooking courses! - $399
This curriculum has been professionally developed by Jane Butel, with the assistance of staff from the University of British Columbia, Vancouver, Canada Learning Center. Registered students will access chat rooms, blogs, interface with Jane herself and her staff, as well as learn reference information, such as trade associations available to join, and more.
This is the first class of this kind in the world and offers 40 lectures that guide you through this complex subject and makes it easy for you to learn how to cook all kinds of dishes with chiles-from the popular Southwestern and Mexican dishes to Quick Southwestern recipes, including Tex-Mex and chili recipes. These are all Jane's personal favorite recipes!
After the first few educational classes you will be cooking!

PRICING
Our first on-line class, "All About Chiles" is being hosted by the University of British Columbia as an on-line class featuring many interactive tools, such as chat-rooms, blogs, and research suggestions. This class contains 40 lectures which encompasses history, guided cooking sessions for green and red chiles, Southwestern cooking, Mexican cooking, chili dishes and lots more including recipe development classes.
Price: $499.00 Now: $399.00
CLICK HERE NOW to register Jane's on-line cooking courses!
- $499 $399.00