Each is 50% off until 2 days before the class. For more information and to sign up, click on the specific dates you are interested in.
NEWS, NEWS, NEWS
Pre-order my next 2 cookbooks from any of the 3 sources and you will get an autographed nameplate and really help our rating!
Revisesd, 2nd edition of 'Jane Butel's Southwestern Kitchen" to be published October 4, 2016.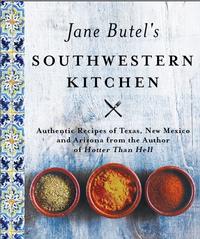 ♦ ♦ ♦ ♦ ♦ ♦ ♦ ♦ ♦ ♦ ♦ ♦ ♦ ♦ ♦ ♦
Jane Butel's newest cookbook, "Simply Southwestern" will be published November 22, 2016.
ORDER NOW: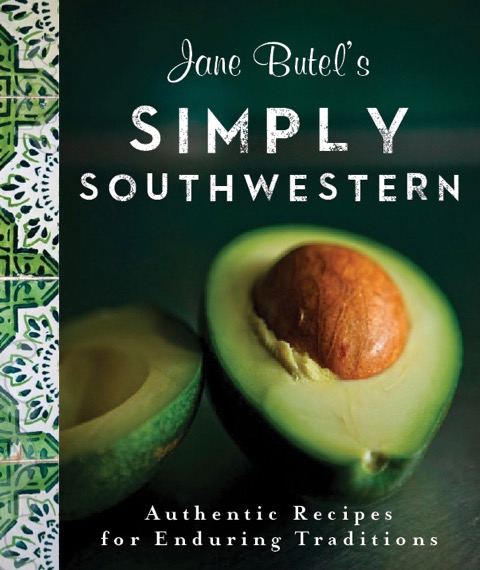 ♦ ♦ ♦ ♦ ♦ ♦ ♦ ♦ ♦ ♦ ♦ ♦ ♦ ♦ ♦ ♦
Recent video recipe:
POSOLE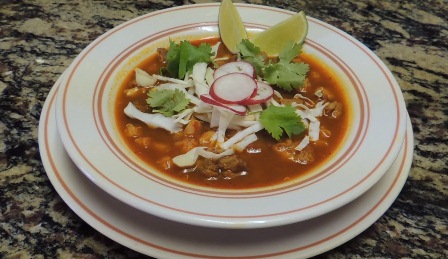 What do you want to see featured on our new blog?
Email us to make suggestions about post features!
Blog link: Southwest Cooking with Jane Butel
♦ ♦ ♦ ♦ ♦ ♦ ♦ ♦ ♦ ♦ ♦ ♦ ♦ ♦ ♦ ♦ ♦
ALL NATURAL SOUTHWESTERN AND MEXICAN INGREDIENTS AVAILABLE
Our wonderful pure, fresh chiles, spices, ingredients and kitchen essentials are in bountiful supply. Order, by selecting the Products key at the top of this page, or click here.
♦ ♦ ♦ ♦ ♦ ♦ ♦ ♦ ♦ ♦ ♦ ♦ ♦ ♦ ♦ ♦ ♦
The complete book of all the Mexican regional recipes taught in the award winning Fairmont-Princess Cooking School in Scottsdale. Has such favorites as Rellenos en Nogado, Pollo Cauchate, Mayan Chilaquiles and the luscious Tres Leches. cake. Ebook $2.99.
Softbound Printed Edition
$12.95

NOW ON KINDLE FIRE
for $2.99
CALIENTE CARNITAS (PORK CARNITAS)

Pork carnitas (which, literally translated, means "little meats") are terrifically tasty and quite easy to make. Traditionally carnitas are dipped into salsas or used as a filling in burritos, tacos, and other dishes; here I suggest serving them as an appetizer with a couple of salsas alongside.
This recipe feeds a crowd, but if you have a smaller group, you can always freeze some of the carnitas for later (see Note). Of course, you can also just divide the recipe by one half or one third.
Yield: 24 servings—3 to 4 carnitas each
1 pork shoulder or butt (3 pounds), trimmed of any large pieces of fat, leaving the marbling
6 cloves garlic, minced
Salt
3 Tablespoons pure ground hot red chile, or 1 ½ teaspoons ground chipotle chile (chipotle powder)
1 or 2 salsas of your choice, for serving
Preheat the oven to 425F.
Using a sharp knife, slice the pork into 2 x ½-inch strips. Place the pork in a large bowl. In a smaller bowl, combine the garlic with 1 teaspoon salt (or to taste) and the ground red chile, and stir well. Sprinkle this mixture over the pork and stir until thoroughly combined.
Place the pork in one or two shallow baking pans (it should be only one or two layers deep). Add water to just barely cover the pork, and transfer the pan(s) to the oven. Roast the pork for 20 minutes. Then reduce the heat to 350F and continue cooking the pork, turning it periodically with a spatula, until all the water has evaporated and it is crispy and brown, 1 to 1 ½ hours.
Place the roasted pork carnitas on a platter, and serve immediately with the salsas alongside.
Home
About Jane
Featured Recipes
E-Newsletter
Blog
10 Favorite Recipes Sign up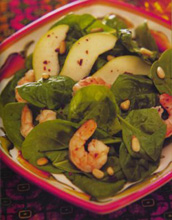 ♦ ♦ ♦ ♦ ♦ ♦ ♦ ♦ ♦ ♦ ♦ ♦ ♦ ♦ ♦ ♦ ♦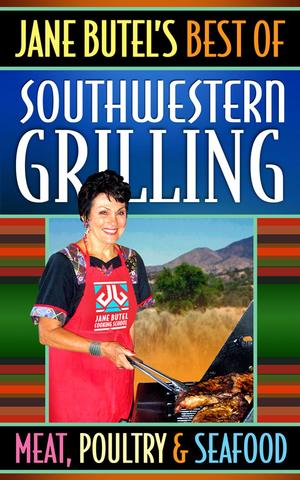 Jane Butel's favorite grilled recipes including such favorites as Grilled Chicken with Lemon-Pecan Butter, Spit Roasted Dallas Style Grilled Flank Steak. E-book $2.99.
Softbound Paperback $10.95
Now On Kindle! $2.99