Week-Long Class-
*NOW ON HALF PRICE SPECIAL UNTIL JULY 5, MIDNIGHT!
For more information and to sign up, click on the specific dates you are interested in.
NEWS, NEWS, NEWS
New Special Grilling Class at 6 PM July 14, 2016. To register or view menu, click here.
July 27, 1:30 PM at the Corrales Library, I will be presenting a Green Chile Fiesta. To register, call 505-897-0733.
Recent video recipe:
POSOLE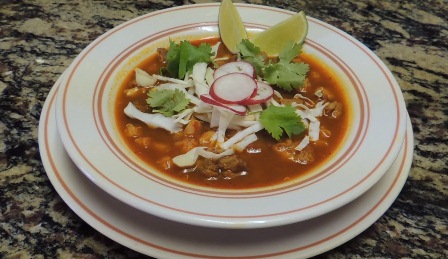 What do you want to see featured on our new blog?
Email us to make suggestions about post features!
Blog link: Southwest Cooking with Jane Butel
♦ ♦ ♦ ♦ ♦ ♦ ♦ ♦ ♦ ♦ ♦ ♦ ♦ ♦ ♦ ♦ ♦
ALL NATURAL SOUTHWESTERN AND MEXICAN INGREDIENTS AVAILABLE
Our wonderful pure, fresh chiles, spices, ingredients and kitchen essentials are in bountiful supply. Order, by selecting the Products key at the top of this page, or click here.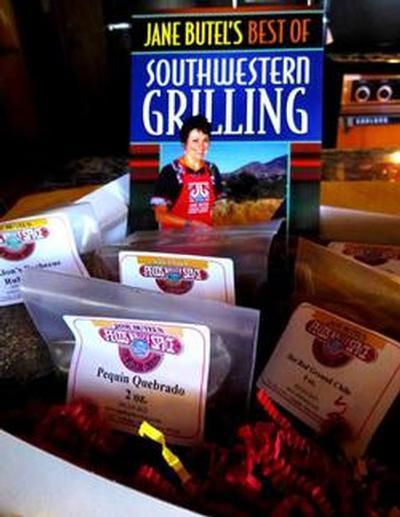 This Grilling Gift Box is on special for $35.00 until July 13, midnight, 2016.

♦ ♦ ♦ ♦ ♦ ♦ ♦ ♦ ♦ ♦ ♦ ♦ ♦ ♦ ♦ ♦ ♦
The complete book of all the Mexican regional recipes taught in the award winning Fairmont-Princess Cooking School in Scottsdale. Has such favorites as Rellenos en Nogado, Pollo Cauchate, Mayan Chilaquiles and the luscious Tres Leches. cake. Ebook $2.99.
Softbound Printed Edition
$12.95

NOW ON KINDLE FIRE
for $2.99
Spicy Shrimp and Papaya Bites

These are light and easy, with a taste of the tropics. They are terrific for hot, steamy nights or before a Polynesian or even Asian menu. We like them anytime.
Yield: 4 to 6 servings
1 cup pineapple juice
3 Tablespoons lime or lemon juice
2 Tablespoons crushed caribe chile
1 Tablespoon sesame oil
Hot pepper sauce to taste
4 cloves garlic, minced
¼ cup grated fresh coconut
1 pound large, peeled shrimp (15 to 20 count)
2 papayas, preferable watermelon variety, peeled and cut into ¾ inch cubes
Combine pineapple juice, lime juice, caribe chile, sesame oil, hot pepper sauce, garlic and coconut in a medium bowl. Add the shrimp and stir to combine. Cover and marinate 2 hours in the refrigerator, stirring at least twice.
Preheat the grill to medium, or 350 F. Place the rack 4 to 5 inches above the heat source. Just before grilling, lightly brush the rack with oil.
Place a chunk of papaya and a shrimp on each skewer. Drizzle with marinade. Place skewers on the hot oiled rack and grill 1 ½ to 2 minutes on each side or until the shrimp are pink.
Home
About Jane
Featured Recipes
E-Newsletter
Blog
10 Favorite Recipes Sign up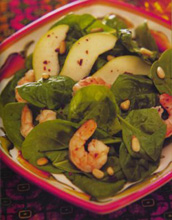 ♦ ♦ ♦ ♦ ♦ ♦ ♦ ♦ ♦ ♦ ♦ ♦ ♦ ♦ ♦ ♦ ♦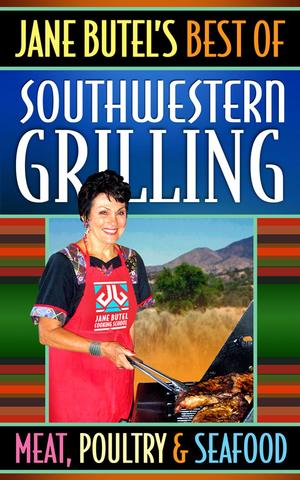 Jane Butel's favorite grilled recipes including such favorites as Grilled Chicken with Lemon-Pecan Butter, Spit Roasted Dallas Style Grilled Flank Steak. E-book $2.99.
Softbound Paperback $10.95
Now On Kindle! $2.99