Weekend Classes-
Week-Long Class-
February 22-26, 2016
For more information and to sign up, click on the specific dates you are interested in.
The fall weekend cooking classes are NOW ON SALE at 50% off or $575.00. To register click the dates you are interested in.
NEW DAY CLASSES STARTING SEPTEMBER 15, 24 (BELOW), OCTOBER 6, 8 AND 22, 2015. To register, click the class you are interested in or call us at 505-243-2622.
For classes further ahead than listed, go to the cooking school link.
NEWS, NEWS, NEWS
Quick and Easy Favorites Full Paricipation Class September 15, at 1 PM. Register Now.
Special Green Chile Full Participation Class September 24, 6 PM. Register Now.
September 2, 2015 between 8 and 9 AM, I will be on Channel 2, presenting perfect guacalmole and mentioning the Internation Contest which we sponsor at the New Mexico State Fair.
World's first electric wine aerator, now available. Quick, easy to operate, leaving all sediment in bottom of bottle. A must have for the home and professional wine enthusiast.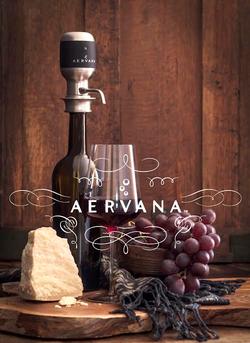 Recent video recipe:
POSOLE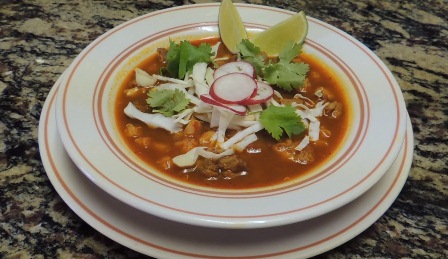 What do you want to see featured on our new blog?
Email us to make suggestions about post features!
Blog link: Southwest Cooking with Jane Butel
♦ ♦ ♦ ♦ ♦ ♦ ♦ ♦ ♦ ♦ ♦ ♦ ♦ ♦ ♦ ♦ ♦

♦
ALL NATURAL SOUTHWESTERN AND MEXICAN INGREDIENTS AVAILABLE
Our wonderful pure, fresh chiles, spices, ingredients and wine and kitchen essentials are in bountiful supply. Order, by selecting the Products key at the top of this page, or click here.
Our Gift boxes are a great present for most anyone anytime.
♦ ♦ ♦ ♦ ♦ ♦ ♦ ♦ ♦ ♦ ♦ ♦ ♦ ♦ ♦ ♦ ♦ ♦
The complete book of all the Mexican regional recipes taught in the award winning Fairmont-Princess Cooking School in Scottsdale. Has such favorites as Rellenos en Nogado, Pollo Cauchate, Mayan Chilaquiles and the luscious Tres Leches. cake. Ebook $2.99.
Softbound Printed Edition
$12.95

NOW ON KINDLE FIRE
for $2.99
CHILES en NOGADA
This special dish was created to celebrate the defeat of the French or Mexican Independence Day, August 21, 1821; hence the traditional Mexican flag colors of red in the pomegranate seeds, white in the walnut sauce and green in the chiles.
For the Stuffing:
1 pound 92% lean ground beef
2 cloves garlic, minced
1/2 cup finely chopped onion
1/4 cup raisins
1/4 cup dried apricots, finely chopped
1 apple, finely chopped
2 large tomatoes, finely chopped
1 teaspoon ground cinnamon
1/2 teaspoon ground nutmeg
A few grinds freshly ground pepper
1/4 cup dry sherry
1/2 teaspoon salt
For the Chiles:
8 medium chiles poblanos, parched, chilled and peeled
1/2 cup flour (if making batter)
For the Batter (optional):
5 eggs separated
1 1/2 teaspoons salt
2 tablespoons flour
3 quarts vegetable oil
For the Sauce:
1 cup English walnuts, soaked in cold water overnight
1/2 cup slivered, skinless almonds
1/2 cup heavy cream
1 cup whole milk
6 ounces cream cheese
2 teaspoons finely chopped onion
1/4 teaspoon ground cinnamon
2 Tablespoons dry sherry
1/4 teaspoon salt
For the Garnish:
Seeds from 1 large, or 2 medium pomegranates
1 bunch Italian flat leaf parsley, coarsely chopped
The night before, soak the walnuts in cold water. They have more flavor this way. If you do not do this, simmering one hour in water in a covered pan will remove some of the brown bitter skin, but soaking ahead is better. Prepare the stuffing by sautéing the crumbled ground beef in a sauté pan. Add the onion and garlic and cook and stir until the onion is clear. Add the remaining ingredients and sauté over medium heat, stirring frequently until mixture thickens, about 20 to 30 minutes.
Meanwhile parch the chiles, by first rinsing, then piercing a small hole for steam to escape and place on foil on broiler pan or grill on top of the range or over a grill. When uniformly blistered and somewhat blackened, remove to ice water and allow to cool. When cool, drain and peel, stuff with the stuffing. If using a batter, dry thoroughly by blotting between paper or cloth towels, then roll in flour and set aside.
To prepare the sauce, remove the skin from the soaked walnuts by vigorously stirring, draining, then rubbing them in a cloth towel until the skins come off. Place the heavy cream and milk in a blender jar, add the remaining ingredients and process until a thick sauce results. Set aside.
If frying, heat one-half inch oil to medium high heat, about 375° F. Prepare the batter, if using, for the chiles by separating the eggs. Softly beat the whites, then beat the yolks with a fork or simple whisk, then scatter the flour over the yolks and mix together and slowly temper in a bit of the softly beaten egg whites, beating after each addition. Beat the remaining egg whites to stiff peaks. Then fold the whites into the yolk mixture, making certain to keep the air in the meringue. Dip each stuffed chile into the batter, and carefully lower into the hot oil. Carefully turn to lightly brown each side.
Serve with the walnut sauce and garnish with pomegranate seeds and coarsely minced parsley.
Home
About Jane
Featured Recipes
E-Newsletter
Blog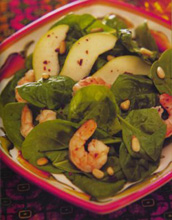 ♦ ♦ ♦ ♦ ♦ ♦ ♦ ♦ ♦ ♦ ♦ ♦ ♦ ♦ ♦ ♦ ♦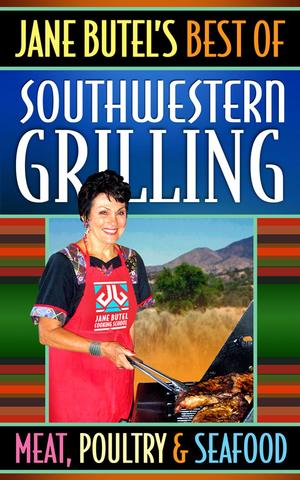 Jane Butel's favorite grilled recipes including such favorites as Grilled Chicken with Lemon-Pecan Butter, Spit Roasted Dallas Style Grilled Flank Steak. E-book $2.99.
Softbound Paperback $10.95
Now On Kindle! $2.99