Week-Long Class-
For more information and to sign up, click on the specific dates you are interested in.
NEWS, NEWS, NEWS
TODAY, AUGUST 20 IS THE LAST DAY TO REGISTER FOR OUR WEEK LONG CLASS
SET FOR AUGUST 22-26.
All our week long and weekend classes are half off until Saturday, August 20.
Pre-order my next 2 cookbooks from any of the 3 sources and you will get an autographed nameplate and really help our rating!
Revisesd, 2nd edition of 'Jane Butel's Southwestern Kitchen" to be published October 4, 2016.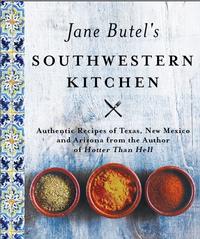 ♦ ♦ ♦ ♦ ♦ ♦ ♦ ♦ ♦ ♦ ♦ ♦ ♦ ♦ ♦ ♦
Jane Butel's newest cookbook, "Simply Southwestern" will be published November 2, 2016.
ORDER NOW: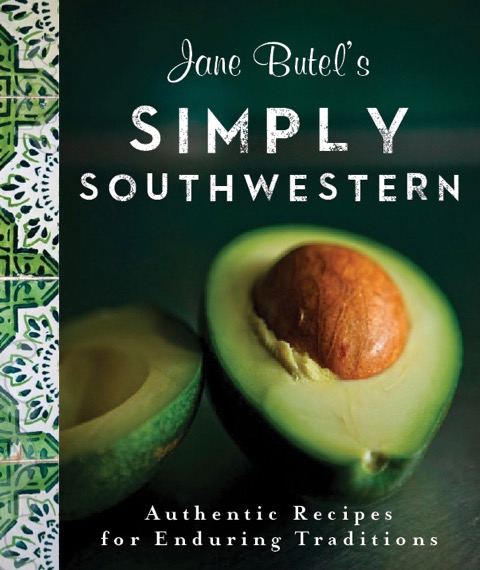 ♦ ♦ ♦ ♦ ♦ ♦ ♦ ♦ ♦ ♦ ♦ ♦ ♦ ♦ ♦ ♦
Recent video recipe:
POSOLE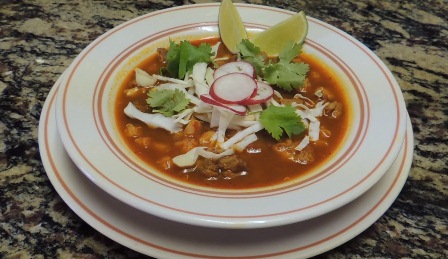 What do you want to see featured on our new blog?
Email us to make suggestions about post features!
Blog link: Southwest Cooking with Jane Butel
♦ ♦ ♦ ♦ ♦ ♦ ♦ ♦ ♦ ♦ ♦ ♦ ♦ ♦ ♦ ♦ ♦
ALL NATURAL SOUTHWESTERN AND MEXICAN INGREDIENTS AVAILABLE
Our wonderful pure, fresh chiles, spices, ingredients and kitchen essentials are in bountiful supply. Order, by selecting the Products key at the top of this page, or click here.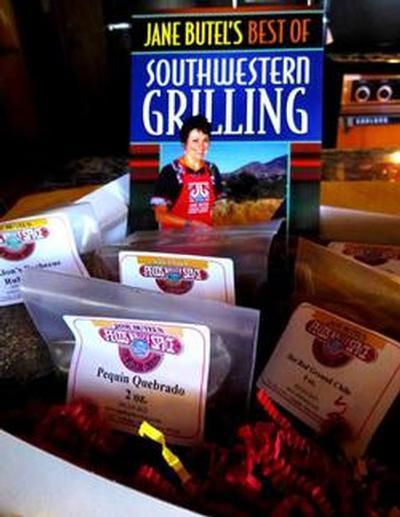 This Grilling Gift Box is on special for $35.00 until July 13, midnight, 2016.

♦ ♦ ♦ ♦ ♦ ♦ ♦ ♦ ♦ ♦ ♦ ♦ ♦ ♦ ♦ ♦ ♦
The complete book of all the Mexican regional recipes taught in the award winning Fairmont-Princess Cooking School in Scottsdale. Has such favorites as Rellenos en Nogado, Pollo Cauchate, Mayan Chilaquiles and the luscious Tres Leches. cake. Ebook $2.99.
Softbound Printed Edition
$12.95

NOW ON KINDLE FIRE
for $2.99
FRUTA FRESCA NACHOS

Why not make nachos with fresh fruit salsa on a mild cream cheese or goat cheese base? They're delicious and quick and easy to prepare. In fact, you can pass the toppings and let your guests make their own nachos. Select fruits of three different colors, such as watermelon, strawberries or seedless red grapes; peeled green kiwi or seedless green grapes or honeydew; and banana or other favorites.
Preparation Time: About 15 minutes
Yield: 4 servings
4 flour tortillas (10 inch size)
2 Tablespoons sugar
½ teaspoon ground cinnamon
2 cups mixed fruit cut into ½ inch dice
1 3 ounce package nonfat cream cheese
1 to 2 Tablespoons Triple Sec (optional)
Preheat the broiler. Slice each tortilla into 8 pie-shaped wedges. Combine the sugar and cinnamon in a shallow bowl. Quickly dip the tortilla wedges in water, drain briefly on paper toweling or a clean dishcloth, and dip one side in the cinnamon sugar. Arrange on a baking sheet without overlapping. Broil for 2 to 3 minutes, until toasted; let cool.
Plase the fruit in a serving bowl and stir well to combine. In another serving bowl, combine the cheese with the Triple Sec, if using.
Serve a plate of the cinnamon crisps and the bowls of fruit salsa and cheese, or, just before serving, spread the cheese on each cinnamon crisp and top with the salsa.
Per Serving: Calories 315, Protein 10g, Carbohydrates 56 g, Fiber 4 g, Fat 6 g, Saturated Fat 1 g, Cholesterol 2 g, Sodiu,m 462 mg. (Analyzed with watermelon, strawberries and green grapes.)
Note: Cut the calories almost in half by substituting corn tortillas.
Home
About Jane
Featured Recipes
E-Newsletter
Blog
10 Favorite Recipes Sign up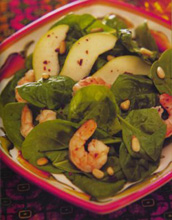 ♦ ♦ ♦ ♦ ♦ ♦ ♦ ♦ ♦ ♦ ♦ ♦ ♦ ♦ ♦ ♦ ♦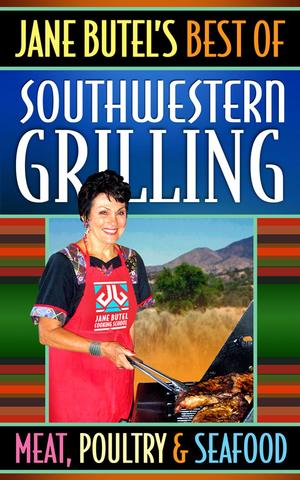 Jane Butel's favorite grilled recipes including such favorites as Grilled Chicken with Lemon-Pecan Butter, Spit Roasted Dallas Style Grilled Flank Steak. E-book $2.99.
Softbound Paperback $10.95
Now On Kindle! $2.99