Week-Long Class-
For more information and to sign up, click on the specific dates you are interested in.
NEWS, NEWS, NEWS
TODAY, AUGUST 20 IS THE LAST DAY TO REGISTER FOR OUR WEEK LONG CLASS
SET FOR AUGUST 22-26.
All our week long and weekend classes are half off until Saturday, August 20.
Pre-order my next 2 cookbooks from any of the 3 sources and you will get an autographed nameplate and really help our rating!
Revisesd, 2nd edition of 'Jane Butel's Southwestern Kitchen" to be published October 4, 2016.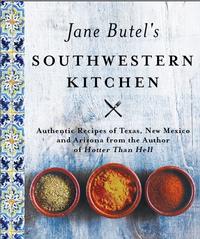 ♦ ♦ ♦ ♦ ♦ ♦ ♦ ♦ ♦ ♦ ♦ ♦ ♦ ♦ ♦ ♦
Jane Butel's newest cookbook, "Simply Southwestern" will be published November 2, 2016.
ORDER NOW: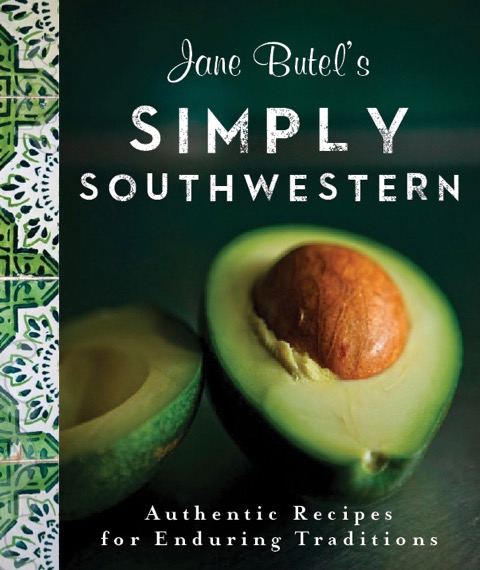 ♦ ♦ ♦ ♦ ♦ ♦ ♦ ♦ ♦ ♦ ♦ ♦ ♦ ♦ ♦ ♦
Recent video recipe:
POSOLE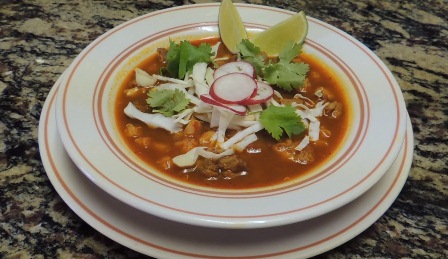 What do you want to see featured on our new blog?
Email us to make suggestions about post features!
Blog link: Southwest Cooking with Jane Butel
♦ ♦ ♦ ♦ ♦ ♦ ♦ ♦ ♦ ♦ ♦ ♦ ♦ ♦ ♦ ♦ ♦
ALL NATURAL SOUTHWESTERN AND MEXICAN INGREDIENTS AVAILABLE
Our wonderful pure, fresh chiles, spices, ingredients and kitchen essentials are in bountiful supply. Order, by selecting the Products key at the top of this page, or click here.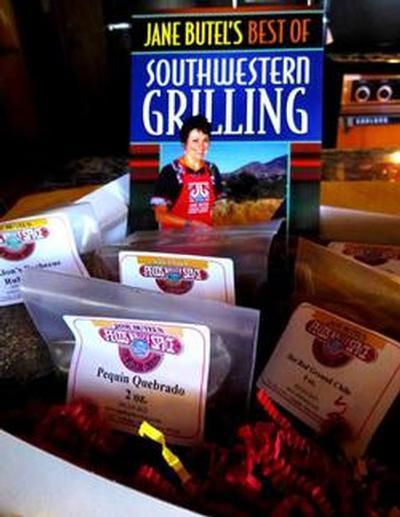 This Grilling Gift Box is on special for $35.00 until July 13, midnight, 2016.

♦ ♦ ♦ ♦ ♦ ♦ ♦ ♦ ♦ ♦ ♦ ♦ ♦ ♦ ♦ ♦ ♦
The complete book of all the Mexican regional recipes taught in the award winning Fairmont-Princess Cooking School in Scottsdale. Has such favorites as Rellenos en Nogado, Pollo Cauchate, Mayan Chilaquiles and the luscious Tres Leches. cake. Ebook $2.99.
Softbound Printed Edition
$12.95

NOW ON KINDLE FIRE
for $2.99
Spicy Chocolate Chile Cupcakes
These doubly chocolate cupcakes, heated up with some spicy red chile, are extraordinarily special. The mellowness of the milk chocolate contrasted with the richness of the semisweet chocolate is a taste treat you won't forget. These are perfect for everything from a birthday party to an afternoon tea—a great snack when you feel the urge for chocolate, and an ideal dessert for a chili meal. Frost them with your favorite chocolate butter cream frosting.
Yield: 12 cupcakes
2 cups semi-sweet chocolate chips
14 Tablespoons (1 ¾ sticks) unsalted butter
4 large eggs
¾ cup sugar
1 teaspoon vanilla, preferably Mexican vanilla
Pinch salt
2 Tablespoons pure, hot ground red chile
1 cup unbleached all-purpose flour
¾ cup milk chocolate chips
½ cup coarsely chopped pecans
Position a rack in the center of the oven and preheat the oven to 375 F. Place paper liners in 12 muffin cups
Place the semisweet chocolate chips and all the butter in a medium microwave-safe mixing bowl. Cover it with plastic wrap and microwave on full power for 1 minute. Stir, and repeat until the chocolate and butter are just melted—do not overheat, as it will ruin the chocolate (If you prefer, you can melt the butter and chocolate together in a heavy saucepan. Start over medium heat and then switch to low for the best result, 6 to 8 minutes total)
Place the eggs in a small bowl and lightly whisk them. Then add the sugar, vanilla, salt, and chile, and mix until well blended.
4. Add the flour to the egg mixture and stir only until just blended. Add the chocolate-butter mixture, the chocolate chips and the pecans, and mix only until just blended. Spoon the batter into the lined muffin cups, and back until just barely done, 30 to 35 minutes. A toothpick inserted in the center should come out almost clean.
Home
About Jane
Featured Recipes
E-Newsletter
Blog
10 Favorite Recipes Sign up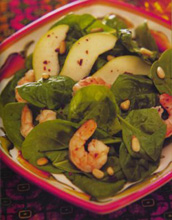 ♦ ♦ ♦ ♦ ♦ ♦ ♦ ♦ ♦ ♦ ♦ ♦ ♦ ♦ ♦ ♦ ♦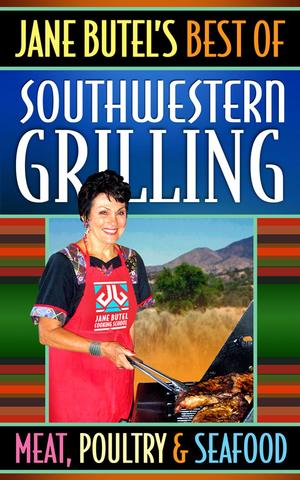 Jane Butel's favorite grilled recipes including such favorites as Grilled Chicken with Lemon-Pecan Butter, Spit Roasted Dallas Style Grilled Flank Steak. E-book $2.99.
Softbound Paperback $10.95
Now On Kindle! $2.99