For more information and to sign up, click on the specific dates you are interested in.
NEWS, NEWS, NEWS
25% OFF All Chile Products until September 24, 2016 plus Free Gift with every order of $25.00 or more.
Pre-order my next 2 cookbooks from any of the 4 sources and you will get an autographed nameplate and really help our rating!
Revisesd, 2nd edition of 'Jane Butel's Southwestern Kitchen" to be published October 4, 2016.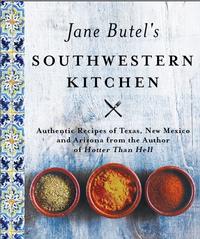 ♦ ♦ ♦ ♦ ♦ ♦ ♦ ♦ ♦ ♦ ♦ ♦ ♦ ♦ ♦ ♦
Jane Butel's newest cookbook, "Simply Southwestern" will be published November 22, 2016.
ORDER NOW: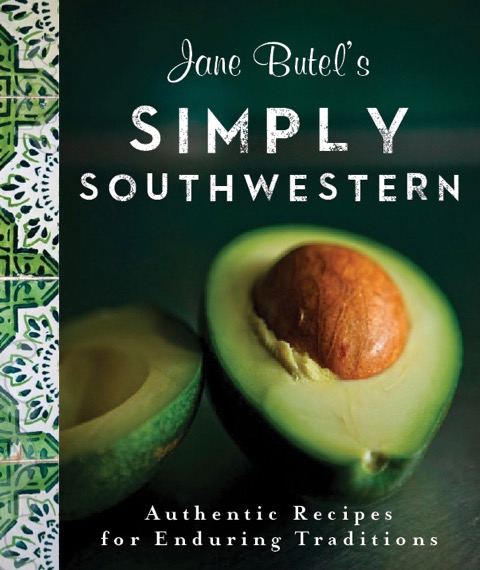 ♦ ♦ ♦ ♦ ♦ ♦ ♦ ♦ ♦ ♦ ♦ ♦ ♦ ♦ ♦ ♦
Recent video recipe:
POSOLE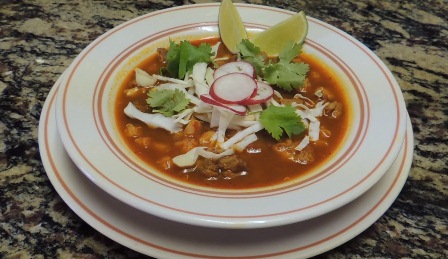 What do you want to see featured on our new blog?
Email us to make suggestions about post features!
Blog link: Southwest Cooking with Jane Butel
♦ ♦ ♦ ♦ ♦ ♦ ♦ ♦ ♦ ♦ ♦ ♦ ♦ ♦ ♦ ♦ ♦
ALL NATURAL SOUTHWESTERN AND MEXICAN INGREDIENTS AVAILABLE
Our wonderful pure, fresh chiles, spices, ingredients and kitchen essentials are in bountiful supply. Order, by selecting the Products key at the top of this page, or click here.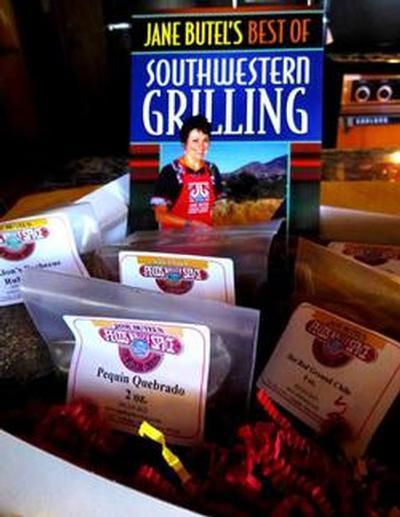 This Grilling Gift Box is on special for $35.00 until July 13, midnight, 2016.

♦ ♦ ♦ ♦ ♦ ♦ ♦ ♦ ♦ ♦ ♦ ♦ ♦ ♦ ♦ ♦ ♦
The complete book of all the Mexican regional recipes taught in the award winning Fairmont-Princess Cooking School in Scottsdale. Has such favorites as Rellenos en Nogado, Pollo Cauchate, Mayan Chilaquiles and the luscious Tres Leches. cake. Ebook $2.99.
Softbound Printed Edition
$12.95

NOW ON KINDLE FIRE
for $2.99
PEAR BREAKFAST CAKE

Pears always seem like fall. However, I like them any time of the year. Their mellow, earthy sweet taste is wonderful in salads, a wide range of desserts, and just simply fresh, eaten out of the hand. This cake is best if allowed to set after baking and served either warm or at room temperature.
Yield: 6 servings
1 ½ cups plus 2 Tablespoons all-purpose flour
½ cup granulated sugar, divided (2 Tablespoons for batter, 1/3 cup for topping, 2 teaspoons to sprinkle over the top)
¾ teaspoon salt
1 ½ teaspoons baking powder
1 ½ teaspoons ground cinnamon
¼ cup (1/2 stick) sweet (unsalted) butter, cut into ½ inch squares)
½ cup milk
3 eggs
2 teaspoons vanilla, Mexican if possible
¾ cup sour cream
3 firm, ripe pears
A sprinkle of ground cinnamon
Confectioners' sugar
Paper doily
Preheat the oven to 375F, making sure the rack is in the upper third of the oven. Butter a 9 x 9-inch square cake pan. Combine the dry ingredients, reserving 2 Tablespoons of flour and 1/3 cup, 2 teaspoons of the granulated sugar in a separate small bowl. Stir in the salt, baking powder, and cinnamon.
Using your hands, a pastry blender, or the beater blade of the mixer, cut in the butter. Mix until uniform and no large particles of butter remain. In a separate small bowl, combine the milk, eggs, and vanilla and stir into the above dry ingredients. Spread the batter evenly into the buttered pan.
Combine the reserved 2 Tablespoons of flour, 1/3 cup granulated sugar, and sour cream and pour this over the batter.
Peel, quarter, and core the pears. Then cut into long medium thick slices and arrange overlapping in a large circle just inside the edge of the pan. Place the remaining pears in a circle inside that one. Cover with foil and bake for 20 minutes.
Remove the foil and sprinkle with the remaining 2 teaspoons sugar and cinnamon. Bake for another 30 minutes or until an inserted knife comes out clean and the pears are tender and lightly browned.
To serve, place a paper doily on the cake and sieve some powdered sugar over it using the holes in the doily to make a pattern. Remove the doily and place foil over the top if you are transporting the cake. Otherwise serve it warm right from the oven or serving tray.
Reprinted with permission from Fiestas for Four Seasons
Home
About Jane
Featured Recipes
E-Newsletter
Blog
10 Favorite Recipes Sign up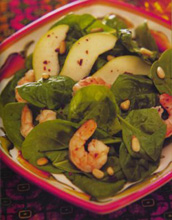 ♦ ♦ ♦ ♦ ♦ ♦ ♦ ♦ ♦ ♦ ♦ ♦ ♦ ♦ ♦ ♦ ♦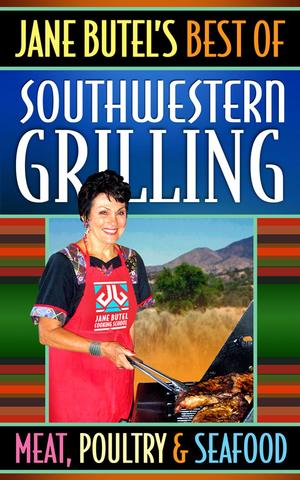 Jane Butel's favorite grilled recipes including such favorites as Grilled Chicken with Lemon-Pecan Butter, Spit Roasted Dallas Style Grilled Flank Steak. E-book $2.99.
Softbound Paperback $10.95
Now On Kindle! $2.99