February is really starting out to be a chock-a-block full month, kicked off with a New Mexico Style TV show on our local Fox affiliate. I demonstrated my favorite recipe for Classic Chile Con Queso as a perfect snacking recipe for Super Bowl watching. I am sharing it here--
CHILE CON QUESO
Literally translated, this is chile with cheese and is the Southwest's most popular hot dip. Serve warm with tortilla chips. Chile con queso may be poured into a rigid container or freezer bags and frozen for up to four months.
Yield: 2 cups
1/3 cup vegetable oil
1/3 cup finely chopped onions or 3 green onions with the tender white green tops, chopped
1 clove garlic, finely minced
1 Tablespoon all-purpose flour
3/4 cup evaporated milk (1/2 large can)
1 pound processed cheese food, cut into 1-inch cubes
1/2 cup mixed shredded Monterey Jack and Cheddar cheese
1 medium-size tomato, chopped
3 Tablespoons finely minced fresh jalapeno chile
Corn tortilla chips or tostados
1. Heat oil in a heavy saucepan. Add onion and garlic and sauté until onions are softened. Stir in flour until well mixed.
2. Gradually stir in evaporated milk and cook, stirring, until mixture thickens slightly.
3. Add cheeses and cook and stir over very low heat, until the mixture becomes smooth. Then add tomato and chile. Cook, stirring to prevent sticking for about a minute or two and serve. You can serve directly from the pan on the range for a party or serve from a chafing dish or fondue pot. Leftover chile con queso is excellent spooned over crisp tortillas for instant nachos, or over hamburgers, under steak or in omelets.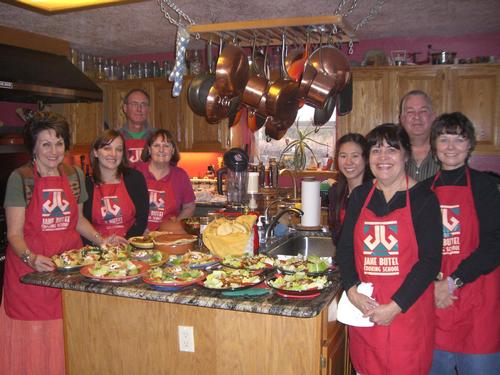 We had a very fun group attend our February weekend, for the first time ever, I think; we had an all local crowd. They were all very careful cooks--producing yummy foods and had lots of fun cooking together. It was bitter cold, so we actually did all of our cooking inside--except for deep frying the sopaipillas...and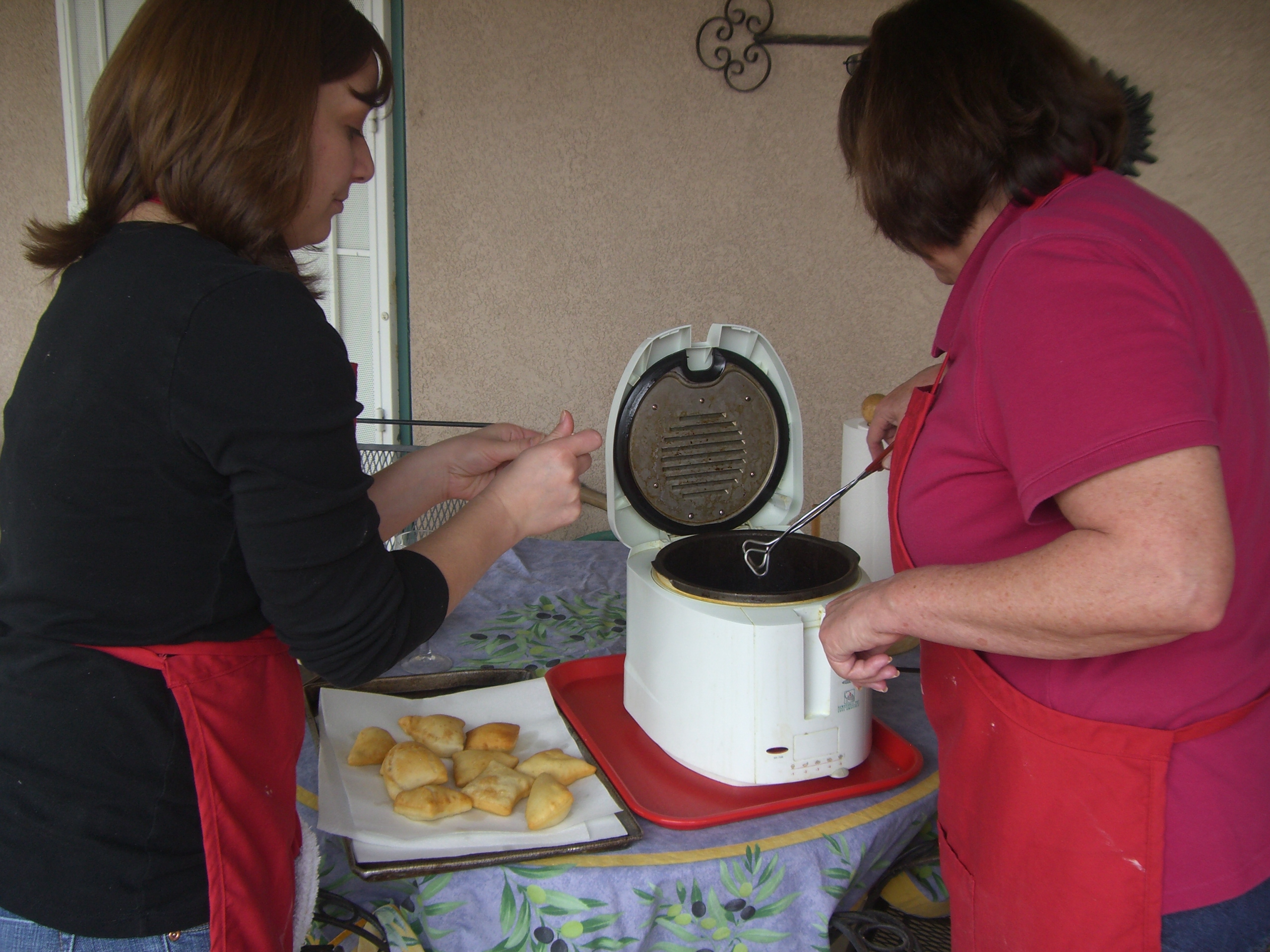 roasting the fresh green chiles.
Here's the class photo and Katie (left) and Mary frying sopaipillas.