Week-Long Class-
For more information and to sign up, click on the specific dates you are interested in.
NEWS, NEWS, NEWS
New Special Grilling Class at 6 PM July 14, 2016. To register or view menu, click here.
Check out this news story about our school in the current edition of New Mexico Homes. Just click on this link http://www.newmexicohomes.com.
Recent video recipe:
POSOLE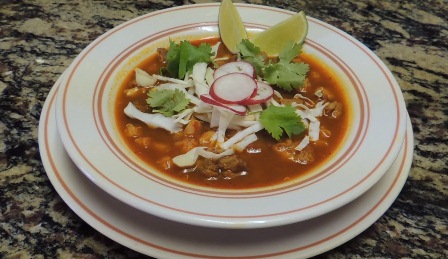 What do you want to see featured on our new blog?
Email us to make suggestions about post features!
Blog link: Southwest Cooking with Jane Butel
♦ ♦ ♦ ♦ ♦ ♦ ♦ ♦ ♦ ♦ ♦ ♦ ♦ ♦ ♦ ♦ ♦
ALL NATURAL SOUTHWESTERN AND MEXICAN INGREDIENTS AVAILABLE
Our wonderful pure, fresh chiles, spices, ingredients and kitchen essentials are in bountiful supply. Order, by selecting the Products key at the top of this page, or click here.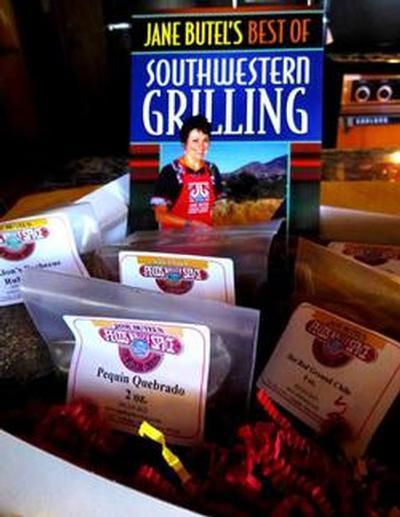 This Grilling Gift Box is perfect for Father's Day and summer gift giving. On special for $35.00 until June 12, midnight, 2016.

♦ ♦ ♦ ♦ ♦ ♦ ♦ ♦ ♦ ♦ ♦ ♦ ♦ ♦ ♦ ♦ ♦
The complete book of all the Mexican regional recipes taught in the award winning Fairmont-Princess Cooking School in Scottsdale. Has such favorites as Rellenos en Nogado, Pollo Cauchate, Mayan Chilaquiles and the luscious Tres Leches. cake. Ebook $2.99.
Softbound Printed Edition
$12.95

NOW ON KINDLE FIRE
for $2.99
SPICY HOT CHOCOLATE MOUSSE
As rich as this mousse tastes, it is surprisingly easy to make. High quality chocolate is a must; bittersweet chocolate is preferred. The unexpected heat of this dessert comes from the spicy, red-hot cinnamon schnapps.
Yield: 4 servings
½ cup sugar, divided
4 ounces high-quality bittersweet baking chocolate
2 Tablespoons unsalted butter, cut into small bits
1 Tablespoon red-hot schnapps, or to taste
3 egg whites
1. In a liquid measuring cup, combine ¼ cup water and ¼ cup of the sugar. Microwave for 1 minute on full power to dissolve the sugar, or, on a conventional range, bring to a boil in a small saucepan and cook until dissolved. Set aside.
2. In a heavy saucepan, or a double boiler over medium-low heat, combine chocolate and butter, whisking continuously until melted and of a creamy texture. Whisk or mix in the schnapps and 2 tablespoons of the sugar mixture. Taste and add the remaining sugar mixture, if desired. Set aside for later use in another recipe or drink.
3. Place the egg whites in a mixing bowl. Using clean beaters for the electric mixer, beat until foamy. Sprinkle the remaining ¼ cup sugar evenly over the top. Beat on high speed to create a soft meringue. Fold the meringue into the chocolate mixture. Serve warm or chilled in footed martini glasses, compotes or wineglasses. Sprinkle each with Caribe Chile for a festive touch.

PER SERVING: Calories 330, Protein 5 g, Carbohydrates 43 g, Fiber 2 g, Fat 15 g, Saturated Fat 9 g, Cholesterol 17 mg, Sodium 44 mg.
Home
About Jane
Featured Recipes
E-Newsletter
Blog
10 Favorite Recipes Sign up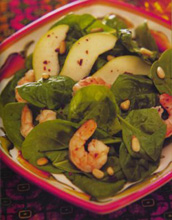 ♦ ♦ ♦ ♦ ♦ ♦ ♦ ♦ ♦ ♦ ♦ ♦ ♦ ♦ ♦ ♦ ♦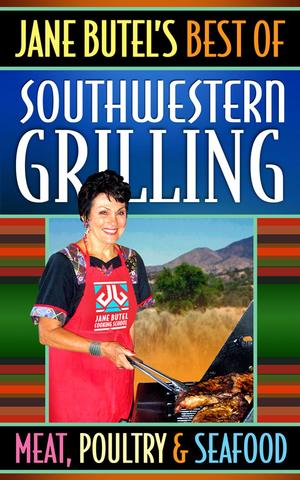 Jane Butel's favorite grilled recipes including such favorites as Grilled Chicken with Lemon-Pecan Butter, Spit Roasted Dallas Style Grilled Flank Steak. E-book $2.99.
Softbound Paperback $10.95
Now On Kindle! $2.99