Chile-Seared Salmon with Sweet Pear Pineapple Salsa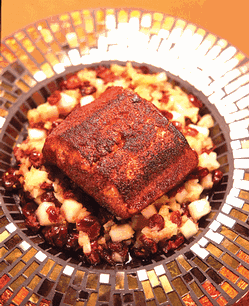 Chiles love salmon – they add just the right accent to flavor the salmon to its greatest dimension. Fruity salsa, spiked with chiles, adds just the right complement.
Yield: 2 servings
1 Tablespoon ground mild red chile
1 teaspoon sugar
½ teaspoon salt, plus more for sprinkling
¾ pound fresh salmon filled
1 Tablespoon vegetable oil (optional)
1 cup Sweet Pear Pineapple Salsa
1. In a small bowl, combine the chile, sugar, and salt. Cut the salmon into 2 pieces. Rinse, then pat dry with a paper towel. Rub the chile mixture evenly over the salmon..
2. Sprinkle salt in a heavy, seasoned skilled (or an unseasoned skillet to which you have added the oil). Place over medium-high heat until hot.
3. Saute the salmon for 3 to 5 minutes per side, until crisp and brown on the outside and still moist and bright pink on the inside. Serve on a pool of salsa.
Sweet Pear Pineapple Salsa
Yield: about 2 ½ cups
1 d'Anjou or Bartlett pear, peeled, cored and diced
1 8-ounce can crushed pineapple, drained
1 cup dried cranberries or Craisins
½ teaspoon crushed red pequin quebrado, or more to taste
1. In a non-reactive bowl, combine the pear, pineapple, cranberries and chile. Allow to stand for at least 10 minutes before serving.
PER SERVING: Calories 388, Protein 335 g, Carbohydrates 34 g, Fiber 4 g, Fat 12 g, Saturated Fat 2 g, Cholesterol 96 mg, Sodium 661 mg.