Week-Long Class-
*NOW ON HALF PRICE SPECIAL UNTIL JULY 5, MIDNIGHT!
For more information and to sign up, click on the specific dates you are interested in.
NEWS, NEWS, NEWS
New Special Grilling Class at 6 PM July 14, 2016. To register or view menu, click here.
July 27, 1:30 PM at the Corrales Library, I will be presenting a Green Chile Fiesta. To register, call 505-897-0733.
Recent video recipe:
POSOLE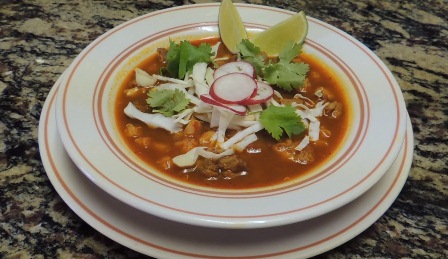 What do you want to see featured on our new blog?
Email us to make suggestions about post features!
Blog link: Southwest Cooking with Jane Butel
♦ ♦ ♦ ♦ ♦ ♦ ♦ ♦ ♦ ♦ ♦ ♦ ♦ ♦ ♦ ♦ ♦
ALL NATURAL SOUTHWESTERN AND MEXICAN INGREDIENTS AVAILABLE
Our wonderful pure, fresh chiles, spices, ingredients and kitchen essentials are in bountiful supply. Order, by selecting the Products key at the top of this page, or click here.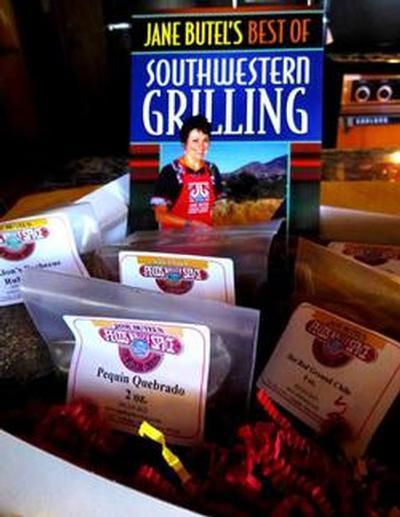 This Grilling Gift Box is on special for $35.00 until July 13, midnight, 2016.

♦ ♦ ♦ ♦ ♦ ♦ ♦ ♦ ♦ ♦ ♦ ♦ ♦ ♦ ♦ ♦ ♦
The complete book of all the Mexican regional recipes taught in the award winning Fairmont-Princess Cooking School in Scottsdale. Has such favorites as Rellenos en Nogado, Pollo Cauchate, Mayan Chilaquiles and the luscious Tres Leches. cake. Ebook $2.99.
Softbound Printed Edition
$12.95

NOW ON KINDLE FIRE
for $2.99
Aztec Pork Chops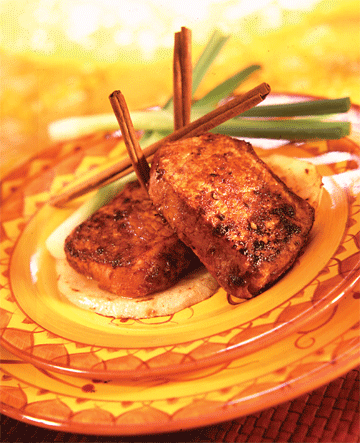 Often found on Mexican restaurants' menus, this is easy to prepare at home. This sauce can be made in advance so breakfast or brunch is simply a matter of poaching or frying the eggs.
Yield: 4 servings

1 recipe Sonoran Sauce (following)
8 corn tortillas
8 eggs
1 cup shredded mixed Monterey Jack and Sharp Cheddar cheese
3 tablespoons thinly sliced green onions, tops included
1 avocado, sliced into thin wedges
1 large tomato, cut into wedges
1. Prepare sauce and keep it warm. This may be made several days or up to 3 months ahead and frozen. Place tortillas in a plastic bag to warm 1 minute in the microwave or wrap tortillas in foil and heat in a 325° F oven 15 minutes. Heat 4 serving plates in the same oven.

2. Fry or poach them. Assemble the dish by placing a tortilla on each plate; then pour about ¼ cup of sauce over each tortilla and put 2 eggs on top.
3. Sprinkle ¼ cup shredded cheese and a few green onions slices over each serving. Place plates back in the oven only long enough to melt the cheese, about 5 minutes. Garnish each plate with avocado and tomato wedges. Pass remaining warm sauce and tortillas separately.
Per Serving: Calories 388, Protein 35 g, Carbohydrates 34 g, Fiber 4 g, Fat 12 g, Saturated Fat 2 g, Cholesterol 96 mg, Sodium 661 mg.
Recipe reprinted with permission from Jane Butel's Quick and Easy Southwestern Cookbook.
Home
About Jane
Featured Recipes
E-Newsletter
Blog
10 Favorite Recipes Sign up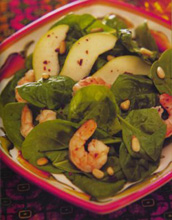 ♦ ♦ ♦ ♦ ♦ ♦ ♦ ♦ ♦ ♦ ♦ ♦ ♦ ♦ ♦ ♦ ♦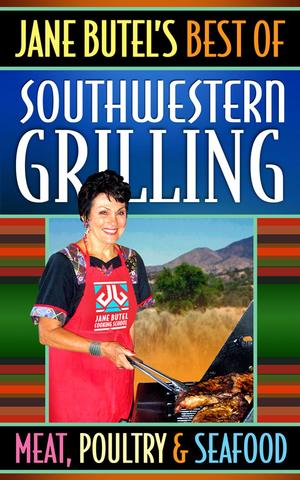 Jane Butel's favorite grilled recipes including such favorites as Grilled Chicken with Lemon-Pecan Butter, Spit Roasted Dallas Style Grilled Flank Steak. E-book $2.99.
Softbound Paperback $10.95
Now On Kindle! $2.99