Aztec Pork Chops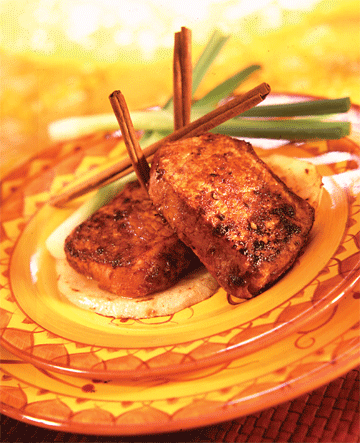 Often found on Mexican restaurants' menus, this is easy to prepare at home. This sauce can be made in advance so breakfast or brunch is simply a matter of poaching or frying the eggs.
Yield: 4 servings

1 recipe Sonoran Sauce (following)
8 corn tortillas
8 eggs
1 cup shredded mixed Monterey Jack and Sharp Cheddar cheese
3 tablespoons thinly sliced green onions, tops included
1 avocado, sliced into thin wedges
1 large tomato, cut into wedges
1. Prepare sauce and keep it warm. This may be made several days or up to 3 months ahead and frozen. Place tortillas in a plastic bag to warm 1 minute in the microwave or wrap tortillas in foil and heat in a 325° F oven 15 minutes. Heat 4 serving plates in the same oven.

2. Fry or poach them. Assemble the dish by placing a tortilla on each plate; then pour about ¼ cup of sauce over each tortilla and put 2 eggs on top.
3. Sprinkle ¼ cup shredded cheese and a few green onions slices over each serving. Place plates back in the oven only long enough to melt the cheese, about 5 minutes. Garnish each plate with avocado and tomato wedges. Pass remaining warm sauce and tortillas separately.
Per Serving: Calories 388, Protein 35 g, Carbohydrates 34 g, Fiber 4 g, Fat 12 g, Saturated Fat 2 g, Cholesterol 96 mg, Sodium 661 mg.
Recipe reprinted with permission from Jane Butel's Quick and Easy Southwestern Cookbook.