The earth's bounty was upon us this past Labor Day and three of my friends decided it would be great fun to preserve it! What a Labor of Love it was.
We made 30, 1/2 pint jars of the most delicious nectarine jam; created 12 pints of yummy Bread and Butter Pickles from the cucumbers in my garden and the store--a staple on our holiday tables--and froze 9 quarts of peaches from my tree. Also, Carol Bryant had a life size--2 foot,huge, zucchinni and decided to make 8 full sized loaves of Zucchini Bread which was so delicious.
The bountiful crop of nectarines were from my friend, Jane Bradley's daughter-in-law's tree. These nectarines set the timing. They needed to be dealt with, so we did--hours of jamming later. My kitchen is large, offering the room for everyone to work at the same time.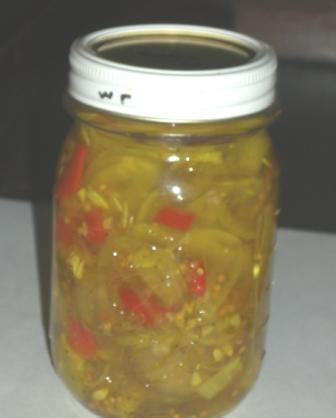 Barbara Kline and I started the pickles to brine, while Jane Bradley started the jam and Barbara switched over to help her and Carol helped me finish the pickles. Then Carol started making breads, while I got the jars and all the canning paraphanalia set up. The jam recipe, which is truly my favorite is just 3/4 cup sugar to 1 cup fruit. We did not peel the nectarines, creating a gorgeous bronzy color for the jam. We cooked 8 cups of fruit to 6 cups of white sugar for each batch. Small batch cooking of jam makes for fresher flavor and prettier color. We cooked each batch to the sheet test and then canned it in sterilized jars.
For lunch, I created seared Ahi Tuna Tacos with fresh Peach-Grilled Corn Tacos. The Tuna was just rubbed with some of Gordon's Rub, mixed with a bit of sugar, sumac and seafood seasoning blend--both from the Istanbul market. We enjoyed Robert Mondavi Chardonnay with lunch.
After lunch we drained the brine from the pickles and made them, while the last batrches of bubbling jam were made. Then we moved into peeling and freezing peaches. Kim Crawford's Sauvignon Blanc helped us get through to the end of the day. My favorite way to freeze peaches is to peel and slice them into a quart pyrex measuring cup. When the peaches reach the 2 cup level, I add 1/3 cup granulated sugar and 1/2 teaspoon of Fruit Fresh, ascorbic acid mixture. Then I carefully stir that in, followed by peeling and slicing the final 2 cups of peaches on top to create 4 cups of fruit. I add another 1/3 cup sugar and stir and then pour the peaches into a 1 quart freezer bag.
Here's my favorite Bread and Butter Pickle recipe from my Mother.
MOM'S BREAD & BUTTER PICKLES
This is my Mother's very favorite pickle. They are wonderfully crisp and flavorful and good as a
table relish or in deviled eggs, salads and sandwich spreads.
Yield: 7 to 8 pints
3 quarts thinly sliced cucumbers
4 medium onions, thinly sliced
1 red bell pepper, cut in ¾' cubes (3/4 cup)
¼ cup coarse salt
4 cups sugar
1 ¼ cups vinegar
1 Tablespoon, 1 ½ teaspoons mustard seed
½ teaspoon turmeric
1 ½ teaspoon celery seed
1. Combine all vegetables and salt. Cover with ice cubes and mix thoroughly. Let stand three hours. Drain well.
2. Combine other ingredients and pour over vegetables.
3. Bring to just boiling. Put in sterilized jars and seal. Chill before serving.