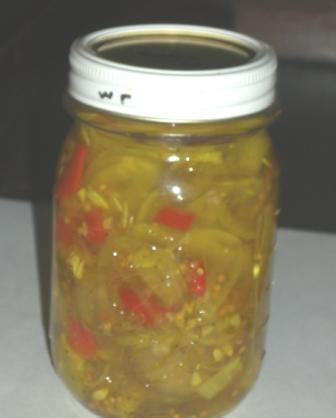 MOM'S BREAD AND BUTTER PICKLES

This is my Mother's very favorite pickle. They are wonderfully crisp and flavorful and good as a
table relish or in deviled eggs, salads and sandwich spreads.
Yield: 7 to 8 pints
3 quarts thinly sliced cucumbers
4 medium onions, thinly sliced
1 red bell pepper, cut in ¾' cubes (3/4 cup)
¼ cup coarse salt
4 cups sugar
1 ¼ cups vinegar
1 Tablespoon, 1 ½ teaspoons mustard seed
½ teaspoon turmeric
1 ½ teaspoon celery seed
Combine all vegetables and salt. Cover with ice cubes and mix thoroughly. Let stand three hours. Drain well.
Combine other ingredients and pour over vegetables.
Bring to just boiling. Put in sterilized jars and seal. Chill before serving.