We are having loads of fun with our Blog Talk Radio Shows each Tuesday at 5:30 PM MDT and would just love for you to listen in and give us a call at 347-855-8325 and be a part of the show. You can ask any question you wish and we will try our best to give you a great answer or find it for the next week's show.
You can listen to our shows at Blog Talk Radio on your computer. To find Blog Talk Radio, just google it. We are listed under food.
Each week we talk about timely topics, such as this week we made the Bytes July ssue recipes come alive with hints and tips for making each, plus more recipe ideas from me.
Then, Jim Hammond gives practical information on really good and reasonable wines that would be fantastic pairings with the foods we are preparing. We have loads of fun presenting the shows and all who listen tell us they learn a great deal of good to know information about both wine and food.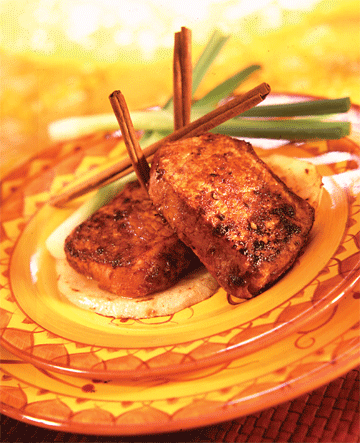 We love to share and just know you would feel listening in is very worthwhile. You just have to get the habit of tuning us in every Tuesday at 5:30 to 6:00 PM MDT--7:30 EDT. You can also listen to the archived shows as well.
Also, I give recipes for the dishes we are preparing to go with the wines. If all the information is coming too fast, the recipes are on my website, www.janebutelcooking as well.
We would be happy to take your requests, just send your cooking requests to me at info@janebutelcooking.com.
And send wine requests to Jim Hammond at jhammond59@comcast.net.
We look forward to hearing from you next week.
Recipe here is Aztec Pork Chops from"Real Women Eat Chiles" cookbook by me.