Nine Day Coleslaw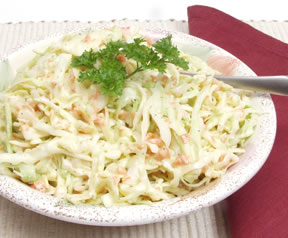 Coleslaw, especially the pickled variety, is often served with Southwestern foods. You can tuck it in tacos and burritos and enjoy it as a side dish with spicy entrees such as enchiladas.
This particular slaw is a wonderful "take-along" for campers and picnickers because it keeps very well without refrigeration. The story goes that it keeps for 9 days, but I've never had any last that long!
Yield: About 2 quarts
1 cup salad oil
1 cup white or cider vinegar
1 cups sugar
2 Tablespoons celery seeds
3 pounds cabbage, thinly sliced and chopped
1 medium green bell pepper, finely chopped
2 medium white onions, finely chopped
1 Tablespoon salt
1/2 teaspoon freshly ground back pepper
Heat the oil, vinegar, sugar and celery seeds until the mixture boils and the sugar dissolves. Simmer for a few minutes.
Combine the chopped vegetables in a large bowl. Season with the salt and pepper and mix well. Pour hot dressing over the vegetables and let stand for at least 2 hours before serving. Better yet, chill overnight for the best flavor.