ORANGE LACED RHUBARB PIE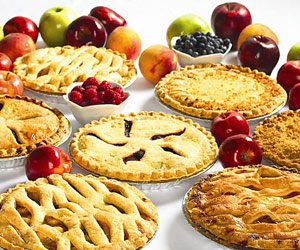 Ever since trying this ages-old recipe from England, I cannot bear the thought of making rhubarb pie any other way—other than perhaps with substituting half to a fourth of the rhubarb with strawberries Gooseberries are great prepared in a pie this way—just increase the sugar by ½ cup, depending on your taste and how they were frozen—if they were.
Temperature: 425 F, then 375 F
Baking time: 50 to 60 minutes
Yield: 1, 9 inch pie
1 recipe for double crusted pie, see pie pastry this issue of Bytes
¾ cup light brown sugar
2 Tablespoons flour
2 pints (4 cups) fresh or frozen rhubarb
1 small orange, thinly sliced with seeds and outside peel and membrane removed
2 Tablespoons butter
Several grates fresh nutmeg or about ¼ teaspoon
Preheat an oven to 425 F. Line a 9 inch pie plate with the pastry. Mix the sugar and flour together.
Place 1/3 flour-sugar mixture on the bottom of the pie, on top of the bottom pastry. Top with 1/3 of the rhubarb, and a few slices of the orange, then scatter another 1/3 of the flour-sugar mixture over the top. Repeat twice more, ending with a layer of orange slices.
Dot with small pieces of the butter over the top. Arrange either a lattice or solid crust over the top, bake on a cookie sheet or jelly roll pan with sides. Reduce heat to 375 after 15 minutes and bake until golden tan and an inserted knife or fork easily glides through the fruit.
Reprinted with permission from Jane Butel's Freezer Cookbook