ROASTED BEETS WITH ROMESCO SAUCE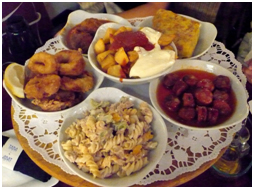 Beets are either loved or hated, and many people are in the latter camp. But I have won over dedicated beet haters by serving them this appetizer. You will be amazed at how terrific the roasted beets taste with this creamy, spicy, flavorful sauce. I sampled this dish first as a Spanish tapa, and I have been making it ever since. The sauce, by the way, can substitute for a remoulade sauce with seafood such as shrimp, crab, or crayfish, or with vegetables, such as steamed or boiled tiny new potatoes. When roasting, leave 3 inches of stem on the beets to prevent the juice from bleeding too much.
Yield: Serves 6
6 to 8 small fresh beets (about 1 bunch)
1 medium-size ripe tomato
2 large cloves garlic
5 blanched almonds
1 ½ Tablespoons red wine vinegar
¼ cup good-quality extra-virgin olive oil
½ corn tortilla (6-inch), torn into chunks
1 Tablespoon pure ground mild red chile
Generous pinch of pequin quebrado
Salt and freshly ground pepper
Prepare the beets: Preheat the oven to 350F. Wash and dry the beets, and trim the stems to 3 inches long (you can discard the leaves or reserve them for another use).
Place the beets on a baking sheet and transfer them to the oven. Roast the beets until their skins move slightly when touched with a spoon, about 30 minutes for small beets (less then 2 inches in diameter), up to 60 minutes for larger beets.
While the beats are roasting, prepare the romesco sauce: Rinse the tomato, remove the core, and cut a very shallow X into the bottom (this will allow you to remove the tomato's skin when it's cooked). Place the tomato, stem end up, the garlic, and the almonds on an ungreased baking sheet and place them in the oven. Roast in the oven along with the beets for about 15 minutes. Remove the garlic and almonds. Then continue to roast the tomato until it is soft, about 15 minutes more. Remove it from the oven. When the tomato and the garlic cloves are cool enough to handle, slip off the skins.
Let the beets cool until they're still warm but not hot to the touch. Then peel them by tugging at the skin with a sharp paring knife- the skin and stems should slip off. Any stubborn portions will need to be peeled with a knife. Dice the beets into ¾ -inch cubes.
Pour 1/3 cup water, the vinegar, and the oil into a blender. Add the roasted tomato, garlic, and almonds, followed by the tortilla chunks, ground chile, pequin quebrado, and salt and black pepper to taste. Process until smooth. Then Tast, and adjust the seasonings as needed. Transfer the sauce to a small serving bowl.
Center the bowl of sauce on a serving platter and surround it with the diced beets. Provide toothpicks for piercing the beets and dipping them into the sauce.