CHILE-CRUSTED CHORIZO QUCIHE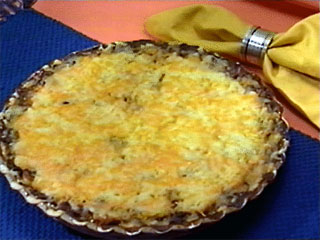 Quiche is usually quite mild in flavor – but never say no to this sassy version. It's good for brunch, lunch, or supper, and it's easy to put together, especially if you already have parched green chiles on hand in the freezer. If you'd like to turn down the heat a bit, just substitute fried tortillas for the green-chile crust .
Yield: 6 servings
1 tablespooon unsalted butter, at room temperature
6 to 8 large fresh New Mexico hot green chiles, parched, peeled, seeded and de-ribbed
½ pound chorizo or hot Italian sausage, casings removed, meat crumbled, browned, and drained
4 eggs
1 Tablespoon chopped fresh cilantro
1 cup light cream
1 cup grated Monterey Jack cheese
1 small onion, thinly sliced and separated into rings
1 Tablespoon Caribe (crushed Northern New Mexico red chile) or 1 teaspoon pequin quebrado, or to taste
½ cup hot salsa, if desired
1. Preheat oven to 375°F. Butter a 9-inch pie plate, preferable ovenproof glass or pottery. Line the pie plate with chiles, opening each one out completely and arranging with points at the center of the plate. Arrange chorizo in an even layer across the bottom of the chile crust.
2. In a separate bowl, beat together eggs, cilantro, and cream. Very carefully pour into pie plate, being sure not to disturb distribution of sausage. Evenly sprinkle cheese over egg mixture, and then place onion rings in a circle just inside edge of pie plate. Sprinkle Caribe or pequin evenly over all and bake for 30 minutes, or until a knife inserted in the center comes out clean. Serve with salsa on the side, if desired.
Reprinted with permission from Hotter Than Hell by Jane Butel