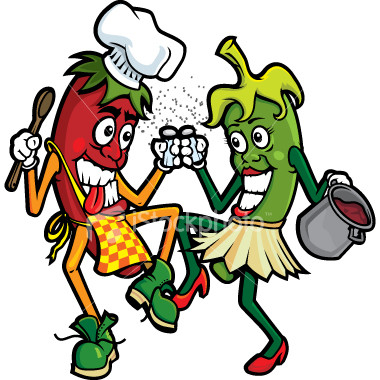 Snowflakes, big, gorgeous velvety ones were lazily drifting upon us the beginning of Spring here in New Mexico signalling a very different mood--more cozy than beckoning outdoors.
With this chilly start, spicy dishes came rushing to mind--easy one-dish dinners that could warm one up with the comforting--yet exciting taste of chiles. (Chiles you know do so much for our bodies--from warding off infection to curing whatever ails us--making them just perfect for kicking off a new season.)
I recently made a Tamale Pie for an easy buffet party I did for watching the Academy Awards. Everyone liked it so much--I am sharing it here. It is actually patriotic looking with a blue corn crust made with our very own Blue Corn Flour (listed on our products page) and lots of our pure Pecos Valley spices. The beauty of this dish is that it keeps for over a week in the refrigerator and at least 6 months in the freezer.
To keep from having your favorite casserole dish stay in the freezer, lightly butter the dish, then criss cross heavyweight aluminum foil, spraying it with shortening and make the casserole as usual. Freeze solid and then when solidly frozen--remove from the freezer and wrap in vapor proof packaging...labeling it of course.
Enjoy!
Buffet Tamale Pie
This dish couldn't be better named—it definitely will serve a crowd—at least 10 to 12 hungry "chile-starved" appetites. I particularly like it made with blue corn flour as the blue crust is especially appealing with the chili filling and cheesey top. The spicy goodness is sure to please most everyone. A tossed green salad completes the meal.
Yield: 10 to 12 servings or one 10 x 14 inch casserole
Temperature: 325 F
Baking time: 2 or more hours
8 cups water
3 cups blue corn Pecos Valley Spice flour or meal
2 teaspoons salt
2 pounds ground lean beef
1 pound chorizo, fried and well drained
½ cup chopped onion (1/2 of medium onion)
½ cup chopped celery
½ cup chopped green chile (about 4 fresh parched, peeled and chopped) or 1, 4 ounce can
1 cup whole kernel corn
1 cup grated sharp cheese
1 cup pitted ripe olives, sliced in two
1 cup chicken broth
3 ½ cups canned tomatoes
1/4 cup pure ground hot Pecos Valley chile
2 Tablespoons crushed caribe Pecos Valley chile
1 Tablespoon Pecos Valley cumin
1 cup Monterey Jack cheese
12 jalapeno or pimiento stuffed green olives, optional
Heat 5 cups of the water to boiling. Mix corn flour or meal, salt and remaining 3 cups water together and pour into boiling water, stirring constantly. Cook until thickened. Cover.
Before mixture cools, use it to line a very large casserole dish. Reserve one-quarter of the mush for the topping.
Brown the ground beef, stir in the cooked and drained chorizo and onion. Saute two to three minutes or until the onion is clear. Stir in all remaining ingredients except the Monterey Jack cheese and the green olives.
Simmer until somewhat thickened. Taste and adjust seasonings.
Spoon the mixture into the mush-lined casserole and top with spoonsful of the reserved mush, smoothing it to make a uniform topping. Garnish with the Monterey Jack cheese and sliced green olives.
Notes: This can be made up to 3 days ahead for baking 2 hours before serving. Leftovers freeze up to 6 months.