Weekend Classes-
Week-Long Class-
February 22-26, 2016
For more information and to sign up, click on the specific dates you are interested in.
The fall weekend cooking classes are NOW ON SALE at 50% off or $575.00 until September 7, 2015. To register click the dates you are interested in.
NEW DAY CLASSES STARTING SEPTEMBER 15, 24 (BELOW), OCTOBER 6, 8 AND 22, 2015. To register, click the class you are interested in or call us at 505-243-2622.
For classes further ahead than listed, go to the cooking school link.
NEWS, NEWS, NEWS
Quick and Easy Favorites Full Paricipation Class September 15, at 1 PM. Register Now.
Special Green Chile Full Participation Class September 24, 6 PM. Register Now.
September 2, 2015 between 8 and 9 AM, I will be on Channel 2, presenting perfect guacalmole and mentioning the Internation Contest which we sponsor at the New Mexico State Fair.
World's first electric wine aerator, now available. Quick, easy to operate, leaving all sediment in bottom of bottle. A must have for the home and professional wine enthusiast.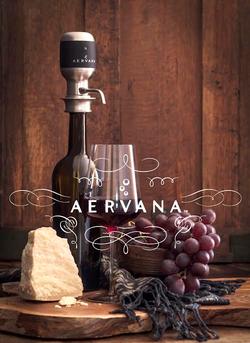 Recent video recipe:
POSOLE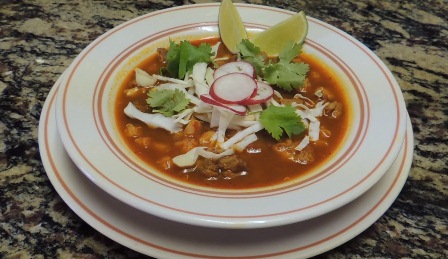 What do you want to see featured on our new blog?
Email us to make suggestions about post features!
Blog link: Southwest Cooking with Jane Butel
♦ ♦ ♦ ♦ ♦ ♦ ♦ ♦ ♦ ♦ ♦ ♦ ♦ ♦ ♦ ♦ ♦

♦
ALL NATURAL SOUTHWESTERN AND MEXICAN INGREDIENTS AVAILABLE
Our wonderful pure, fresh chiles, spices, ingredients and wine and kitchen essentials are in bountiful supply. Order, by selecting the Products key at the top of this page, or click here.
Our Gift boxes are a great present for most anyone anytime.
♦ ♦ ♦ ♦ ♦ ♦ ♦ ♦ ♦ ♦ ♦ ♦ ♦ ♦ ♦ ♦ ♦ ♦
The complete book of all the Mexican regional recipes taught in the award winning Fairmont-Princess Cooking School in Scottsdale. Has such favorites as Rellenos en Nogado, Pollo Cauchate, Mayan Chilaquiles and the luscious Tres Leches. cake. Ebook $2.99.
Softbound Printed Edition
$12.95

NOW ON KINDLE FIRE
for $2.99
Blue Heaven Chili
Blue cheese is an unlikely ingredient in conventional chili, although other types of cheese have long been chili "tamer downers" and a favorite fixin' and mixin'. Since I have always really liked blue cheese in any form, I decided to see if it's wonderful flavor would give a great-tasting "edge" to chili—and it sure does. Try it!
Yield: Serves 2 to 4
2 Tablespoons bacon drippings or butter
1 cup chopped onion
2 cloves garlic, minced
1 large whole boneless, skinless chicken breast, cut into ½ inch dice (2 to 2 ½ cups)
3 cups rich chicken broth
4 to 6 fresh green chiles parched, peeled, and coarsely chopped, or 1 cup canned or frozen chopped green chiles
1 medium russet potato, unpeeled, diced
½ teaspoon salt, or to taste
½ cup crumbled blue cheese (blue cheese, Gorgonzola, Roquefort, or Stilton will work well)
1. Melt the bacon drippings in a large pot over medium heat. Add the onion and cook until it is translucent, about 5 minutes.
2. Add the garlic and chicken and cook, stirring, until the chicken begins to brown, about 4 minutes.
3. Add the broth, green chiles, and potato to the pot. Simmer until the chicken is cooked through and the potatoes can be pierced with a fork, 30 to 40 minutes.
4. Taste the chili and adjust the seasonings as needed, adding salt to taste (many chicken broths and bouillons are so loaded with salt that none is needed). Spoon the chili into individual bowls, and scatter the blue cheese over the top of each serving.
Note: To make "rich" chicken broth, simply simmer regular chicken broth (canned or homemade) over medium heat until it is reduced by half, 15 to 20 minutes (in this case you would begin with 6 cups broth and cook it down to 3.) Or, if using a bouillon concentrate, double the amount of concentrate.
Home
About Jane
Featured Recipes
E-Newsletter
Blog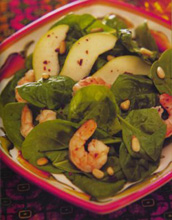 ♦ ♦ ♦ ♦ ♦ ♦ ♦ ♦ ♦ ♦ ♦ ♦ ♦ ♦ ♦ ♦ ♦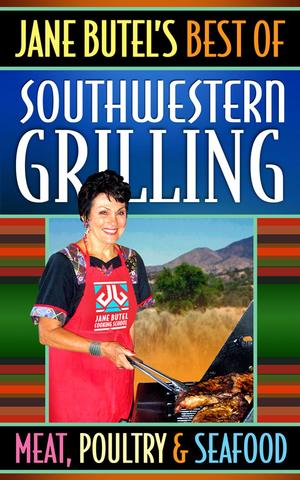 Jane Butel's favorite grilled recipes including such favorites as Grilled Chicken with Lemon-Pecan Butter, Spit Roasted Dallas Style Grilled Flank Steak. E-book $2.99.
Softbound Paperback $10.95
Now On Kindle! $2.99