Week-Long Class-
*NOW ON HALF PRICE SPECIAL UNTIL JULY 5, MIDNIGHT!
For more information and to sign up, click on the specific dates you are interested in.
NEWS, NEWS, NEWS
New Special Grilling Class at 6 PM July 14, 2016. To register or view menu, click here.
July 27, 1:30 PM at the Corrales Library, I will be presenting a Green Chile Fiesta. To register, call 505-897-0733.
Recent video recipe:
POSOLE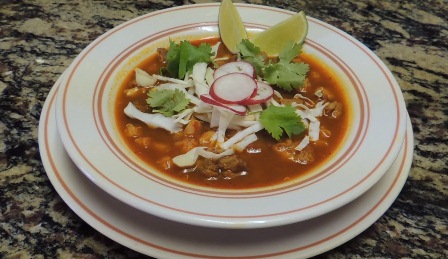 What do you want to see featured on our new blog?
Email us to make suggestions about post features!
Blog link: Southwest Cooking with Jane Butel
♦ ♦ ♦ ♦ ♦ ♦ ♦ ♦ ♦ ♦ ♦ ♦ ♦ ♦ ♦ ♦ ♦
ALL NATURAL SOUTHWESTERN AND MEXICAN INGREDIENTS AVAILABLE
Our wonderful pure, fresh chiles, spices, ingredients and kitchen essentials are in bountiful supply. Order, by selecting the Products key at the top of this page, or click here.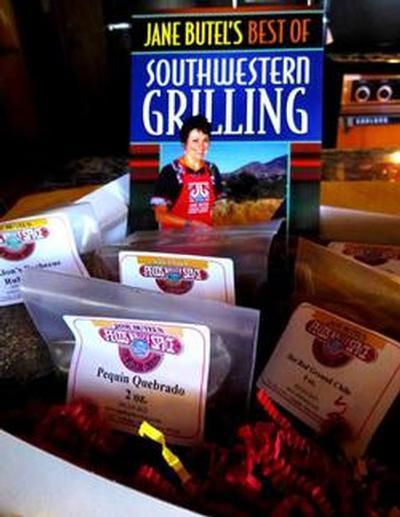 This Grilling Gift Box is on special for $35.00 until July 13, midnight, 2016.

♦ ♦ ♦ ♦ ♦ ♦ ♦ ♦ ♦ ♦ ♦ ♦ ♦ ♦ ♦ ♦ ♦
The complete book of all the Mexican regional recipes taught in the award winning Fairmont-Princess Cooking School in Scottsdale. Has such favorites as Rellenos en Nogado, Pollo Cauchate, Mayan Chilaquiles and the luscious Tres Leches. cake. Ebook $2.99.
Softbound Printed Edition
$12.95

NOW ON KINDLE FIRE
for $2.99
GRILLED RADICCHIO and ARUGULA SALAD with FRESH NECTARINES and GOAT CHEESE
You can vary this salad to suit your own taste or whatever greens you have on hand. Grilling the radicchio gives it a more mellow flavor and pulls back the bitterness, yet leaving some of the crispy texture.
Yield: 4 servings
1 medium head radicchio
1 Tablespoon olive oil
½ teaspoon coarse sea salt
Few grinds black pepper
2 cups arugula
2 fresh nectarines, sliced in ¼ inch thick slices
2 Tablespoons goat cheese
1/3 cup extra virgin olive oil
2 Tablespoons Balsamic vinegar
1 teaspoon Dijon mustard
1 clove fresh garlic, minced
1. Grill the radicchio if already using the grill for the rest of the meal. To grill, using a 400 F or medium hot heat, rinse the radicchio and pat dry. Rub oil over the outside edges of the radicchio and grill 2 minutes or until some of the edges brown and crisp slightly. Turn and repeat. Set aside—can be done a day or two ahead.
2. Slice radicchio into 1 inch slices, discarding the core. Place in salad bowl with the arugula and peach slices. Toss together.
3. Prepare salad dressing by combining and whisking together the remaining ingredients. Drizzle over top and toss lightly together. Dot with little chunks of goat cheese and serve.
Home
About Jane
Featured Recipes
E-Newsletter
Blog
10 Favorite Recipes Sign up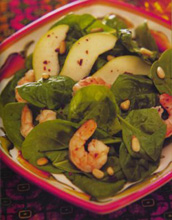 ♦ ♦ ♦ ♦ ♦ ♦ ♦ ♦ ♦ ♦ ♦ ♦ ♦ ♦ ♦ ♦ ♦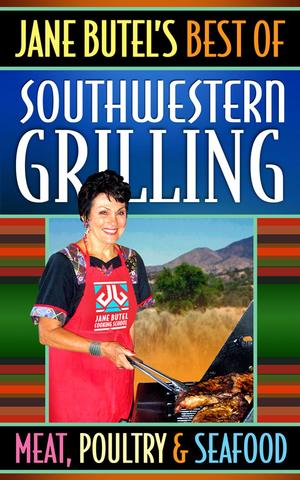 Jane Butel's favorite grilled recipes including such favorites as Grilled Chicken with Lemon-Pecan Butter, Spit Roasted Dallas Style Grilled Flank Steak. E-book $2.99.
Softbound Paperback $10.95
Now On Kindle! $2.99