Several of us excitedly met each other in Dallas and warmly hugged our reunion with each other. The rest met us in Mexico City. The enthusiasm for our tour was for real, once we landed midst the bouganvillas and beautiful flowers at the Oaxaca airport. Even the rain did not dampen anyone's spirits.
We were off to a wonderful introductory dinner at the main xocolo where we sampled traditional Oaxacan moles and other specialties--yummm, yum. Here's a picture of all of us the first night where we dined overlooking all the festivities of the main plaza...called the xocolo.
THe next day we were off to the public market in Etla, where we had a sampling tour of the village specialties and
were able to see all their beautiful produce and crafts. Following, we cooked a sumptuous dinner at Seasons of My Heart Cooking School with Susanna Trilling . Here we see Carey Head, daughter Erika Martin, and Janet Banks making a Roasted Chile Poblano Bisque.
The next day started with a trip way back into the pages of history with a visit to Monte Alban, one of the Ancient Seven Wonders of the World. It is truly amazing in a totally beautiful, top of the world setting. The Monte Albanians were doing brain surgery, other types of operations and really understood all types of mathematics and solar relationships and amazing amounts of technology. Here is from left: Erica, Carey, our tour guide-Hector Gazga Mendez, Janet and Bill Banks.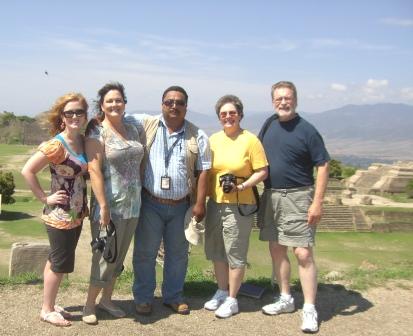 Following, we had a delicious lunch of Tlayudas, the popular served dish at the green pottery village, Santa Maria Atzompa, and then off to view the colorfully painted wood figures famous in the town of Arrazola. Here we see Janet almost overwhelmed with the over selection of the little wood figures as all of us were. This is Janet viewing just one of the collections to choose from. Next we toured to San Bartolo de Cayotetepec. This is a picture of us with all of our black pottery selections!
The next day, we were back with Susana Trilling where we learned how three Oaxacan cheeses were made from the same batch of cow's milk, right before our eyes. Here we see a local lady demonstrating cheese making at Susana's cooking school.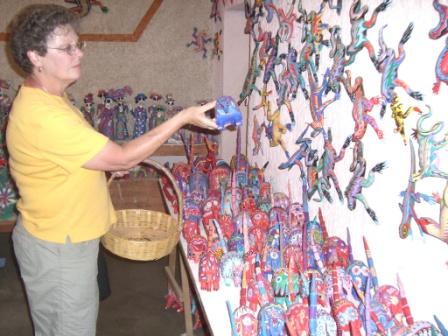 The main dishes that we prepared Sea Bass in Tomatillo Sauce with Acuyo Leaf Wrapped in Banana Leaf served with Saffron Rice with Caramelized Pineapple.
After two wonderful days cooking with Susana and her staff, we had our picture made in from of the school.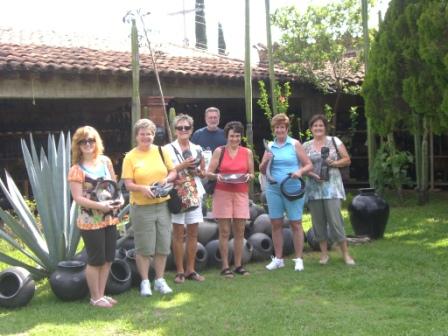 Our third cooking class in Teotitlan de Valle consisted of learning how the Zapotecs, the predominant Indian tribe of Oaxaca prepare their barbacoa with baby lamb or goat, a red chile rub and layers of wild avocado leaves. Rosaurio and Ernesto showed just how it is done at a demonstration followed by a full participation session on making corn tortillas with squash blossoms and local salsa. We learned how they make salsa on a metate, their beans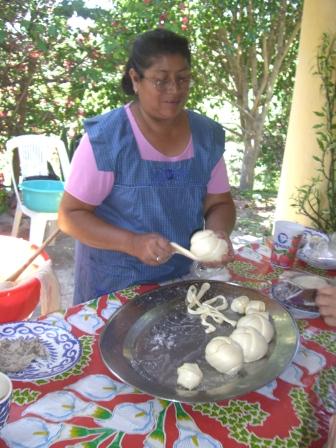 with the herb, conejo and following they served a corn custard dessert.
Following, they hosted a weaving demonstration showing how they card the wool, spin it, color it with all natural dyes by hand and then weave beautiful rugs.
After a shop til you drop day, we flew off, vowing to return!
Note: We are currently assessing the interest in a tour of the culinary culture of New Mexico for 2008.