I hope your Fourth of July was terrific! Mine sure was. We went to the Fourth of July Parade in Corrales, New Mexico, the little village where we live. We lucked out again, we love to sit in the front patio of Nate and Hannah's cafe and watch the parade and luckily, we got a table in the front once again.
The Parade, originally called the Pet Parade, now features all kinds of other entries--from all kinds of bicycles to a group of Union Soldiers to all kinds of bands and bugle and fife corps to you name it! Here's a unicycler who did a really good job keeping his balance, a happy guy on his totally 4th of July decked out horse, a beautiful black trotting horse, a young man on really tall stilts and our local produce and chile farmer--Wagner Farms.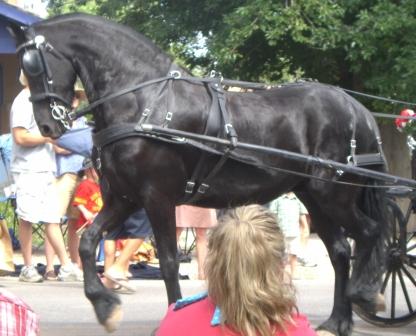 We had a wonderful time with friends the rest of the day.....going to a barbeque that was truly traditional with hamburgers or brats and all the trimmings set amid the tall trees on their grassy back yard.
Then after a short break, we went to a fun, fun party with our neighbors at a home with a fabulous view of the fireworks in a nearby community called Rio Rancho. Before the fireworks, Mother Nature decided to do her own display and sent tremendous thunder and lightening very nearby. The strong blowing winds and wind driven rain totally changed our agenda.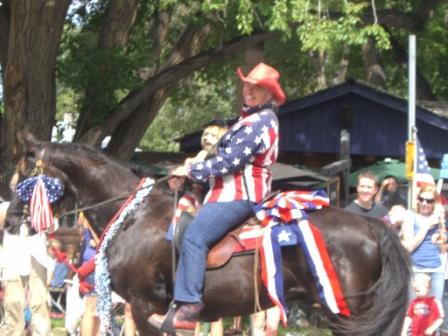 We all moved inside to eat and decided the good thing about having to move in, is that we really got to meet more people. It was a potluck--so the food was really good--numerous salads, ranging from a tortellini salad to a Chinese Cole Slaw to my blue cheese potato salad and many more. The crowning glory was the pies--all homemade by my neighbor Jackie and her sister Carol, who long ago worked with me. They made all fresh fruit pies--blueberry, rhubarb-red raspberry, apricot and tart cherry. All so yummy. They insisted I take some home, so I took two small slivers--one each of blueberry and the rhubarb.
On the way home, I kept hearing a rustle of paper. And low and behold, my little Dachshund puppy ate the pies--his first taste of sweets since he had been with me. He seemed to survive just fine. He just didn't eat for 2 days.
We still have our July special on for our half price weekend class. I look forward to welcoming you to the class. In the meantime, I would love to hear from you! Just contact us at info@janebutelcooking.com.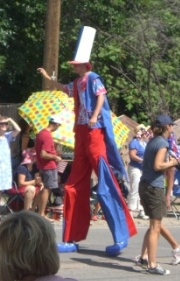 Here's to your health,
hot tamales, cool evenings
and lots of laughter,
Jane Butel