Pickle making has always been great late summer fun! Admittedly it is work, but the crispy, flavorful fresh tasting picles that result are so worth all the effort. I have fond memories of making loads and loads of all kinds of pickles when I was a kid growing up on a Kansas farm. (I did spend a great deal of time also with my Mexican aunt and in New Mexico also.)
My favorite was always the bread and butter pickle. My Mother's recipe was always the best and we made dozens of jars every summer. We also made dill, sweet and sometimes mustard pickles. Yes,the bread and butter picles have always remained my super favorite and are a bit old fashioned. That sweet, but not too sweet flavor is special in sandwich fillings, deviled eggs, meat and vegetable salads and all manner of good old fashioned American food.
Just last Sunday, my daughter Amy, her husband Steve and daughter Miri came over and we picked the golden delicious apples that were truly burdening my tree and made my Mother's Bread and Butter pickles. We made a video of the steps and plan to place it on You Tube when we get a chance to get it edited.
These pickles were always served at Thanksgiving and all fine family gatherings. When first made, I always remember my brother and I would loe to eat them on the always available homemade bread with freshly churned sweet butter and sliced tomatoes. Probably sounds weird to you, but believe me, they were super delicious.
I am sharing our recipe with you and hope you enjoy making and eating them too. When making pickles, it is important to know the following tips--
-Use distilled water if you have hard water
-Use good quality salt, such as pickling or kosher--the salt must be pure
-Use a minimum of 4% acidity vinegar up to 6%.
-Wash the jars well and boil them for a minimum of 5 minuts at a full roilling boil.
-Use regulation caning jars, so that you can use sealable closures.
Have a wonderful family pickling session! The jars make great gifts.
MOM'S BREAD & BUTTER PICKLES
•••••••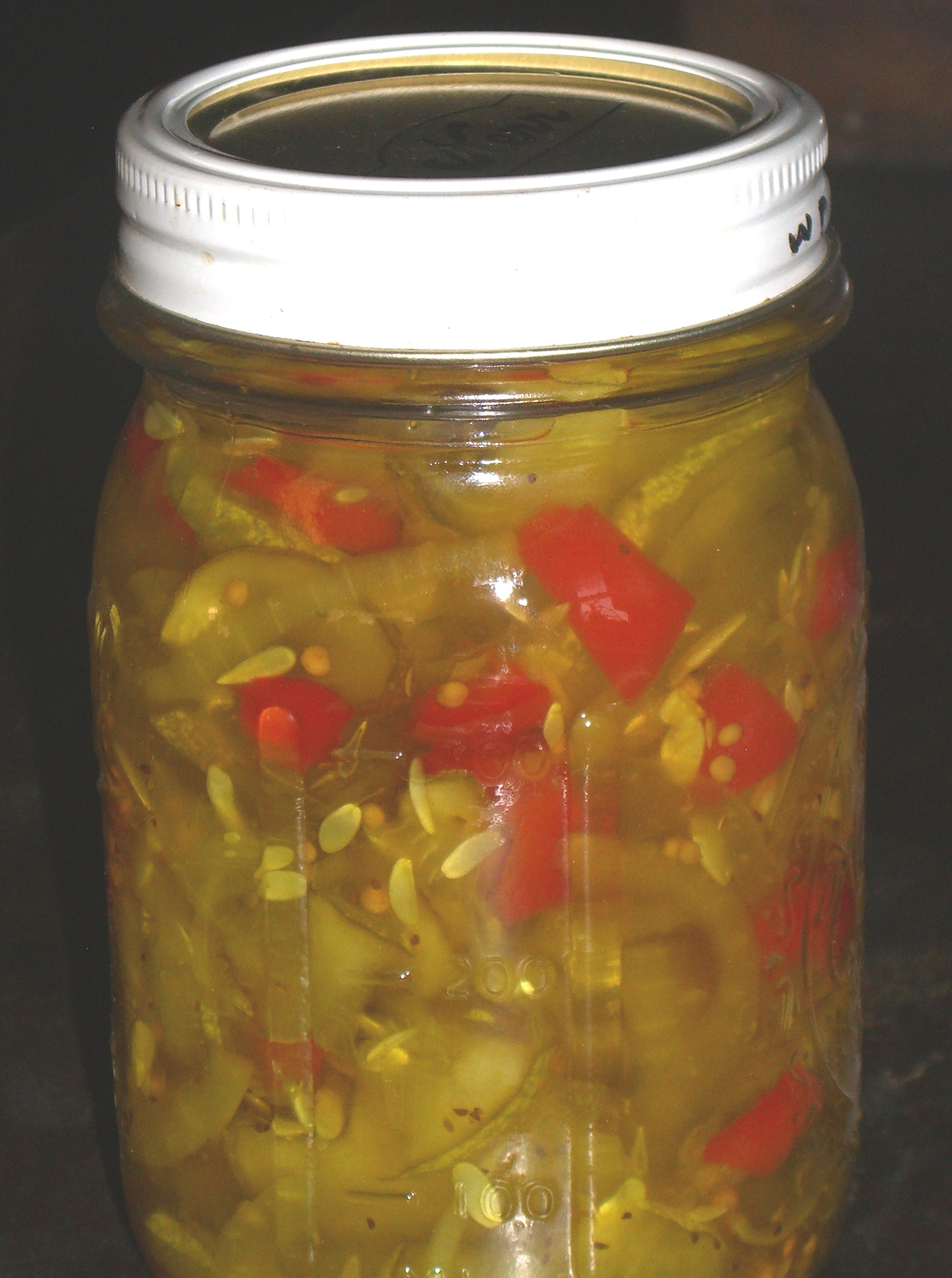 Yield: 7 to 8 pints
3 qts. Thinly sliced cucumbers
4 medium onions, thinly sliced
1 bell pepper, cut in ¾' cubes (3/4 cup)
¼ cup coarse salt
4 cups sugar
1 ¼ cups vinegar
1 Tablespoon, 1 ½ teaspoons mustard seed
½ teaspoon turmeric
1 ½ teaspoon celery seed
1. Combine all vegetables and salt. Cover with ice cubes and mix thoroughly. Let stand three hours. Drain well.
2. Combine other ingredients and pour over vegetables.
3. Bring to just boiling. Put in sterilized jars and seal. Chill before serving.
Here's to hot cooking and cook vacations, Jane Butel