The last few days have seen a flurry of chile packed events! At the Old Town Salsa Fiesta, I demonstrated chile rellenos with blue corn crust and the original salsa, Salsa Fresca. They were very well received!
The blue corn crispy crust is fried onto the drained, stuffed New Mexico green chiles. I reviewed the hints for successful chile rellenos, which always seem a mystery to so many people. Here are the hints--
1. If using the blue corn batter, prepare it first. Then to parch the green chiles, pierce a small hole near the stem end of the chiles, then place them over or under direct, very intense heat. As soon as the chile is uniformly blistered and the blisters are tan to brown, then plunge in ice water.
2. Peel the chiles as soon as they have cooled a bit, then stuff with cheese or your desired stuffing. DO NOT TRY TO REMOVE SEEDS OR TAKE THE STEM END OFF. ( The top inch of the chile contains most of the seeds and if you do not want the seeds, just don't eat that part.) Then drain both sides of the stuffed chiles under double layers of paper towels.
3. Heat vegetable oil to 375F and fry when ready. The stuffed chiles will hold a day or two, covered in the refrigerator. They can also be fried up to 2 or 3 hours ahead of time and kept warm very successfully.
Here's the recipe--
CHILES RELLENOS DE QUESO
The traditional chile relleno. Serve as a main dish or as a vegetable dish.
Yield: 12 rellenos (4-6 servings)
12 large, mild green chiles, parched & peeled with stems on, or you can use three, 8-oz. cans of whole green chiles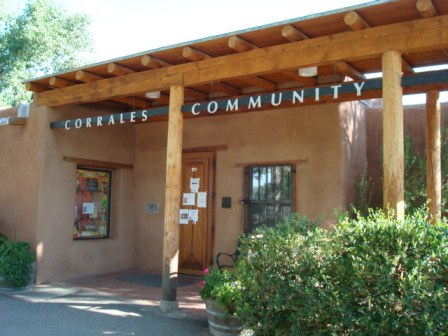 8 oz. Monterey Jack cheese, cut into 12 long, narrow strips
Vegetable oil for frying
Red Chile Sauce (recipe attached)
1. Prepare the batter, recipe follows. Insert cheese strips into chiles, using the small slit that was cut for steaming (or cut a small slit just below the stem.) Make sure that the cheese strips do not burst the chiles or overfill them. Drain chiles thoroughly on paper towels to ensure that the batter will coat them well.
2. Preheat 3 to 4 inches of oil to 375? F in a deep heavy skillet, large saucepan, or deep-fat fryer, using a deep-fat thermometer for accurate temperature. Dip the stuffed chiles in the batter. Place in hot oil and fry until golden. Tongs work best to hold and turn them. Drain well on paper towels. Serve piping hot with chile sauce.
BLUE CORMEAL CRUST:
Crisp and crunchy. I like this batter best when made with blue cornmeal.
Yield: enough batter for 12 chiles
1 cup flour
1 teaspoon baking powder
1/2 teaspoon salt
3/4 cup cornmeal – blue, white or yellow
1 cup milk
2 eggs
1. In a medium-size bowl, combine flour, baking powder, salt and cornmeal. Blend the milk and eggs, then add to the dry ingredients. Mix until smooth. If necessary, add a little more milk to achieve a smooth batter that will adhere to the chiles.
RED CHILE SAUCE
This is the basic red chile sauce used to create enchiladas and to serve over burritos, chile rellenos, tamales, and chimichangas.
Yield: 2-1/2 cups
2 tablespoons butter, lard or bacon drippings
2 tablespoons all-purpose flour
1/4 cup ground mild red chile
1/4 cup ground hot red chile
2 cups beef stock or water
1 garlic clove, crushed
Pinch of ground Mexican oregano
Pinch of ground cumin
3/4 teaspoon salt (if not using stock)
1. Melt butter in a medium-size saucepan over low heat. Add flour and stir until smooth and slightly golden.
2. Remove pan from heat and add ground chiles. Return to heat and gradually stir in stock. Add garlic, oregano, cumin, and salt, if using, and cook, stirring, about 10 minutes. Simmer at least 5 more minutes for flavors to blend.
Variation:
Sauté 1 pound ground beef, or beef cut in very small cubes. Omit the shortening, and continue as directed above. Use for enchiladas.
Reprinted from Jane Bytel's Southwestern Kitchen.
For the Salsa, this recipe is the original and most popular fresh salsa in New Mexico.
SALSA FRESCA
This refreshing sauce can be as mild or as hot as you like, depending on the chiles used. Any leftovers of this sauce can be added to guacamole, made into salad dressing or chile con queso, and can be frozen for up to 4 months for later use in cooked dishes.
Yield: 1-1/2 to 2 cups
1 large fresh tomato, finely chopped
1/2 cup finely chopped onion, or 2 scallions with tops included
4 green chiles, parched, peeled and chopped, or 4 ounces of canned chopped green chiles (or 2 to
4 fresh jalapenos, finely minced)
1 clove garlic, finely minced
1/2 teaspoon salt
2 tablespoons coarsely chopped cilantro (optional)
1. Combine all ingredients; allow to marinate for at least 15 minutes. Sauce keeps for 1 week when refrigerated.
I hope you enjoy these as much as the people who came to the Old Town Fiesta and the Corrales Library event.