I hope your year is off to a wonderful start!
So much has happened to me and my companies that I really and unfortunately have not blogged in way too long!
My goal is from now on to blog at least once a week, hopefully twice a week.
On the news front, I have a new partner and address for the spice business, so our goal by February is to be all settled into our new building at 6918 Cochiti SE and start developing new products and bringing back old favorites like the original Chili Madness kit in no frills packaging. That used to be my best product when we had the gorgeous red foil laminent packaging. The new kit will come with the same ingredients and recipes as it did, for your pleasure. Each kit will make one delicious batch of chili that you can make as hot or mild as you like, as we will still keep each ingredient separate to maintain our signature--pure, fresh flavors with no additives or preservatives.
The November weekend was a hoot! We had 2 restauranter partners here from Ecaudor join us, making for an international flavor to our class.
Last week, we fine-tuned our tour for October 16-22 to Northern New Mexico. It is going to be first class and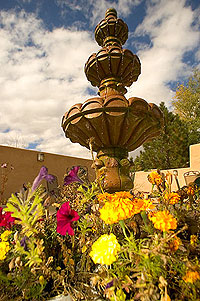 oh so much fun with fabulous restaurants-- the best of Taos--Lambert's and the new rage in Santa Fe--Martines--plus dinner with Estafan in the St. Frances where he is the Executive Chef known for native New Mexican cuisine.
I will also be presenting a demonstration of the favorite traditional foods of Northern New Mexico--including Carne Adobado and Posole and much more.
This tour is designed to give you a really high level introduction to the Best of Northern New Mexico with tours to historic and beautiful sites, wineries and chef's demonstrations where we dine. We already have a list of those wishing to join us. You can now register and view the many wonderful aspects of this tour.
I will personally be escorting the tour--we will have so much fun!
Jim Hammond, the Southwestern Wine Guy and myself are still hosting and look forward to your joining us on our Blog Talk Radio Show, "Bold Foods with Bold Wines". It has been Wednesday's at 2:30 PM MST, as it will be this week, switiching to 5:30 PM on Tuesday's next week or the 26th You can join us at BlogTalkRadio.com and by calling 347-855-8325. It is lots of fun and you can ask any spicy food and accompanying wine question you can think of and if we don't have the answer--we will work to get it for you! Call us, we would love to have you join us.