I have been reflecting a lot on the days when I developed the world's first energy conservation program for Con Edison way back in 1971 and wondered if you wouldn't like to know of some of the hints and tips we developed. Actually, they are just as apt today as they were then and no one seems to be sharing that kind of information today.
First, to kind of get saving energy into perspective--think about it this way. Anytime you heat or cool--you are using the most energy in the home.
Some of the most popular "aha" ideas we developed were--"just by organizing your refrigerator, you can save up to a third of the operating cost. For example, if you consistently have a place to park all of your sauces for meats on one shelf of the door, all the jams and jellies on another shelf, sweet dessert type sauces on another--fruits always in the left hydrator and vegetables in the right. Milk always on the back of the right top shelf, etc. you will not waste so much time standing in front of the refrigerator hunting for "what to eat".
Think of ice cubes being worth about a nickel a piece, depending upon the electric rates you are on and the refrigerator you have--at any rate--they are not free. Freezing ice takes money.
A full freezer is cheaper to operate than a partially empty one.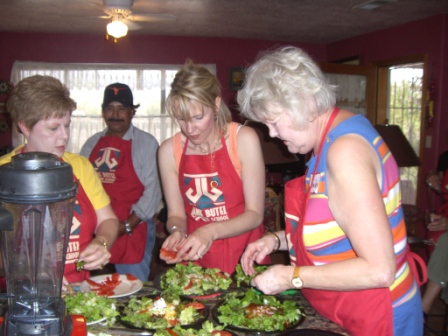 Freezing cartons of ice and keeping them until you need them for an outing, etc. will save you money in the long run, if your freezer has the room for them.
Need a get away, fun, fun time--and who doesn't? Plan to join us in New Mexico for our week long cooking vacation. Believe me it is lots of fun. Think about it this way. It is like a learning vacation or party you do not have to buy the groceries for or even clean up from. We have our week long course on sale this month for half off. Also the July 31-August 2 weekend class is half price. And, the best part is that you will save lots of money on restaurant bills afterwards. You will be able to make even healthier, tastier food at home.
But hurry, our offer ends July 8. I would love to cook with you.
Have you signed up for our Butel's Bytes yet. We give lots and lots of recipes, hints, tips and good cooking information every month and it is free.
Happy Fourth of July,
Jane Butel