Yesterday afternoon, I was so honored to have the Dean of Human Ecology,(Home Economics when I was in school) Dr. Virginia Mexley, along with Jennifer Retelle-Thomas of K-State's Foundation come by. Their meeting was somewhat developed as a followup to the meeting in February where I met with the Hale Library of K-State Archivists to learn that my work was the third ever to be selected for their permanent collection. They want the "work in progress files" plus the final cookbooks I have written to show how an author approaches developing a cookbook. It will be so great to share all those files I wondered while I was keeping all along!
After perusing my extensive cookbook collection--even in our storage building, I presented a private Cooking Class to showcase New Mexico's traditional foods. I prefaced the class with highlights of the history of the population and the cuisine, which almost everyone loves. After reviewing chiles and the "less than 10" ingredients and the importance of corn, especially blue corn, we started to cook the following menu. ( I had previously prepared the Red Chile Sauce, Carne Adobado, and the Frijoes.
Guacamole with Blue and White Tostados
Blue Corn Crusted Chile Rellenos with
Red Chile Sauce
Carne Adobado
Posole
Frijoles
Sopaipillas
Flan Caramelisada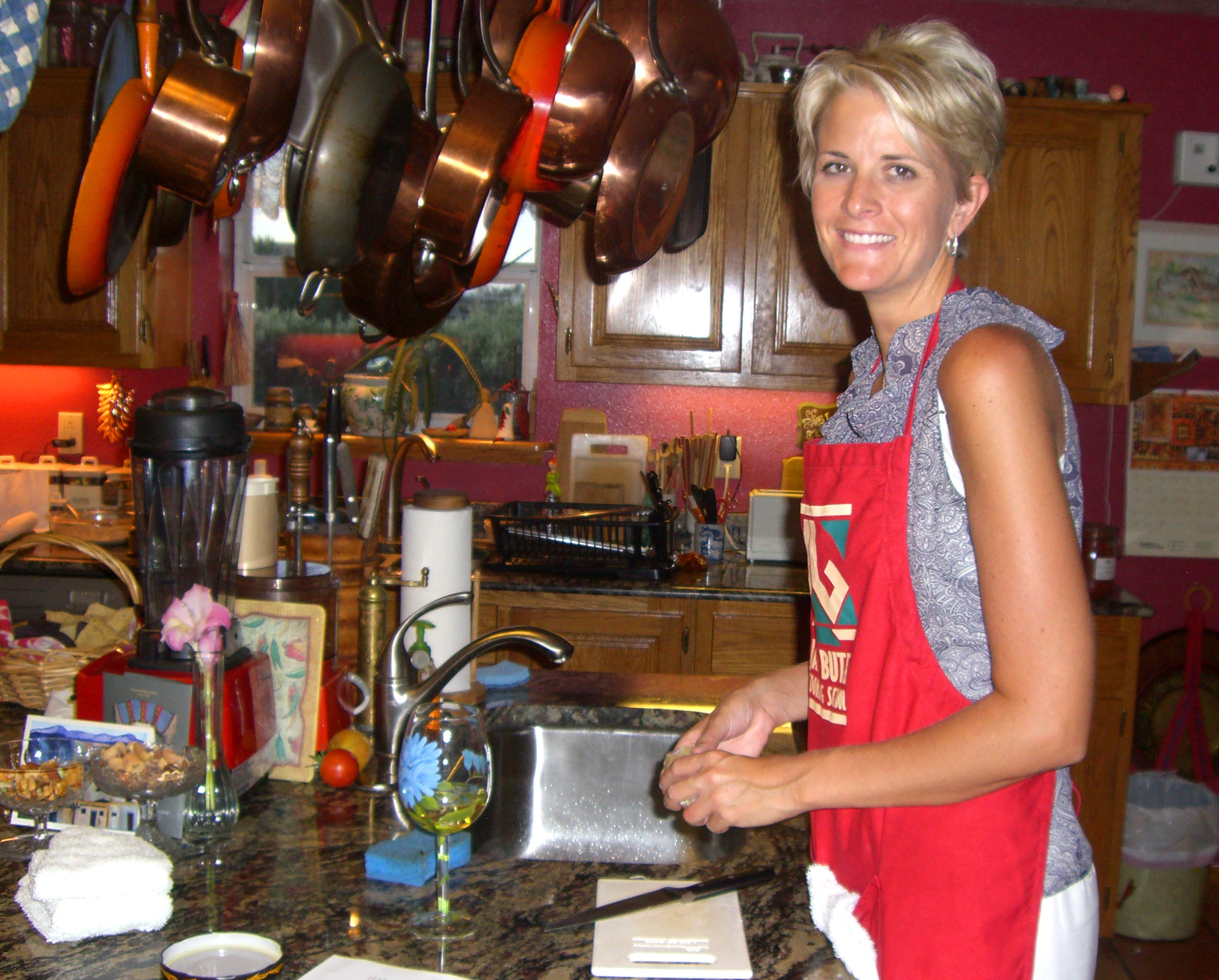 I demonstrated the Guacamole, then Jennifer fire roasted the chiles, stuffed them, and battered them with the Blue Corn Crust, while Dean Moxley created very special Flan and the Sopaipillas that they both loved and took the rest with them for their journey to Santa Fe.
We had such a fun, great time and it was so wonderful being able to share New Mexico's culinary history, foods and local wines with Dean Moxley and Jennifer. I look forward to seeing them again, real soon!
Here's some photos of them cooking and eating.