With chicken prices at tremendous savings--I got to thinking that it is a terrific time to prepare some of those delicious classic chicken recipes.
I was able at our local Smith's Grocery chain (a division of Kroger) to get boneless skinless thighs and bone-in, skin on chicken breast at 99 cents a pound. Whippee--I bought some breasts on last Thursday and they were so good Saturday night in an India Masala grilled recipe, theat I decided to invest more and get the thighs too--because most everyone prefers the thighs in dishes like Coq au Vin and the two following Mexican chicken recipes I just love.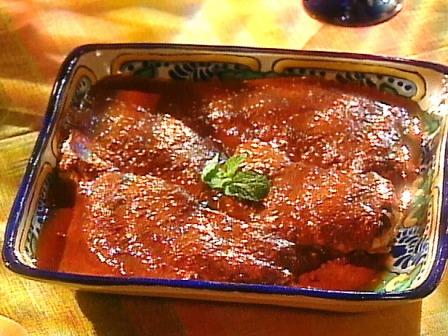 I am sharing my very, very favorite Coq recipe, that I spent years testing and have included it in my best-selling Hotter Than Hell book. (Don't worry--it is not too hot, just has that luscious caribe in the flour dusting mixture--which is so much tastier and better for you than black pepper. In fact, I have gotten so carried away, I am having 5 people over Saturday night for just that recipe. Two of the guests will be wine experts--a Master Sommelier and a wine writer and with whom I do the Blog Talk Radio Show with--Bold Foods for Bold Wines. The others like to cook and eat--so should be fabulous fun. I thought I would serve Buttered Egg Noodles, Asparagus with Bearnaise Sauce and an Arugula Salad with the Arugula coming from my garden with spiced pecans and gorgonzola with a simple vinaigrette dressing.
The other 2 Mexican recipes are totally delicious too. Pollo Borrachio, a Sonarran dish, is what my friend Linda Brown said is the "best thing I have ever cooked for her"--so that kind of puts it in a special class. The sauce on the chicken is just outrageous--it is rich with flavor--but not with calories--kind of hard to pull off--don't you think?
I like to serve it with Peppered (as in red, yellow and green bell peppers) Cumin Basmati Rice, Buttered Green Beans with Lemon and a simple garden salad.
The Pollo Cachuate is Asian inspired, which is not too surprising when you realize that the earliest settlers in the western areas of the Americas were from Asia. The dish is a regional favorite from Mexico City. The sauce on this chicken specialty is thickened with peanuts in a richly spiced sauce (not hot spice--but spices like cloves and cinnamon). The sauce is unbelievably delicious with the pureed tomato-sherry-spices. However, you would never know a tomatoe got close to the sauce--quite a trip--try it as soon as you can!
If you are not already a member of my mailing list for my e-newsletter, sign up now at my website--www.janebutel.com under Butel's Bytes.
Here's the recipes--
COQ au VIN
(CHICKEN IN WINE SAUCE)
This is my all-time favorite coq recipe, developed during my early New Mexico years. Fired with caribe and flamed with cognac, it's a fabulous dish with a perfect marriage of flavors, certain to be a hit with family and guests—though you may want to hoard it all for yourself! Since this stew is so robust, accompany it with a soothing side dish. And, never, ever waste a drop of the savory sauce; if you have any leftover, freeze it for later use. It's wonderful in all kinds of stews.
Yield: 6 servings
Cooking Time:
½ cup all-purpose flour
2 Tablespoons caribe (crushed Northern New Mexico red chile)
1 teaspoon salt
1 (3 ½ to 4 pound) broiler-fryer chicken, cut for frying
½ cup unsalted butter
6 Tablespoons cognac
1 clove garlic, minced
1 fresh bay leaf
4 sprigs fresh thyme or ½ teaspoon dried thyme
¼ cup minced flat-leaf parsley
6 small white boiling onions, peeled
½ pound fresh mushrooms, any kind, sliced
6 slices thick bacon, heavily smoked country style sliced into ½ inch pieces
Freshly ground black pepper to taste
1 cup Burgundy or other good quality dry red wine
Fried Croutons--
French bread, cut in 1 inch cubes
Olive oil
Unsalted butter
1. In a paper bag or large shallow bowl, mix flour, caribe and salt. Dredge chicken in flour mixture. Meanwhile, melt butter in a large deep, heavy skillet (or in a chicken fryer) over medium-high heat. Add chicken pieces and cook until browned on all sides, turning as needed; adjust heat as necessary to prevent over-browning.
2. Add cognac to hot skillet and flame carefully, keeping a lid nearby to extinguish flames should they rise too high. When flames die, stir in garlic, bay leaf, thyme, 3 Tablespoons of the parsley, onions, mushrooms, bacon, and a generous grinding of black pepper. Pour wine over all. Bring to a boil, reduce heat, cover, and simmer about 45 minutes, or until chicken is tender and sauce is thickened.
3.Meanwhile, prepare Fried Croutons. In a skillet, toast French bread cubes in a mixture of half oil and half melted butter until light golden on all sides, stirring as needed. Cool.
4. To serve, place chicken on a large warmed platter and cover with sauce, arranging onions decoratively around chicken. Sprinkle croutons over the top, and then sprinkle with remaining 1 Tablespoon parsley.
Reprinted from the book "Hotter Then Hell"
POLLO BORRACHO
(Drunken Chicken)
This is a very yummy Sonoran chicken dish that you don't see too often. It is somewhat reminiscent of picadillo, a cinnamon scented ground pork or beef dish accented with nuts and raisins. It is delicious served over rice, particularly peppered cumin rice. For an attractive presentation, mold the rice into a dome shape and arrange the chicken around the rice.
Yield: 6 servings
¼ cup vegetable oil
2 Tablespoons butter or margarine
2, 2 ½ lb. chickens, cut into serving pieces, or 8 chicken legs with thighs
¼ lb. cooked ham, coarsely chopped
1 cup raisins
2 cups beer (see Note, below)
1/8 teaspoon ground cloves
1/8 teaspoon ground cinnamon
1/8 teaspoon ground coriander
2 garlic cloves, minced
¾ teaspoon salt
Freshly ground black pepper
½ cup piñon nuts
½ cup pimiento-stuffed olives, halved
1 Tablespoon capers, drained (optional)
1. In a heavy, flameproof casserole dish with a lid, heat oil and butter. Add chicken pieces and sauté until golden. Add ham, raisins, beer, spices, garlic, salt and pepper.
2. Cover and simmer until the chicken is tender when pierced with a fork, about 1 hour. Add the piñon nuts, olives, and capers and heat through, uncovered, about 5 minutes.
Note: You can use flat beer, or even frozen beer that's been left from a keg.
POLLO EN CACHUATE (pictured above)
(Chicken with Peanut Sauce)
This richly flavored sauce is somewhat reminiscent of Indian curry. The dish is wonderful served with any kind of rice dish. I particularly like the Arroz con Platanos or rice with plantains or rice with any kind of beans added. Any leftovers make wonderful soft tacos. Just roll the filling in warm, fresh corn tortillas.
Yield: 6 servings
1/4 cup olive oil
1 onion, cut into chunks
1 large clove garlic, minced
1 chicken fryer, about 3 to 4 pounds, cut into serving pieces, or 6 chicken breasts or 12 thighs
1 1/2 cups chicken stock
1, 1-inch cinnamon stick (Mexican canella is best)
1/2 teaspoon allspice
1, 15 ounce can diced tomatoes or 3 tomatoes, peeled and quartered
1/2 cup shelled peanuts, plus more for garnishing, optional
1/2 cup dry sherry
1 1/2 teaspoons salt
1 fresh jalapeno, minced
1. Heat the oil, about 1/8 cup in a skillet, sauté the onion and garlic until clear and slightly brown; then add cinnamon and allspice. Remove with a slotted spoon and transfer to a blender.
2. Heat the rest of the oil in the same skillet and add the chicken. Sauté until golden brown on both sides. Add the stock and cook until the chicken is tender, about 30 minutes. Drain and reserve the stock.
3. To the blender, add the tomatoes, peanuts and ½ cup or more of the reserved stock. Blend until the sauce is very smooth, add the sherry and the jalapeno.
4. Pour into the skillet containing the chicken. Cook, covered over low heat, until the sauce thickens slightly. Taste and adjust seasonings. Serve with a rice mold.
Notes: This dish can be served with rice or small new potatoes that have been steamed. You may also want to add some of the peanuts—sprinkle some on top of the sauce over the chicken, as you are serving.