In our August issue of "Cooking with Jane" I wrote a story on the four ways to keep your kitchen cool. Here is the section about grilling that I thought you would enjoy.
Grilling is probably the most popular alternative to cooking in the kitchen. If you do not have a grill, the broiler-- whether in your oven or a portable electric grill -- works well.
When grilling, cooking the entire meal on the grill makes the most sense in all ways. You only have one heat source, thus saving the time for heating an additional source, such as a kitchen stove as well as the indoor heat and energy .
Here are some very good hints to remember when grilling most any food.
To get the most flavorful, grilled foods--
- Always preheat the grill to the desired temperature.
- Marinades add tenderness and juiciness.
- Bastes add flavor and moisture.
- Rubs add flavor and a crispy crust.
- Determine the doneness temperature or timing before starting to grill—especially for meats. A thermometer thrust into the leanest, thickest portion of a meat will be the best way to tell. Lacking a thermometer, you have one in your palm. For rare, the meat should feel a bit soft and yield to being poked, just like the flesh below your thumb. For medium, the meat should be firmer to the touch, much the same as the muscle on the lower pad of your thumb. For well done, the meat should be hard and not yield to poking.
- If you desire criss-cross grill marking—always place the meats on a 45 degree angle for half of the first side's grilling time. For example, for chicken breast, which takes 8 minutes, 4 minutes to each side. Grill at the first angle for 2 minutes, then rotate 45 degrees and grill 2 more minutes, creating diamonds. Repeat on the second side.
-If you would like to see the other three great ways to stay cool, and stay OUT of the kitchen, take advantage of our free month's subscription to Cooking with Jane At www.janebutelcooking.com.
In the same issue I share some of my favorite grilled fruits recipes. Here is one I adore, especially when the peaches are ripe on the tree, which will be in a few weeks for me.
ITALIAN GRILLED PEACHES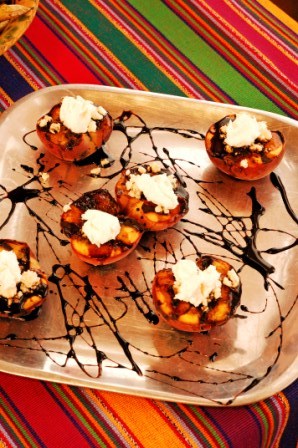 The ingredients here are most unlikely, but amazingly delightful when combined. You can use any cheese you like, if you do not like blue cheese.
Yield: 4 servings
2/3 cup good-quality balsamic vinegar
3 tablespoons sugar
2 teaspoons freshly ground rose or other peppercorns
2 large fresh freestone peaches or nectarines, unpeeled, halved and pitted
2 to 3 ounces Gorgonzola cheese, crumbled
1. Earlier in day, simmer balsamic vinegar in a small nonreactive saucepan with sugar and pepper until reduced by about half and slightly thickened for a glaze.
2. Preheat grill to medium-high or 350 or 400F (175 to 205C) if not already hot. Place peach halves on grill, cut side down, and grill about 5 minutes or until flesh has slightly charred, then brush top sides with glaze and cook 1 to 2 minutes more. Turn, brush with glaze and cook another 2 to 3 minutes. Transfer to individual serving dishes and spoon or spatter any remaining glaze with a fork over tops. Serve with crumbled cheese on top.
Note: These can be baked in an oven for approximately the same cooking time.
Reprinted with permission from Jane Butel's Southwestern Grill.