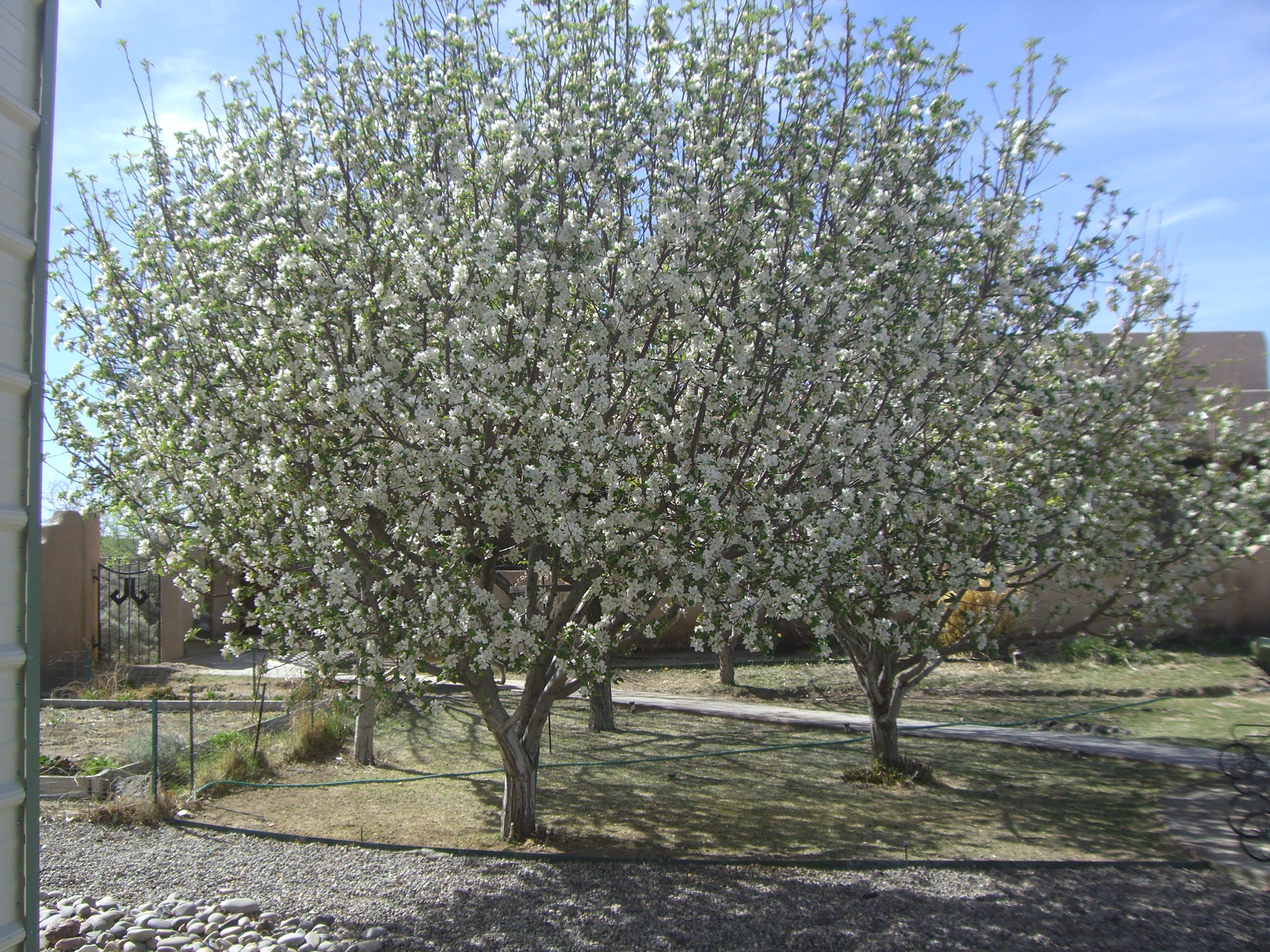 Spring is finally making a grand appearance in my yard. I just love spring blossoms. I am sharing a photo of my apple and pear trees. We had a very, very cold spell in February that wiped out the peach blossoms, but the rest are gorgeous!
Around here, March was truly mad--amazingly busy, almost frantic. We hardly had time to catch our breath between events and just plain busy-ness. So sorry I never got one blog out. I am going to try to blog at least once a week, and on Mondays if at all possible.
We went to Santa Fe to open the new gourmet appliance store, Builders Source, which is just plain gorgeous. The store is arranged in little vignette kitchens, each with different color schemes and brands of appliances. Some of the vignettes are used to show different appliances...such as the new steam oven. Having worked in appliances for 17 years, I am always interested in seeing the latest features. With the new steam ovens--you can get them either with convection or just steam. Somehow having convection with steam doesn't make sense--I guess it is just blowing air into the steam--not sure how this would speed things up.
Then we were just running around thither and yon in Albuquerque. One Saturday, I conducted a fifth anniversary cooking class for a young couple. They wanted to master Beef Wellington. so we did Beef Wellington, Gingered Carrots, Herbed Italian Potatoes and Bananas Foster.
With such busy times, I did a lot of quick and easy recipes--in fact we just got out our April e-newsletter with 5 of the recipes I made for dinners during the month. If you are not on my newsletter list, go to the home page of my website at www.janebutel.com and register for the subscription newsletter, on the right panel.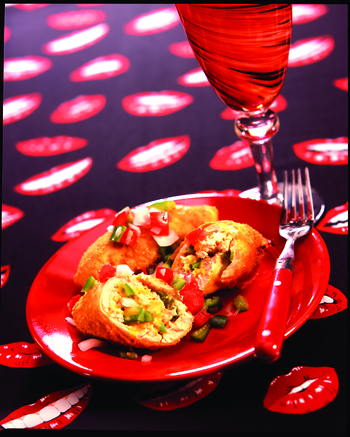 A recipe that is featured in my newsletter is a stuffed chicken breast with green chiles and cheddar with a crispy crust and blanketed in Salsa. The dish is from my Quick and Easy Southwestern Cookbook and can be done in less than 20 inutes with 5 ingredients for the recipe and only 205 calories! A picture of the recipe is featured on my website and I am including it here--so you can see it!
Here's the recipe--
POLLO RELLENOS WITH SALSA GARNISH
Relleno in Spanish means stuffed. Here, I have stuffed the chicken breasts with cheese and green chile, then coated them with a crispy coating. The traditional Salsa Fresca is wonderful as an accompaniment.
Yield: 4 servings
4 boneless, skinless chicken breast halves, trimmed of any fat or sinew (see note)
2 Tablespoons low-fat Cheddar Cheese or more to suit taste
2 Tablespoons chopped green chile (canned or frozen) or more to suit taste
¼ cup skim milk or buttermilk
½ cup cornflake crumbs (see note)
Salsa Fresca, optional
1. Rinse the chicken and pat dry. Pound with a tenderizer mallet or the flat side of a heavy knife. Lay the chicken breasts out flat and divide the cheese and chiles among them.
Roll the chicken and fasten with toothpicks or skewers, tucking in the sides to hold the cheese mixture. Dip in the milk to coat uniformly then dip into the cornflake crumbs.
2. Place in a microwave-safe baking dish, cover with wax paper, and cook on high for 10 to 12 minutes. Meanwhile, combine the Salsa Fresca, if using. Spoon a ribbon of salsa over each serving.
Note: You may need more corn flake crumbs for larger breasts. Boneless, skinless thighs can be substituted, if preferred. Cheese-cracker crumbs can be substituted for the cornflake crumbs, but they contain more fat.
Salsa Garnish
½ cup chopped tomato
½ cup chopped onion
½ chopped green chiles
Combine the tomato, onion, and chiles; mix well.
Per serving: Calories 205, Protein 29 g, Carbohydrates 13 g, Fiber 1 g, Fat 3 g, Saturated Fat 1 g, Cholesterol 74 mg, Sodium 242 mg.