Sign up now!!!!
This menu features favorite healthy recipes from "Jane Butel's Quick and Easy Southwestern Cookbook".
This full participation class is limited to 12 participants. The dishes highlighted here are each designed
to be easily prepared in 20 minutes or less and each is nurtitionally annotated. There is an average of
only 5 ingredients in each recipe. The menu is great for dinners on busy days and yet is special enough
to use for entertaining. (Photo of Sweet Potato Soup)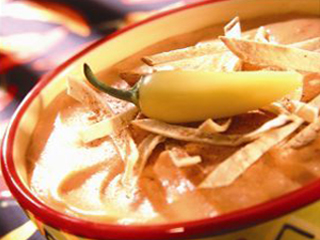 Menu
Perfect Guacamole
Salsa Roja
Chile Sparked Sweet Potato Soup

Caesar in a Bowl with optional Grilled Chicken Breast
Grilled Corn and Spinach Enchiladas
Berry Blast
The first 12 registrations will be taken, so be sure to register very early.
You may register on-line or if you have a pre-purchased ticket such as Groupon, you may email us at Contact us on our website or call us at 505-301-5765
*All classes are scheduled on the fourth Thursday except for Holidays.
There will be opportunity for limited audience participation.