Sign up now!!!!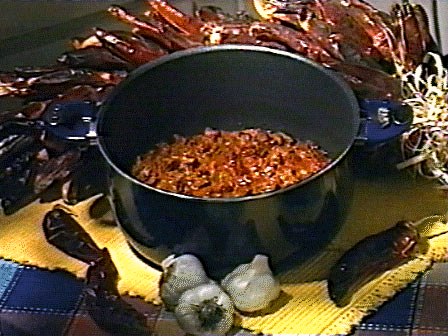 Have the very best Super Bowl Party or cozy dinner for friends or family with this fun, delicious dinner menu.
You'll learn the history of chili and the many, many kinds and interpretations chili has taken.
This favorite chili has won more cookoffs than any. It is the stuff that fueled the original cowboys on their long trail rides through Texas to the rail heads.
Chili is one of the few truly American foods and so much fun to make and serve. Some feel it is habit forming!
Fixins' 'n Mixin's really kick it up a notch...and with the Blue Corn Parfait Bread--you will love the flavors.
The first 30 registrations will be taken, so be sure to register very early.
You may register on-line or if you have a pre-purchased ticket such as Groupon, you may email us at Contact us on our website or call us at 505-243-2622.
SUPER BOWL PARTY

January 26, 2012
Quesadillas with Salsas Galore

Bowl 'o Red with Fixin's 'n Mixin's
Gordon's Fabulous Frijoles
Blue Corn Parfait Bread
Double Chocolate Farmer's Cakes
*All classes are scheduled on the fourth Thursday except for Holidays.
There will be opportunity for limited audience participation.